Site licence SL947 and modifications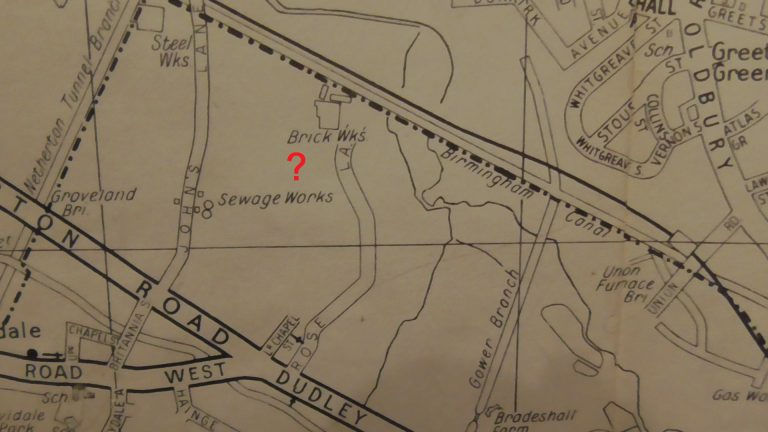 BACKGROUND
This request to the agency concerned a site licence issued to "Mintworth Quays" – (whose antecedent being Birlee Industrial Limited) in 1992 across the site of the former brickworks ,the so called "Duport's Tip" as well as the former Tividale sewage works (now Wilson and Callaghan Drives), located next to Rattlechain lagoon.
WHAT DID WE ASK AND WHAT DID THEY KNOW?
Please provide by electronic means the full waste disposal site licence SL 947 issued to Mintworth Quays Ltd in the general area of "Rattlechain" Tividale.
The Agency supplied this which can be read below.
Could you also attach the additional modifications made to the licence at the site , i.e
modified by Sandwell MBC in March 1995 and January 1996, and further modified by the Environment Agency thereafter.
The agency supplied these  which can be read below
Could you please explain if the approved working plan and site licence surrender criteria, eg finished levels were achieved, and why this may or may not have been the case?
Can I also ask whether you or anyone else undertake any current monitoring of this site regards landfill gas?
The agency responded by letter
"The operator Mintworth Quays Ltd; were dissolved on 22 March 2007 whereupon the licence SL947 ceased to exist.
We are not undertaking any current monitoring of the site regards landfill gas but the customer may want to approach Sandwell MBC who may have further information concerning this site, including its finished levels, following its closure in 2001."
Not supplied in the licence by the agency, but obtained by us is a site location map of the area covered. This was further divided into 3 working areas 1-3 – i.e Area 1 The former sewage works, Area 2 The Duport's tip area, Area 3 "East of Rose Lane"
DISCUSSION
The Mintworth Quays Licence was issued on 23rd November 1992 by Sandwell council. It contained 2 schedules, schedule (a) consisting of 42 conditions and schedule (b) comprising 7 detailed conditions regarding clay capping.
Condition 2 of the licence stated "The deposition of waste on the site shall cease on or before 3rd April 1995."
Waste types allowed to be deposited were as follows.

Crucially and unlike the previous site licences covering this whole area which did not discount asbestos waste being tipped, this one did at condition 3 (d)
"No asbestos in any form shall be accepted on site."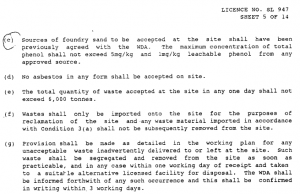 Condition e confirms that the council allowed Mintworth to deposit up to 6000 tonnes of waste per day!
It also states that "unacceptable waste inadvertently delivered to or left at the site" should be segregated and removed as soon as possible.

The condition 4 confirms that not only was "sewage sludge" from the sewage works spread on the site, i.e human excrement, but also the vegetation growing there onto the former "Duport's tip" area! NB  this does not appear to forbid anything found on the sewage works being dumped into the Duport's area.
Condition 15 outlines that this "peanut butter" for want of a better phrase should be layered in a particular way.
Condition 6 confirms a six day operation was permitted between 7.am -6pm weekdays and 8am- 1pm on Saturdays.
Condition 7 refers to site security and providing adequate fencing.

Conditions 19-22 concern gas emissions and monitoring through boreholes. As well as requiring groundwater monitoring for certain materials the licence also specified a finished layer of material on completion of the operations.

Conditions 31 and 32 would prove very interesting to local residents affected by these operations concerning dust and noise nuisance- especially given that Sandwell council had allowed human shit to be dumped and layered there!
Condition 35 talks of finished levels- i.e before when the site licence was about to be surrendered.
MODIFICATIONS
The supplied information confirms that the licence was modified by Sandwell MBC in March 1995 and January 1996.  It was further modified by the Environment Agency in October 1996, April 1997, and September 1997. 
added condition 43 simply extending the time of tipping operations from
3rd April 1995 to 3rd December 1995
simply deleted condition 43 and replaced it with condition 44 thus extending the tipping operations to 3rd September 1996.
(We are aware through correspondence that Mintworth via their solicitors Haliwell Landau attempted to extend tipping operations still further by another year, ie to September 3rd 1997. A draft modification was issued, yet appears to not have been implemented.)
Issued by The Environment Agency added conditions 45 and 46 to the licence and was a formal legal declaration statement concerning those in charge of the site supplying their details and any convictions under waste management regulations
I.e on 1st April 1996 The Environment Agency had all powers transferred to it by section 2 of The Environment Act 1995 from the previous waste regulation authorities.
Deleted condition 44. This appears to have given Mintworth no specified date of completion of tipping operations. This was made in May 1997 , and it is clear from correspondence/planning applications at this time that landfill operations were still continuing well beyond this date! WHAT THEREFORE WAS THE FINAL DATE FOR TIPPING OPERATIONS?
Replaced original conditions 26(b), 26 (c) and 27 with new conditions 47-50 concerning borehole installation and sampling and a new schedule c which dealt with providing more specific and frequent monitoring of certain determinands.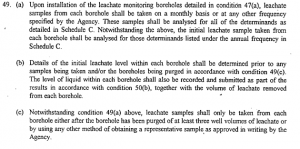 We are aware through correspondence that Mintworth raised some objections to the increase of monitoring activity. Mintworth also wanted to submit an alternative cap design using foundry sand instead of clay.
COMMENT
These are the basic outlines of what Mintworth Quays were required to do under the auspices of this licence. They also tied in with planning extensions under application BCS1813 and other subsequent planning applications which sort to "reclaim" the former sewage works and Duport's Tip areas.
As has been demonstrated in this post, the reality was somewhat different, the problems and time extensions frequent and the "misery" effect on local residents fairly devastating. During the period of the works at least some of it was overseen by Alexander Gibb, a consultancy on behalf of The Black Country Development Corporation. Their reports make very interesting reading.