THE ALLOTROPY OF PHOSPHORUS- WHITE PHOSPHORUS IS DANGEROUS AND TOXIC- ALBRIGHT AND WILSON TELL US SO
Swanwatch have sourced a number of publications written by Albright and Wilson or their employees, which admit directly the differences between the two main allotropes of phosphorus, red and white– which is sometimes referred to as "yellow phosphorus". White and yellow phosphorus are the same, though  we will refer to elementary phosphorus as "white phosphorus" throughout. The first source from a 1933 publication entitled "FINE CHEMICALS- the products of Albright and Wilson Ltd." predates the Rattlechain waste disposal era- thus the company were fully and clearly aware of both the risk and dangers posed by disposing of material containing this chemical into the environment- THEY JUST DID NOT CARE THAT THEY WERE DOING IT OR CARE OF THE UNSUSTAINABLE PROBLEMS IT WOULD CAUSE TO FUTURE GENERATIONS.
1 MAIN DIFFERENCES IN ALLOTROPY BETWEEN RED AND WHITE PHOSPHORUS
Once again the best source of information on this subject is sought from Albright and Wilson themselves. A publication prepared by them in conjunction with The chemistry Teaching Aids sub-committee of the science Masters association circa 1954 entitled "The manufacture and uses of phosphorus and some of its compounds".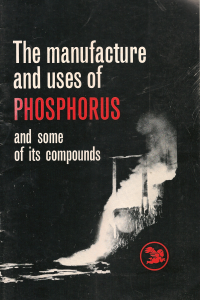 THUS A CLEAR DISTINCTION IS MADE BY ALBRIGHT AND WILSON IN THIS DOCUMENT.
WHITE PHOSPHORUS IS IDENTIFIED AS "TOXIC" IN THIS DOCUMENT.
RED PHOSPHORUS IS IDENTIFIED AS "NON-TOXIC"
The following page is even more specific concerning the dangers that white phosphorus poses.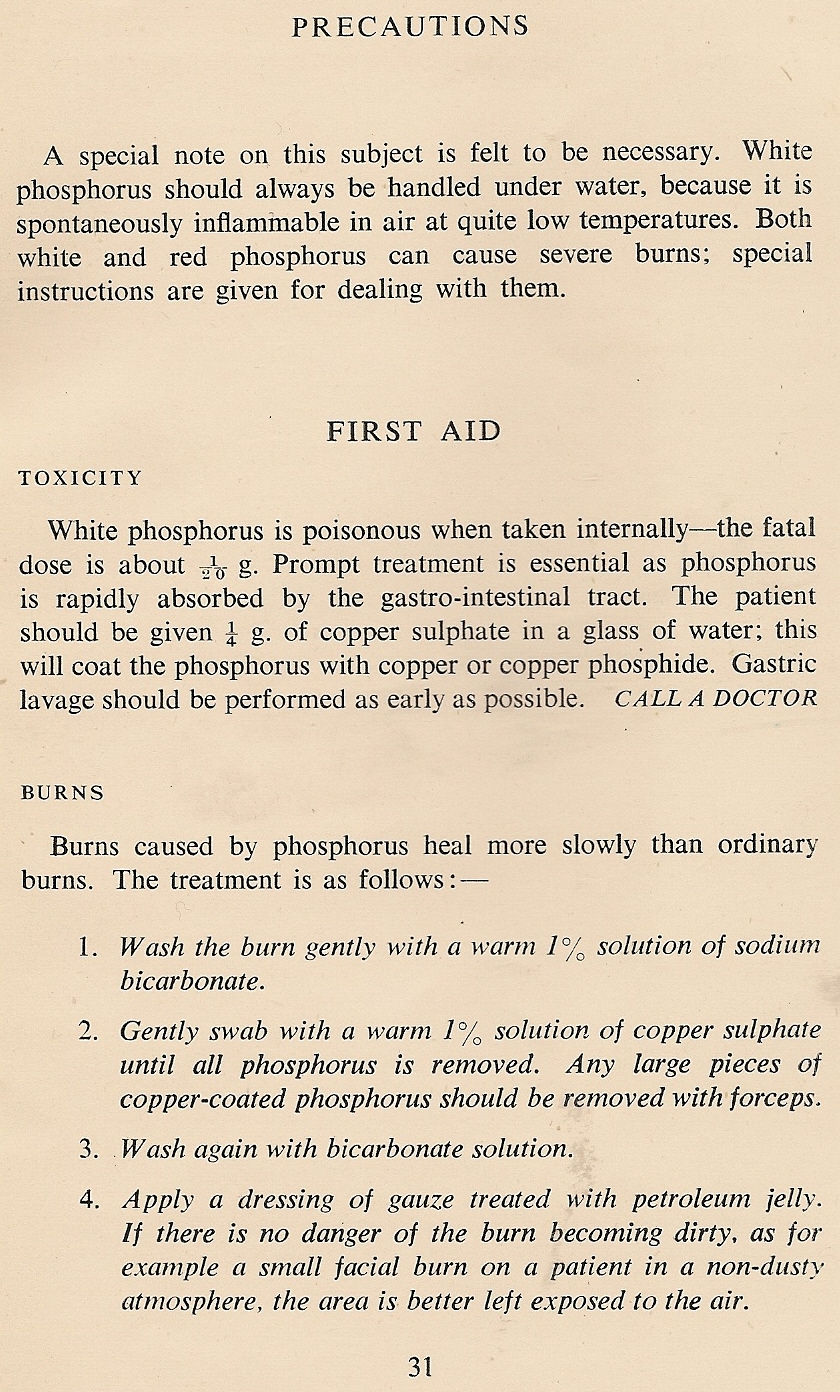 "white phosphorus is poisonous when taken internally."
"prompt treatment is essential as phosphorus is rapidly absorbed by the gastro-intestinal tract."
"call a doctor"
THESE ARE WARNINGS GIVEN BY ALBRIGHT AND WILSON IN THIS 1954 PUBLICATION- AFTER THEY HAD STARTED TO DISPOSE OF WHITE PHOSPHORUS CONTAMINATED MATERIAL AT RATTLECHAIN- REMINDERS OF THESE THREE STATEMENTS WILL BE GIVEN CONCERNING WILDFOWL MORTALITY ON THE RATTLECHAIN LAGOON.
Historically the detrimental effects of white phosphorus used in the match industry were exposed by The Salvation Army.  This was vigorously resisted by match maker Quaker associates of Albright and Wilson Bryant and May and it appears they deceived their workforce concerning its dangers as this parliamentary debate suggests. The necrotic decay of the jaw known as "PHOSSY JAW" was a known industrial hazard associated with the substance and with match making, but the "systematic neglect on the part of this firm to comply with the obligations as to reporting cases of phosphorus poisoning" was clear.
Red phosphorus, which is not toxic, but can still cause severe burns, replaced the earlier matches but the dangers of white phosphorus in industry continue to the present day.
Albright and Wilson employees at the Oldbury site are known to have contracted it as late as the 1960's and the firm employed their own dentist, offering free dental care, as Rhodia continue to do today.
From Albright magazine May 1972   in an article entitled "A question of toxicity", the then central research and development manager Tony Childs and principal medical adviser John Hughes are asked the question
" Q. Does A+W produce highly toxic chemicals?
A: Yes. Probably the best known toxic substances produced by the company is white phosphorus: when its fumes are breathed in for long periods this can cause the disease necrosis called "phossy jaw" which occurs in people with weak or faulty teeth. However this is a recognised industrial disease so men who work with phosphorus in the factories, are regularly checked for tooth trouble."  
It should be noted here that the lie concerning "weak or faulty teeth"  is a method of drawing attention away from the cause of people having weak or faulty teeth caused by the chemical in the first place, and perhaps an advertisement to buy one of their biggest clients' products- colgate toothpaste.
Ten years earlier, Hughes et al  undertook a study in 1962 of Albright and Wilson workers exposed to phosphorus. A number of case studies are cited; and though not explicitly stated where, we believe that they are all from the Oldbury works- more lab rats there to have studied.
"In probably under 10%, extraction of teeth is followed by considerable delay in healing, without any sign of any other effect. Our dental records have not been kept in such a way that firm figures can be quoted although this finding has been frequently noted. Phosphorus workers are taken off exposure to phosphorus  for extractions and not allowed back until they have clinically healed. The period of non-exposure is thus exactly known, but since non-phosphorus workers may not be re-examined, the rate of healing of their sockets has not necessarily  been recorded."
"The shortest period of exposure to phosphorus fumes leading to necrosis was 10 months (two cases) and the longest was 18 years. Again with the generally long onset, assessment of the degree of exposure is very difficult. Fume is more prevalent during some periods of working than others. The atmospheric content of toxic substances varies greatly from point to point, and some men work harder and so breathe more.
Finally, no estimations of phosphorus in the atmospherehad been taken at this time."
"The essence of our dental programme is to ensure maximal dental fitness in prospective employees. This has meant the rejection of otherwise suitable men in a time of great labour shortage. Before any exposure the workman is made dentally fit, and if this is impracticable he is rejected outright. A further reason for rejecting  men with neglected mouths is that they are more than  usually "accident prone".
After attaining adequate standards of dental fitness men are allowed to  be exposed. Those most heavily exposed (on the phosphorus plant itself) are inspected every two months,  those regularly exposed every four months, and those with  casual exposure, for example, the works manager and the medical adviser every six months."
 Rhodia appear to have continued their "checking" arrangement, thereby no doubt trying to mitigate any potential litigation against them.
In an article from The Blackcountryman summer 1991, in an article entitled "cor ! strike a light!" ,long term former works manager at Albright and Wilson Oldbury Peter D. Bloore-  notes
"Chemistry(white or yellow)… Yellow phosphorus is a solid at normal temperatures, melts at about 45c, ignites spontaneously on contact with air and is highly toxic if ingested."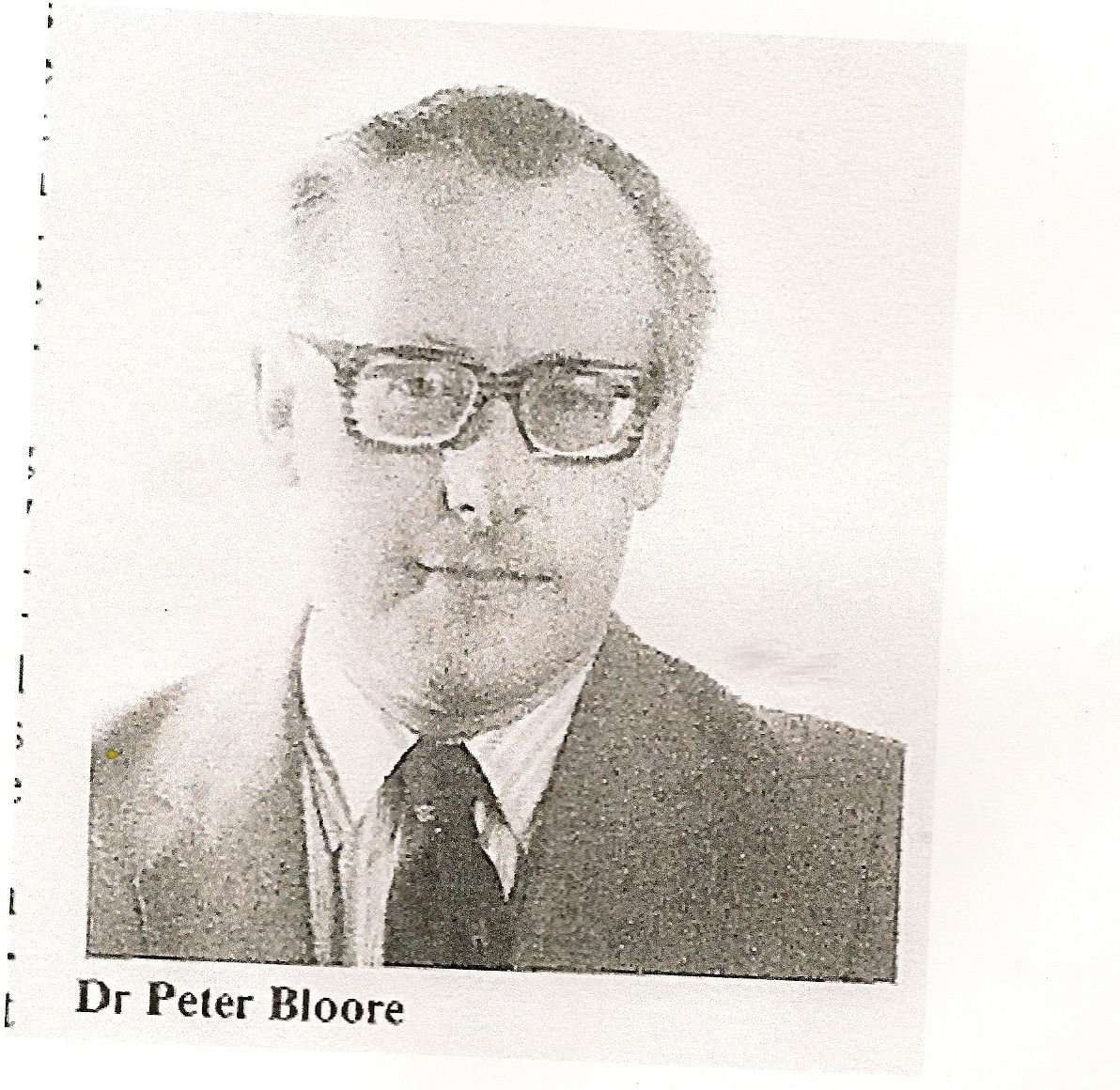 THUS ALBRIGHT AND WILSON WORKS MANAGEMENT WERE FULLY AWARE OF THE " HIGHLY TOXIC" CHEMICAL WHICH WAS BEING DISPOSED OF INTO RATTLECHAIN LAGOON.
Further evidence of the toxic effects to pregnant women are provided again by Albright and Wilson , in this case directly to The European Commission in respect of a new regulation concerning the evaluation and risk of existing substances.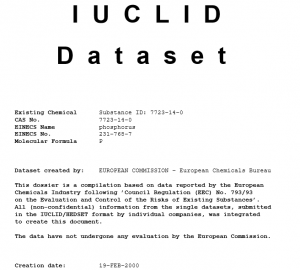 In this dossier on page 12 there is mention of Albright and Wilson's favourite round up poisoners "Monsanto"- then known as "Solutia Europe". Not only does this confirm Albright and Wilson as vivisectionists, but also demonstrates  how very, very small amounts of white phosphorus (0.075mg/kg) were capable of causing increased mortality in pregnant rats- and by association pregnant women.
Quite clearly here Albright and Wilson themselves state "THUS TWO SEPERATE STUDIES WITH ELEMENTAL PHOSPHORUS IN EXPERIMENTAL ANIMAL REPORTED INCREASED MATERNAL DEATHS LATE IN PREGNANACY AND DURING DELIVERY."
"AS A CONSEQUENCE WE ADVISE THAT WOMEN OF CHILD BEARING POTENTIAL SHOULD NOT BE EXPOSED TO ATMOSPHRIC CONCENTRATIONS OF 0.01 MG/M3 (9 hr TNA).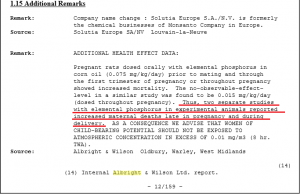 BUT WHAT STEPS DID ALBRIGHT AND WILSON WORKS MANAGEMENT PUT IN PLACE TO PREVENT PREGNANT WOMEN BEING EXPOSED TO THIS CHEMCIAL IN SUCH TINY AMMOUNTS IN THEIR COMMUNITIES AND WASTE DISPOSAL SITES?