FORMER DUPORTS TIP
It has become clear to us that following the demise of the Rattlechain Brickworks that subsequent industrial scale fly tipping occurred around the Rose Lane area- most notably from rogue waste carriers. Only changes in legislation such as The Deposit of Poisonous Wastes Act helped to curtail some of these practices, whilst the local authorities looked the other way.
Into this shambles, Duport Properties Limited appeared to come on the scene in early 1973 registering a freehold interest in the brickworks and 2.5 acres on the south side of The Birmingham Canal.
It is clear that at This point that DPL were tipping and moving around large volumes of materials around the wider area of John's Lane and also infilling the Vono lagoon. There are no planning records which permissioned DPL to tip waste leading up to the issue of  a waste management licence SL129 by West Midlands County Council in 1978. This had no valid planning permission. It was inaccurately claimed that Sydney Sheldon's 216 application in 1954 could be used as justifying this tipping given that a clause within this licence stated, "Waste material shall be filled into the old marlhole so far as is practicable and no waste material shall be deposited above levels to be agreed with the Borough Council and Local Planning Authority."  
There is also the question of whether their  infilling of the Vono lagoon also had any permission. We have looked at this company's interface with Albright and Wilson, and the changing face of John's Lane HERE.
Unfortunately the continuation of tipping at the site adjoining Rattlechain lagoon by Duport Properties Ltd- ultimately through site licence SL129 did virtually nothing to "manage the waste" but leave a terrible legacy of waste to "manage" at a later date- when the original polluter had long fled the scene. It allowed tipping across the entire site and no longer the infilling of just the clay pit, bordering the Albright and Wilson lagoon which by now had received its own site licence- SL31- "The rattlechain tip".
It should be made clear  that the only site with the provenance "rattlechain" at this point in time and at any time going forward from this point in time should be the lagoon, as all trace of brickmaking had long gone only to be replaced by appalling tipping operations over the remnants of a brickworks. Unfortunately the mistake in still associating this site as "rattlechain" by subsequent licences and authorities has been misused in trying to link the sites together to suit commercial activities.
Also in this area was another industrial polluter known as "Birlee Industrial Limited." As will be revealed below, the two companies appear to be interchangeable in terms of conspiring to fill the site with as much "demolition wastes" as they could.
Subsequent to this Birlee Industrial Limited were granted a site licence SL113 which specifically mentions that asbestos waste is not excluded from being tipped on their site, as SL129 had also not excluded either.
Subsequent to this, the company then applied for a further extension licence modification  to their adjoining site licence SL303.
This would be covered with planning application DC11034. We will look at some of the correspondence between parties of interest below.
This letter from "Chairman" of Birlee Industrial Limited John Stewart Hurst to consultants Johnson , Poole and Bloomer based in Brierley Hill asks for drawings for fill required on the Duport Properties boundary "as discussed". This is the first indication of the three co-ordinating their activities across the former "brick works" site.
A subsequent letter from the technically retarded Ken Harvey- County Waste disposal officer at West Midlands County Council dated 7/2/80 writes to John Turner of Duport Properties Limited.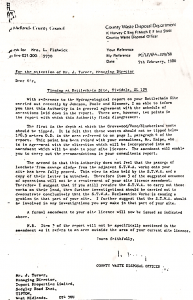 This letter confirms
Johnson , Poole and Bloomer had carried out a hydrogeological report on Duport's "rattlechain site". Their consultant was named Colin Knipe. Harvey who had already approved 2 modifications to the licence up to this point approved of most of the report except for two points.
The depth at which "Grovewood/Vono/Slumberland  waste should be tipped" should not be below 128.5  OD He therefore approved of this operation. This is subsequently evidenced with the third and final modification to the licence on 11th February 1980 adding condition 44.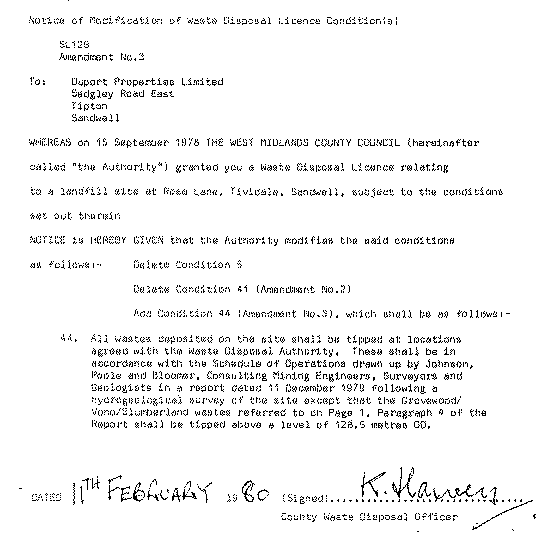 The other contention concerned allegations from JPB that sewage waste from the adjacent sewage works was leaching onto the Duport SL129 area. As evidenced from the map above, the two sites were directly connected.
On 13th February JPB's Colin Knipe wrote to E. Gough of Edwards , Bigwood and Bewlay, "surveyors, valuers, auctioneers and estate agents."
This concerned the necessary planning application for "foundry sand tipping." and asked that formal notice was served on Duport Properties Limited in the name of their "mutual client" – i.e Birlee Industrial Limited. Knipe suggested a round table meeting "to "coordinate all our activity."  Copies were sent to both John Turner at Duport and John S. Hurst at Birlee.
A letter from E B B to Sandwell council dated 20 February 1980 concerned the planning application "on behalf of our clients, Birlee industrial Limited, for the reclamation and stabilisation of land currently within the ownership of Duport Properties limited."  The letter confirms meetings had taken place between the parties and that "the enclosed plans "have been prepared by the consultants , Messrs Johnson, Poole and Bloomer on behalf of both Duport Properties Ltd. and Birlee Industrial Ltd.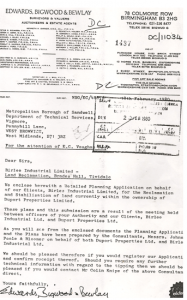 A subsequent letter dated 11th March 1980 from Frank Pomlett, "managing director" at Birlee concerns a change to their adjoining licence SL303. Once again Johnson Poole and Bloomer are their consultants and notes "the infill exchange between ourselves and Duport Properties."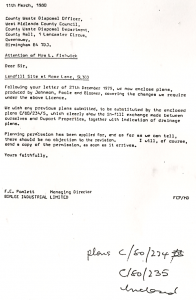 The application DC11034 was approved by Sandwell council on 22nd May 1980.
A subsequent letter from Pomlett to a Mrs L Fishwick at the county waste disposal office confirms that they had received planning consent i.e DC/11034 and were eager to get the licence approved for "the infilling of land adjoining Duport's rattlechain tip."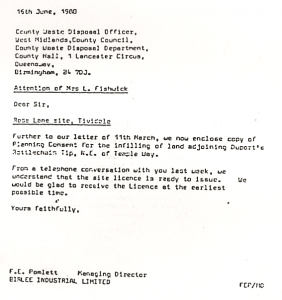 On 20th October Pomlett wrote to a Mr O'Connor (David) at West Midlands County Council requesting a modification for both their licences SL303 and SL313.
"Bricks, concrete from demolition works with admixtures of plaster, glass, roofing asbestos and timber. Also occasional road surfacing tar macadam."
It was decided that this modification needed another planning permission legally with Ken Harvey writing to Malcolm Harris at Sandwell council requesting information.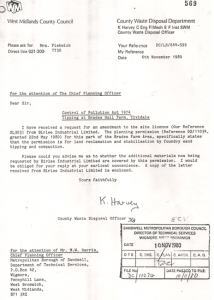 Harris replied on 11th November stating that the council's legal department considered a further application would be necessary. This therefore resulted in an application which Birlee sent to the council on 16th December 1980 via an R Orton, listed as a director of this company for Pomlett.
An interesting footnote on this correspondence comes in the footer of Birlee's "associated companies. This reads "Skandinavisk Stalatervinning A.B Sweden O.Y Recofir AB. Finland J.S Hurst Ltd  Ounsdale Estate Ltd"

DC 12818  | Tipping of clay, top and sub-soil, mining/quarry wastes, bricks, concrete, & certain other demolition wastes | Land N.E. of Temple Way Tividale and  was subsequently approved on 7th January 1981.
DC_12818-DECISION_NOTICE-211942
Condition 3 of this application stated clearly that the levels allowed under this should be the same as approved in DC11034 and condition 4, that no liquid or toxic wastes should be tipped- except of course they had approved this already with allowing waste that contained roofing asbestos!
DA/18601
Not content with soiling the area they had already ruined under validated licence and application, Duport Properties Ltd applied for another planning permission in 1985. "Extension of tipping facility and approval to final contours of existing tip and extension at Rattlechain Tip and land East of Rose Lane. "
This site covered an area of 10.19 hectares (around 25 acres) of land between recent residential development in Brades Hall and the Birmingham Canal. The new area contained 3.2 hectares. A report from SMBC director of Technical services to the planning committee on 20th November 1985 fills in the intervening period.
"During the late 1970's and early 1980's lengthy discussions were undertaken with the site owners, the West Midlands County Council, the Severn Trent Water Authority, and various other interested parties concerning the development of the whole site. It was pointed out at an early stage that planning permission would have to be sought to complete infilling operations on this section of the site. There has been a gap of four years between the end of these discussions and the submission of the current application. During this period the area to the south and South East of the site has altered considerably."
The plans submitted by Duport expressed final levels for land West of Rose lane, a mound and plateau well above the previous ground levels, which WMCC advised them would need an additional permission. Basically then this confirms how WMCC allowed overtipping to continue with impunity at this site. Duport claimed this operation would take between 5-8 years to complete, with the same materials used as for previous tipping, i.e foundry sand as well as all the scrap furniture and rubbish they had been offloading under their previous tipping activities.
In relation to Birlee Industrial Limited- "Immediately north of existing homes in Gladstone Drive and Law Close is a strip of land owned by Birlee Limited. The applicants have tipping rights over this land. The final level of this strip will be in line with the housing development to the south as it is anticipated that the owners will wish to develop this land for housing purposes in much the same way that the adjacent site to the east, which they also owned, was developed by Tarmac homes."
This joint operation over the whole site between the two companies is further underlined by a letter from Frank Pomlett dated 26th April 1985. Now operating under the phoenix "Mintworth Limited", the company is now based at Unit 45 Coneygree Industrial Estate Tipton, (though also claiming a Manchester registered address), with Directors being John S Hurst, N.R Hurst, and Pomlett.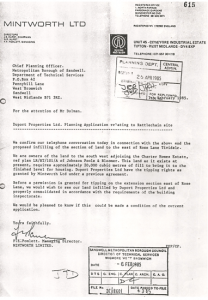 "Duport Properties Limited have the tipping rights as granted by Mintworth Ltd under a previous agreement."
It is not clear as to whether this "agreement" had been one sanctioned by WMCC or anyone else, or even what Duport Properties Limited had been tipping, given their previous lack of attention for specification regards scrap waste!
It is clear that this application was to provide one of the first in a long line of controversial decisions from an existing residents point of view.
A letter from K.J Brateley, Acting Waste Disposal officer WMCC to Malcolm Harris offers an indication of how they were being affected, as well as the new proposed site licence to cover this area- SL502.
"SL129 issued in respect of land to the West of Rose Lane included a condition requiring the erection of 6ft high chain link fence or equivalent standard fencing around the site boundary. When neighbouring residents were consulted about the application a number of points were raised concerning the southern boundaries of, and unauthorised access to the site. Residents were concerned about both children playing and individuals "scavenging" on the site. When houses were erected to the South of the existing site on Gladstone Drive, Law Close and MacDonald Close a screen fence was erected along the boundary with the existing tipping area. Residents have complained that this fence is flimsy and unsatisfactory for screening purposes. They have also experienced problems in ensuring that the fence is maintained in a satisfactory condition."
Remember this in light of the fact that West Midlands County Council had NOT excluded waste containing asbestos being tipped across the site!
The prospective licence referred to as SL502 was prepared and the waste types approved. We asked for this in a freedom of information request to Sandwell council, who claimed that correspondence later indicated that Duport Properties Limited had in fact not carried through with wanting to initiate it. BUT THE PLANNING APPLICATION (DA18601) FOR THIS LICENCE WAS APPROVED.
The sanctioning by WMCC for this licence just appears to confirm that The Control of Pollution Act, which supposedly was to stop the wanton dumping of substances hazardous to health was in fact not worth the paper it was written on.
The conditions for the planning application can be read below.
Three phases of filling operation were proposed in the permission granted on 17th January 1986.
Note condition 3 "To ensure that the proposed workings do not prejudice the amenities which the occupants of nearby properties may reasonably expect to continue to enjoy"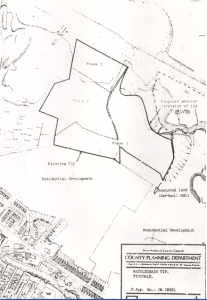 It is only with the benefit of a few years passed that we become aware of what happened with this application and how Duport Properties Limited appear to have abandoned the area altogether. There is contradiction in what Sandwell council claim to be the case regards the site licence- as liaised with The Environment Agency.
We are aware That Sandwell council itself tried to purchase the site using a derelict land grant in 1986. "Williams Holdings", became the convenient name for which Duport dispensed with their toxic assets. The Sandwell council deal obviously never occurred.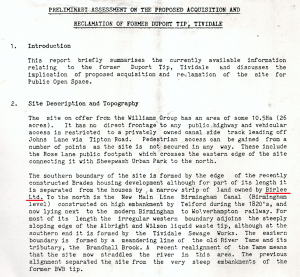 A preliminary assessment on the proposed acquisition and reclamation of former Duport's Tip from November 1986 noted  "On 17th Januray 1986 planning permission was obtained for the extension to tip on land at Rattlechain Tip east of Rose Lane (DA/18601).   Very comprehensive planning conditions are attached to this permission, including expensive restoration conditions. However, the operations for achievement of final levels are to be commenced immediately final tipping levels have been achieved over 50% of the surface area of phase 1. This situation has not been achieved. The tipping licence for the extension to the tip has now been surrendered by the landowners."
It also highlighted
extensive volumes of inorganic/organic waste covering 50% of the site

the potential and possible active combustion of waste

gas generation from combustion and decomposition of organic matter

toxic contamination through the previous tipping of hazardous and toxic materials on the site

the tipping of unsuitable materials over the base of the tip extension (East of Rose Lane) which required removal and stabilisation

the need to reinstate the tip surface and for dealing with site generated effluents.
Worse still the following is noted
"The Western half of the site appears to have been tipped to a great depth with a wide mixture of fills. These include a variety of materials originally generated from within the Duport group of companies but more recently arising from the operation of the tip as a commercial enterprise. Very little control seems to have been exercised by the former waste disposal authority WMCC, hampered no doubt by the vague description of wastes permitted to be tipped by the licence, together with the lack of any detail concerning the maximum permissible proportion of organic wastes. It must be assumed , therefore , that the types of wastes very much in evidence at the surface of the tip are representative of the majority of fills on the site."
So let's just repeat that statement- the site was being used as "a commercial tip" and the West midlands County Council, which thankfully disappeared in 1986 were totally liable for this absurd misuse.
Two unspecified vents also appeared to indicate that burning underground was taking place. One wonders whether a company and their consultants working in this area at the time had sanctioned this. It is difficult to see who else could have. The most damning verdict of this cowboy company appears to be the fact that "random tipping" has taken place and "there is no indication that any part of the tipped areas have been reinstated to even a minimal standard."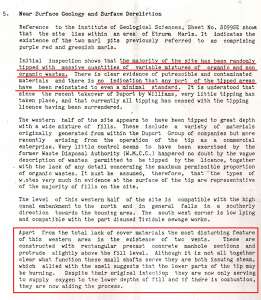 Another separate revelation source comes from notes of a conversation concerning one of those at the helm at this organisation , one David O'Connor , who by now had simply transferred to "Walsall Council Hazardous waste unit"
"Hole filled up with water (about 6 million gals)"
Contaminated water found in the Black Country sewer construction , which crossed the site contained E.coli. It was inferred that this came from the sewage works itself , though they denied this- but with the uncontrolled nature of wastes it is not unlikely to have been deposited by someone on the site itself directly.
One shakes the head in disbelief at these statements, and how the site licences were a total and utter joke.
A letter from M.W Harris of Sandwell council to the Black Country Development Corporation discusses the Duport's tip as it stood as at 18th April 1989.
"I have been aware of tipping on the site over 16 years, no control was exercised over the materials deposited or placement of those materials. My staff have been in a prime position to witness the site operations and because they were concerned about the eventual possibility of development, pictorial records have been kept of the various phases of filling the site from 1973 onwards.
Materials of organic origin, chemical drums and unsuitable industrial waste are present. Some evidence of dumping of liquid waste exists. Unmarked tankers have been witnessed pumping liquids into lagoons in the centre of the site. Additionally, large quantities of hazardous waste, including asbestos where (sic) deposited."
Harris goes on to state to the Black Country Development Corporation that
"The bulk of the surface fills within the Duport Tip contain dangerous and obnoxious materials. Any scheme involving excavation, moving or removal of such materials should provide sufficient safeguards to protect the adjoining housing estate against dust and gases from dangerous and obnoxious waste. Potentially dangerous materials such as asbestos will require special licences before it is disturbed. The Health and Safety Executive should be consulted regarding their special requirements."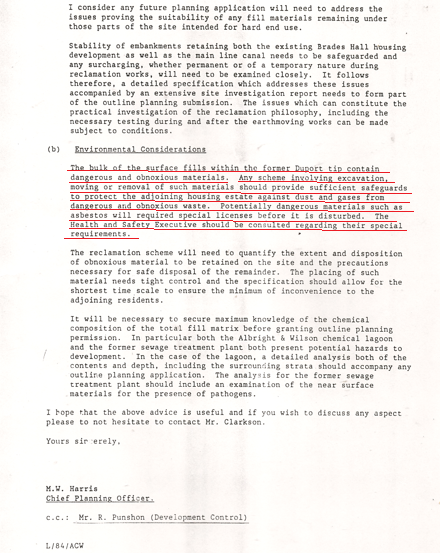 Duport Properties Ltd and Duport Services Ltd dissolved 7/6/91 along with Duport Property Developments ltd, thus the polluter had not paid a penny towards the remediation of the area.
DAMNING VERDICT.
Someone should have been prosecuted for the manner in which this site became an unsanctioned, unregulated toxic hazardous waste dump- most notably all the directors of "Duport Properties Limited".  All those serving on the West Midlands County council from the incompetent Ken Harvey and those who followed him, and the councillors who nodded their heads like dogs should hold them in shame- because one can have nothing but contempt for their decision making and lack of scrutiny as to what the hell was occurring from such a "commercial" cowboy tipping operation- much of it illegal.
It is no use anyone trying to claim that Birlee Industrial Ltd who became "Mintworth" were not party to all of this and unaware of it. Duport Properties Ltd and their charlatan con-artist "random tipping" activities and fake landscape and remediation enterprise, as has been demonstrated were directly linked throughout this period, and they shared land, legal advisors, as well as consultants during this period.
One has to seriously question the professional integrity and morality of Johnson Poole and Bloomer as a consultant at this time for participating in such a shambles of environmental pollution. They are equally culpable, and the evidence is there to demonstrate this.
Unfortunately, things would little improve into the 1990's with this most rotten of tips.