POST SCRIPT PROPAGANDA.
The following letter was sent out by Rhodia to local residents following the completion of the HPA report. It is clear that the residents who attended the so called "steering group" meetings were not fooled into becoming the mouthpiece for the regulator' s agenda of trying to sell the report to their fellow occupiers living near to the rattlechain lagoon area.
The purpose of this letter uses "residents concerns" as an agenda for what is really the failure of regulators such as The Environment  Agency, Sandwell council, Barratt Homes and the Government inspector who allowed the development to take place, who all failed to address the threat that new hosuing would pose to residents living next to "A HAZARDOUS WASTE SITE".
This report is a face saving exercise for all of the above, as well as of course the client who commissioned the HPA to write such a biased report in favour of them.
We see the use of the word "independent" 3 times, and as we have already explained, the report is not independent, neither was the steering group, and the laboratory is dependent on the samples given to them by the site owners- THEY ARE IN NO WAY "INDEPENDENT".
The residents living in the houses have only been living near to the site for less than 6 years at the time of writing of this report. It is impossible to make any credible judgement concerning health risks encountered by such a small group of people in this time- yet this letter tries to present a misleading interpretation of the results.
"As you would expect in a waste disposal site, the presence of contamination was confirmed."
This is possibly the most ridiculous statement ever written. Particularly in light of the statement made on the second page concerning "the harmful sediment".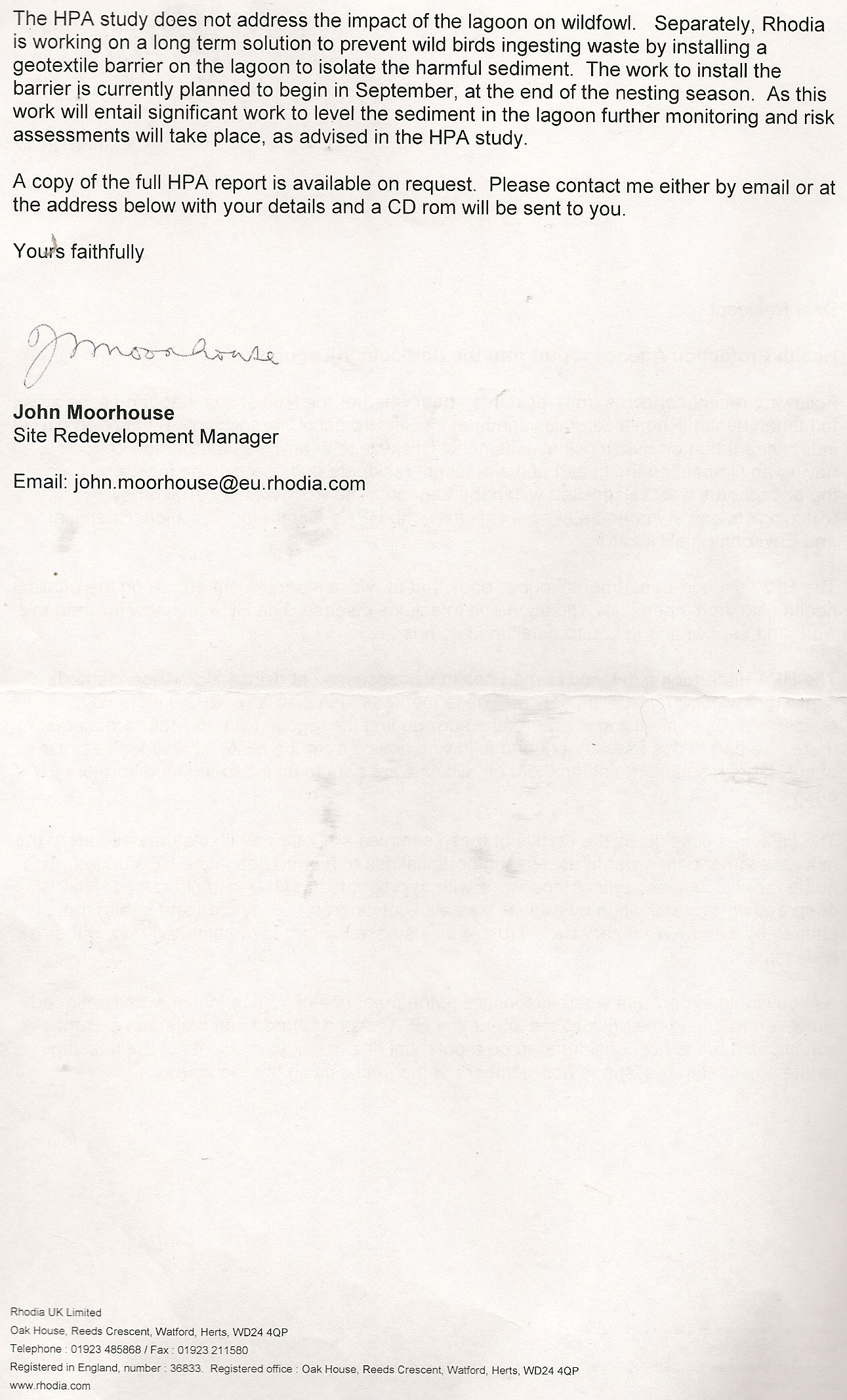 The opening paragraph thus sets up the saving wildfowl lie that followed, THE 2013 WORKS- which was really addressing Rhodia's unsafe site into closure as part of their closure plan submitted in 2006- the same time as the houses were being marketed on the adjacent former sewage works.
The use of the term "the harmful sediment" should be contrasted directly with the lies of Steve Hampson of Rhodia were making in 2001.
THIS IS ABOUT THE CLOSEST THAT THIS COMPANY HAVE EVER COME TO ADMITTING THEIR RESPONSIBILITY FOR POISONING WILDFOWL ON THIS SITE. THERE REMAINS HOWEVER NO APOLOGY.