Albright and Wilson's stench extended beyond Oldbury in the West Midlands to up North in the coastal area of Whitehaven. The chemical firm Marchon Products Limited had been based in the town for many years producing raw materials for detergents, and then expanding onto a disused tar plant before "the Quakers" took over there in 1955 and made it a subsidiary producing the detergent raw material STTP- Sodium  Tripolyphosphate. Solway Chemicals Limited, another subsidiary were also producing sulphuric acid from this year from a plant next to the Marchon site. Their main concerns were liquid fertilisers and sodium laurel sulphate- a toothpaste foaming agent.
STTP needed phosphoric acid as an essential agent, produced by "the wet process". This method is outlined from a 1955 Albright and Wilson publication "The manufacture and uses of phosphorus."
A £5 million sulphuric acid plant extension completed in 1967 made Albright and Wilson the producer of one tenth of the UK's total sulphuric acid output. 1968 saw the start up of a new wet phosphoric acid plant at Marchon, replacing the two previous ones. Levels of chemcials produced at the site are reported to have been 350,000 tons per annum of Sulphuric acid, 350,000 tons of cement, 165,000 tons phosphoric acid and 170,000 of STTP.
Whitehaven harbour was utilised to deliver raw materials using specially built vessels, which finally ceased in 1992.
But around the late 1960's with AW's disastrous loss making Long Harbour venture, the rot appeared to begin to set in for Marchon works as a site. In particular the environmental issues associated with other Albright and Wilson sites began to show a familiar pattern.
Pollution grime
Pollution from this large site appeared like a sore pimple from an outpouring of froth associated with the phosphate manufacture into the Irish Sea. More dangerous were heavy metal laden effluent from the phosphate rock impurities. For many years it had been a source of constant complaint from residents yet Albright and Wilson batted these away as it always did with talk of "jobs being put at risk" and claims it met allowed consents- all the same bullshit they also used when complaints were made about their Oldbury activities.
One of the most infamous associations with this site is the ground breaking prosecution of the company by Greenpeace– at a time when they were a genuine pollution busting environmental charity and not devoted to the pet cause of a failed US presidential candidate.
In 1990 they successfully took Albright and Wilson to court, winning a private prosecution brought under the new Water Act 1989. Whitehaven magistrates fined them a poultry £2000 and greenpeace costs awarded of £20,000.
But Albright and Wilson were always a company in total denial about their disgusting environmental record and the following whinging, whining trite garbage is what they published in Albright World at the time, desperately attempting to convince their workforce that Greenpeace were in the wrong and that these environmental assassins were trying to close the plant down when they attempted to block the discharge pipe into the sea.
The comments made by works director in this article are utterly delusional, "We believe the sample taken was not representative of our normal discharge" he wailed, with "profound knowledge" ,appearing to blindly believe that any transgression of the law should not apply to them. We also get those invented no/low risk "calculations" of theirs, which we have also recently seen offered by Rhodia in their defence of a white phosphorus/phosphine factory fire which were not accepted by the Health and Safety Executive.
We have a similar airbrushed version of events offered by Hugh Podger in his "Albright and Wilson The Last 50 years" and "Marchon The Whitehaven Chemical works by Alan Routledge." The latter book is fine if you enjoy black and white photos of machinery and people standing in front of them viewed through rose tinted glasses, but the garish reality of long standing environmental pollution is not part of the colour scheme.
When Greenpeace later blocked the pipe discharging the grime into the sea, they were totally justified in doing so, and if I had been around then knowing what I do now about this firms activities, then I would have joined them to happily be arrested for taking a stand.
When challenged on their environmental record, Albright and Wilson and then Rhodia, basically the very same people, consistently were in denial about their activities being harmful and their blind arrogance as "scientists" believed they knew better than anyone else.
An excellent account of the general air pollution coming out of Whitehaven around this time is documented in a Guardian article from 1988, which is archived on the Fluoride Action Network website. It is entitled "a host of roasted daffodils" and details how plants were turned to dust by the factory emissions, as well as the longstanding human health risks which are still there and will be for many decades.
"Marchon is licensed by the North West Water Authority to pour 93 tonnes of uranium into the Irish Sea every year, as well as 27 tonnes of cadmium and 9.3 tonnes of arsenic. Tests carried out by Greenpeace show that the composition of radioactivity found in Whitehaven harbour precludes it being from Sellafield. For five years now, scientists have claimed that cadmium has been a cause of genetic damage. Large doses can destroy cell manufacture and repair."
"In April over 100 parents and schoolchildren suffered nausea and coughing when a cloud of sulphur dioxide acid leaked from the factory and descended on them as they were leaving nearby Kells infant school. In July, 200 cars in the factory carpark were pitted and stripped of paint after a second acid leak."
All of this appears to be of a very similar story to the anecdotes of residents living around the Langley area, and also the denials of an operator who appeared to care little about the health concerns associated with the toxic chemicals which it produced. That it "provides jobs for the area" that would otherwise not be there appears to be the standard political shillers comment for justifying appalling and blind eye turning health and safety faux pas.
Of the manner in which it treated its workforce:
"Only relatively recently, local people have become determined to know more about the effects the plant is having on their health. But employees are frightened to speak out for fear of losing their jobs in an area of high unemployment.

One former employee said he found that childhood asthma returned when he began working in the factory's acid plant. He says the company never admitted that his work was the cause of his disease, but equally it did not insist he return to his job. The man, who still wishes to remain anonymous despite having left, interpreted this as a sign that the company knew it would be difficult to deny his work was the cause. But there are constant denials by the company when the plant is blamed for ill health."
What one can also take from this is the not uncommon observation concerning how Albright and Wilson treated its community with contempt from a resident who states in the article
"The medical profession has not been remarkably active in trying to identify the source of high asthma, foetal mortality, and genetic abnormality rates which have been found in and around the town. During the past five years rare syndromes have been found in babies born in Whitehaven and nearby Mirehouse. These diseases have led to either mental disorders, cleft palates, cysts, or facial abnormalities. There are also abnormal levels of severe spasticity, premature births, the transposition of body vessels, poor speech, and acute myloid leukaemia…..

….Sheila Smith, who runs the family advice centre in nearby Monkwray, said: 'It's the accountability which in some ways concerns me more than the pollution. The thing we have found quite amazing is that Albright and Wilson is a totally closed organisation.

'Trying to get the company involved in the community is impossible. You just meet with closed doors. As a result, there's an awful feeling of apathy and despair. The health authority also turns a blind eye, even though this part of the town has the highest death rate from heart disease among women in the northern region, and is among the worst for general health.'
One can perhaps see why after the Greenpeace incident and concerns like this, Albright and Wilson attempted a charm PR offensive with "open days", which of course, were more like an advertisement for what they made than a factory tour of any real benefit to the put upon polluted.
Political grime.
As at their Oldbury headquarters in the West Midlands, it is apparent that Albright and Wilson at Whitehaven were well represented in political circles. The May/June 1986 edition of Albright World reported that the new mayor of Copeland- the borough in which the works sat, was an employee, and not only that but boasted that he was the fourth employee mayor of that pocket borough to hold the title!
There may well have been others that followed him, but how can anyone really believe that having top councillors onside- especially in matters relating to planning and environmental concerns was not likely to be a very beneficial arrangement for all concerned- with protecting the company polluter?
And then there is the former MP – John Cunningham- now "Baron Cunningham of Felling". Between 1970-1983 he was MP for the Whitehaven constituency, which then became the Copeland constituency where he would serve another 22 years as the elected representative.  He deserves a special mention in how a political friend "who never worked for the company" was actually working for it for many years.
The following article appeared in Albright World, where the then fledgling Labourite was joined on a factory tour of the works by the useless former Prime Minister Jim Callaghan who held talks with union officials and managers- Orwell's "man to pig and pig to man" comes to mind here .
"He told them that Dr Cunningham, who was his Parliamentary Private Secretary during Mr Callaghan's government, was "constantly preaching about A+W's virtues and is a very good advertisement for you"
With this type of ear to the top man, one wonders what the good doctor was actually diagnosing him with about the wretched company, but it is plain to see in the subsequent years that he persisted in this "advertisement" shillery for AW.
In 1980, he would go on to become a paid "industrial policy adviser" for Albright and Wilson, a title he held throughout his time as shadow environment secretary until he  became Minister for Agriculture, fisheries and food under the odious Blair administration. So back to pouring "advertisements" into the ear of the premier. Of course this would be short lived, as Albright and Wilson by now were  in terminal decline, so his advice cannot have been of much use in the 80's 😆
AFTERMATH
With takeover assured, Rhodia did not waste much time in flogging off the Whitehaven site to "Huntsman"- another metamorphosising pillock of a chemical manufacturer. In June 2005, time was called on the entire site, as it shut down for good, with Rhodia diverting its operations abroad.
There are some interesting footnotes to the fallen polluting behemoth of Whitehaven available on the internet.
An excellent urban exploration of the way in which Albright and Wilson/Rhodia and its associates left the site before demolition, almost as though it was Chenobyl can be found HERE.  Another on the excellent 28 days later website gives a ghostly tour of the abandoned factory.
It is clear that this post apocalyptic scenario is one very familiar with Albright and Wilson and the manner in which it operated as a company- especially at its demise into the French hands of Rhodia.
Uncharacterised chemicals of all types and colours appear to be scattered everywhere mixing freely with mould alongside office equipment and personal identification tags serving as wafers in the toxic cream. How little the company must have valued the personal data protection of its staff to leave the site such as this!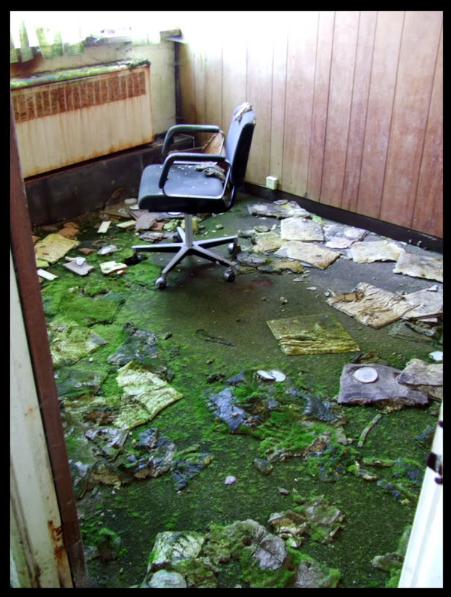 A freedom of information request from Sarah Turnbull in 2012 asks the following.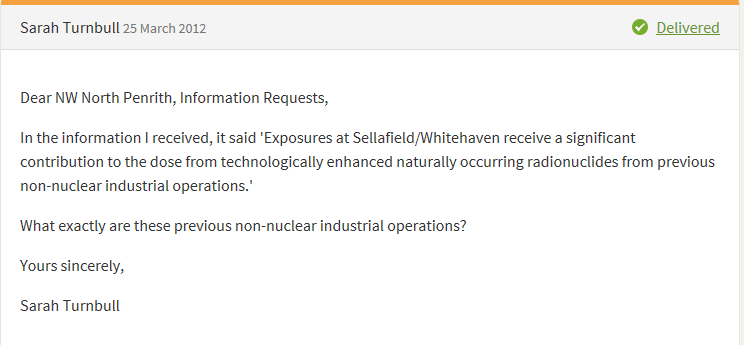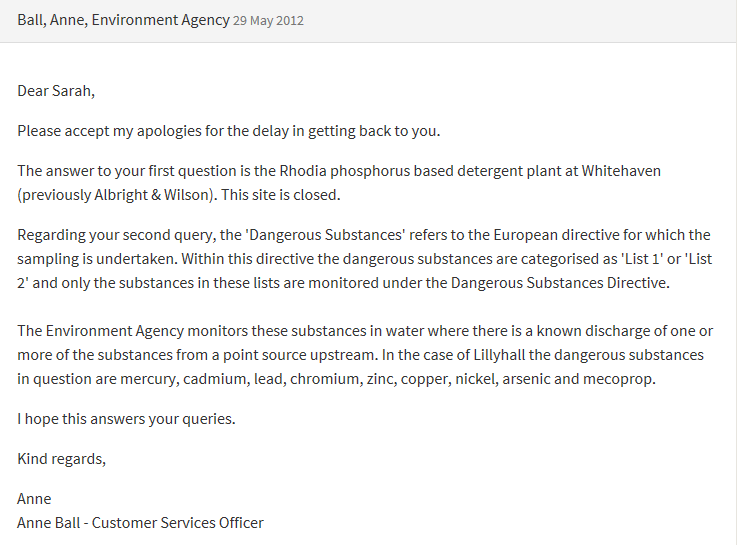 Clearly the Environment agency will be monitoring this area for many years to come  this, one of the many Albright's bastards.
From the perspective of an ex worker at the site there is a rather whimsical ditty concerning the demise of the works at Whitehaven which can be found below, but it is somewhat unusual for the usually brainwashed ex workers of an Albright and Wilson company to be somewhat critical of both the employer and the union facilitating the destruction of the operation. It is quite clear that longstanding Marchon workers resent Albright and Wilson and Rhodia's control of operations, as it began to unravel. Ultimately, with the type of chemicals that it made and which will no doubt persist for several decades, what one "couldn't believe what they'd done" is how they managed to get away with it for so long.
And so to the inevitable talk of "regeneration" from toxic crap. We have this document entitled "West Whitehaven Draft Supplementary Planning Document (SPD) February 2012″. This can be read at the link below.
.So when politicians are no longer able to spin their PR about jobs being vital from polluting industry, thus they like to play lego land and  still pretend that the toxic legacy does not appear by wanting to build "quality homes" on or near to contaminated land. We do however get the truth of the past in this document about this dirty polluting shambles of a chemical site too late from this self serving council, now that its chemical factory paymasters are no longer  there in situ.
"The public perception of the area locally is often poor due to the recent history of the industrial / chemical activities of the Marchon plant.  The environmental impacts of the production processes resulted in unpleasant odours, gas clouds, and residue deposits on cars and gardens, as well as ground water contamination leading to foam licks and radioactive deposits in the sea.  Visual impacts, noise and lighting pollution affected local residential amenity as did the heavy road traffic generated by the many tanker trips taking raw materials to the site from the harbour."
Now when did Jack Cunningham and co ever admit to any of this at the time?