GOWER TIP TIVIDALE
LOCATION
The Gower Tip site dates from 1938 and is located off the Old mainline canal near Brades Hall.  Before this it was part of The Gower Brickworks becoming used for industrial chemical tipping by Albright and Wilson by boat and then road haulage.
It was issued with a site licence numbered SL32 in 1978 at the same time as Rattlechain, receiving other soild wastes from the Langley plant. At the same time as licence SL31 had been submitted by West Midlands county council , licence SL32 was also under consideration as a so called "contentious licence."
A map of the current site boundary can be viewed HERE.
HISTORY
A freedom of information request to Sandwell Council revealed more about the waste disposal history of the site.
The reply to this request stated
"Unfortunately, the records of this site are incomplete and the map defining the site boundary is missing from the original licence document dated 6 April 1978. However, the area was redefined in Amendment No.2 which took effect in August 1979. Unfortunately, a signed and dated copy of that amendment has not survived. The licence was surrendered on 22 April 1994 and cancelled with effect from that date.
We have found the original "lost" map refered which is shown below which was contained in planning application DC838 approved on 23/8/74. Erection of security fence on boundary marked red on company tip plan number 1582C.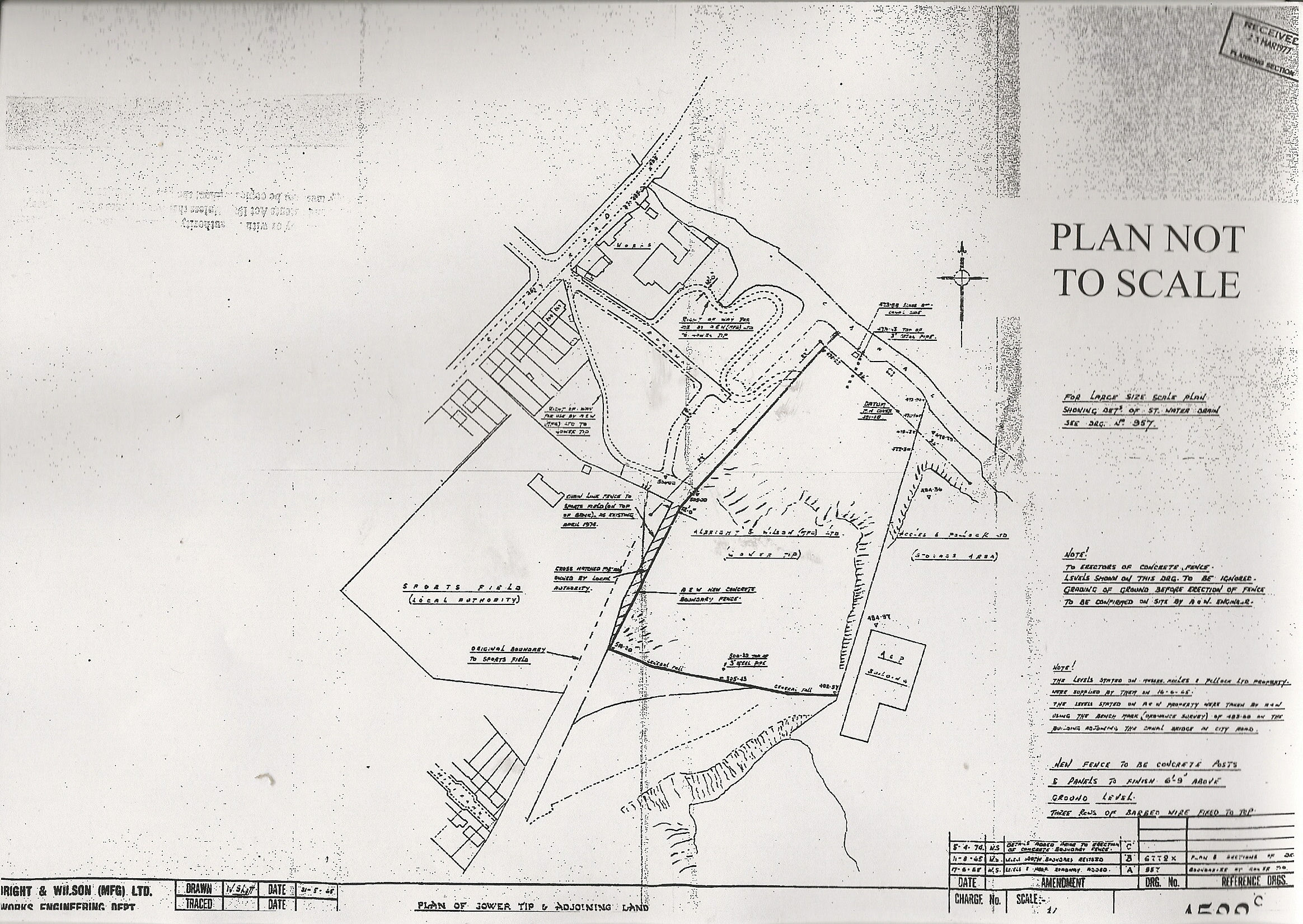 Going back further it is clear from the letter below that the exact boundary was a complete uncertainty, meaning that todays current borderline as to what is classified as land now developed on and land within the Rhodia/Solvay owned land cannot be relied upon.
This plan is used again in application DC/5064 which applied for a certificate of established use of the site for tipping. Both the Rattlechain and Gower tip sites were applied for under this legal tool at the same time. This letter from The Trent River Authority identifies changes dealt with under the then Deposit of Poisonous Waste Act 1972. This allowed the tipping of waste to continue and then further continue under the Control of Pollution Act 1974 which introduced licensing. In this case the certificate for The Gower Tip was issued on 11th May 1977, as confirmed in the decision notice below.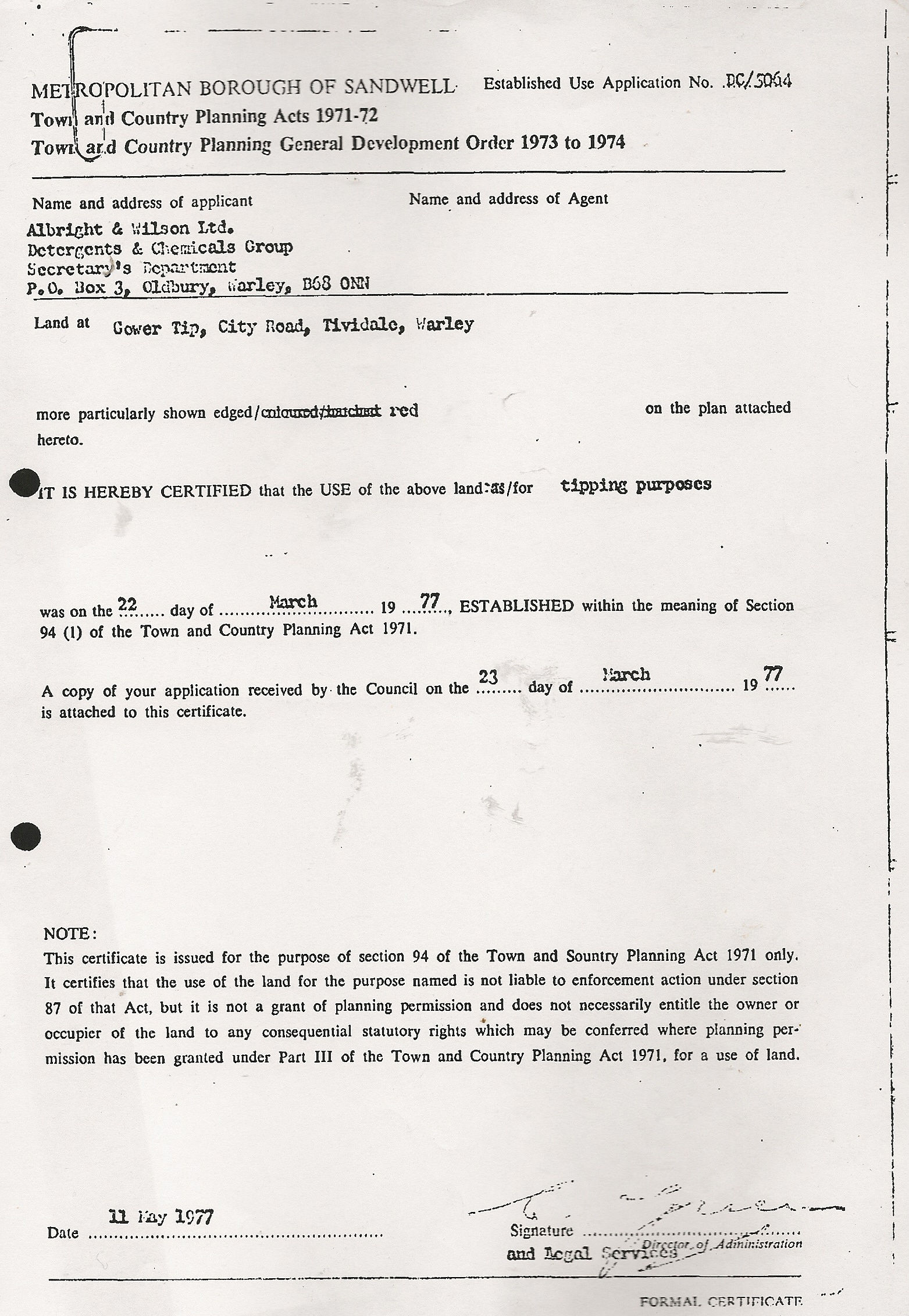 Licence SL32 allowed the following to be disposed into the landfill, though it should be stressed that what went into here before this is not exactly clear.
Phosphorus pentasulphide 30tons/year
Phosphorus sesquisulphide 2 tons/year
Dross from limestone mixed with small quantities of calcium phosphate 10 tons/year
Sodium carbonate mixed with small quantities of sodium phosphate 5 tons/year
Building rubble and lagging contaminated with asbestos 5 tons/tear
Paper packaging contaminated with sodium hydroxide or sodium carbonate or lime or trace quantities of other materials of similar toxicity  15 tons/year
*Inert waste for use as cover.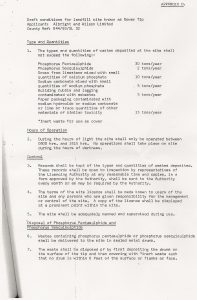 This mixture of waste offers a fairly dire potential for ever dealing with the problem of this site, made more unlikely by building houses around it to prevent such an action ever taking place. Of particular note ASIDE FROM THE CHEMICAL WEAPON PRECURSOR PHOSPHORUS PENTASULPHIDE, is asbestos which we know Albright and Wilson's medical advisors were particularly negligent about during the 1960's and which is now causing some of their employees terminal illness.
Research by swanwatch has also revealed significantly more information than the council claim to hold about the site, a worrying development given that as with Rattlechain houses have now been recently built on the edge of the site. From minutes of The West Midlands County council Waste disposal and pollution control committee December 1977 the following information is given.
"I Background
This site is a former clay marl hole which has been used as an industrial tip since 1938. The site has received large quantities of toxic and hazardous waste since this time. These are mostly comprised of various compounds of phosphorus together with some radio-active wastes, laboratory chemicals, solvents e.t.c. The site represents the major disposal outlet for the Company's waste phosphorus pentasulphide and phosphorus susquisulphide.
These waste arisings are the main problem associated with this site since they are highly reactive especially with water. "
A freedom of information request to the Environment Agency  yielded the same familiar vagueness concerning the source and alleged removal of some of these "radioactive waste".
"Further to your enquiry dated 19 October 2010, we have looked in the Gower Landfill file and can find no reference to the removal of radioactive waste from the site. It should be noted that Albright and Wilson applied for, and was issued with, a waste disposal licence under the Control of Pollution Act 1974. Section 30(5) of the Act has the effect of excluding radioactive wastes from the licensing controls.
It is therefore not surprising there is no mention of the movement of radioactive wastes on the site licence file. It follows that we also have no record of who moved it, to where it was moved or any details of tests done on it. If the quantities of material were small enough they may have been moved under an exemption order in which case there may be no authorisation or records of disposal kept under the radioactive substances legislation either.
We have found 2 references to radioactive waste on the Gower Landfill file as follows:-
09 June 1976 – A letter from the Chief Waste Disposal Officer of the West Midlands County Council to Sandwell Planning Department includes advice that low activity radioactive waste has been deposited at the Gower Landfill in accordance with an authorisation from the Department of the Environment under the Radioactive Substances Act 1960. There were no further details.
22 December 1977 – A report to the Waste Disposal and Pollution Control Committee of the West Midlands County Council includes reference to the waste types already deposited at the site as including radioactive wastes. No further details were given. Following your conversation with Dave Whitford on 4 November 2010, we think you may have already seen this document.
The final entry on the Gower Landfill file was made in 1994 with the surrender of the licence. Please note that the correct reference for this site is EAWML 40910.
We do not know if Sandwell Council have any knowledge of the event referred to and would advise you to contact them directly for the information you require."
 We asked another freedom of information request of Sandwell council related to this reference to radioactive waste, which received a very poor response.
Such a bat and ball exercise between different regulators offers no solution to the problems they helped cause by allowing this site to "close" without removing the waste that lies beneath the surface.
With a housing development now proceeding around a large part of the site, we wonder what eventual solution will be offered for dealing with this overgrown piece of land still containing such a large amount of toxic and "radioactive wastes."
It seems the answer for Albright and Wilson former sites is to surround them with housing first, which will then be used as the excuse that removing the waste would be "too hazadous" to local residents and cost prohibitive. We would strongly advise any balls over this fence are not retrieved by climbing over the fence.