Research by swanwatch has revealed that Albright and Wilson employees and senior management were indeed part of a home guard and fire guard unit for the Oldbury area. At this time the borough of Oldbury still formed a part of Worcestershire. The area of Trinity Street and including the Birmingham canal network up to and including the Rattlechain site at Dudley Port were within The 8th Worcester Home guard area.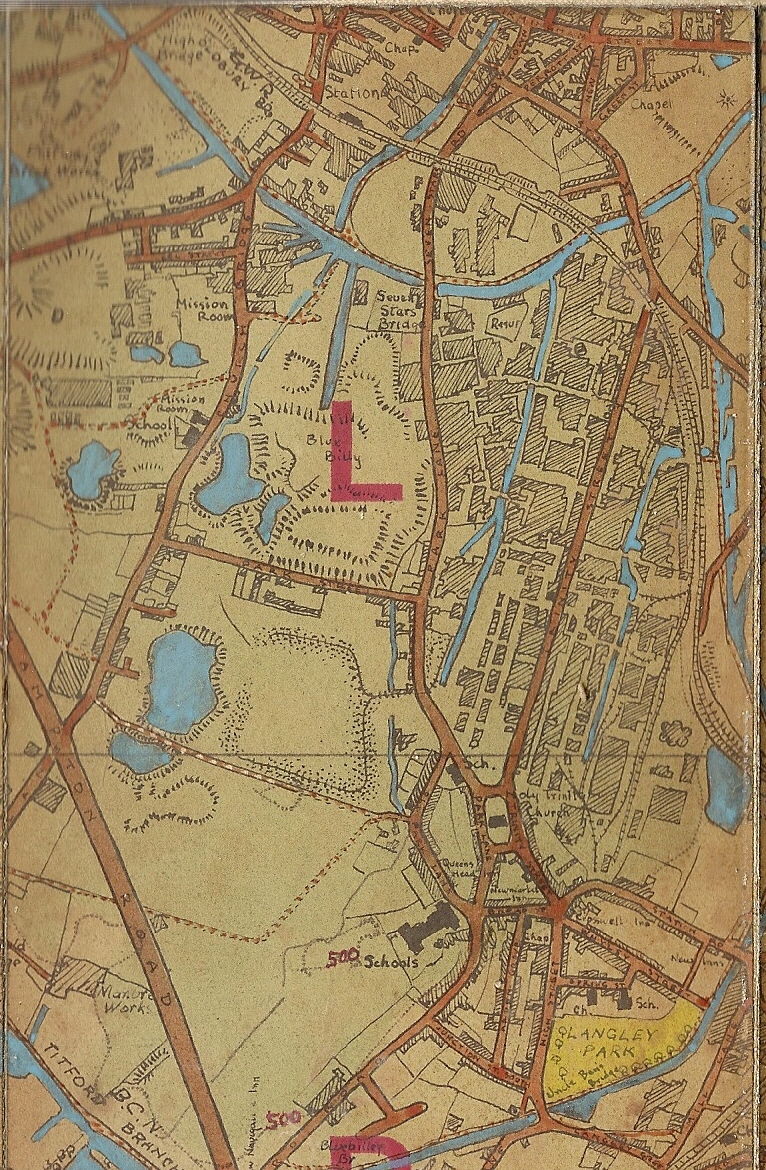 Part of the 8th Worcester Oldbury Home Guard area showing the canal network and the Trinity Street works. This hand drawn map allegedly belonged to  "Captain" Sydney Barratt- who later became the first none family member of the  Albright and Wilson clans to hold the office of Chairman in 1958.
8TH WORCESTER HOME GUARD LIST

Many names recorded on the official Home Guard list are works management from Albright and Wilson or key figures in  the command structure of this particular battalion, which meant that they had almost a free reign of organising defences within their own area. Many of these names are indeed mentioned in Richard Threlfall's history of the company in connection with wartime activities with the company, and to illustrate this point, that is how one works controlled the home guard defences of the wider area, plotted to store weapons that their company had made and had carte blanche to do basically whatever they liked -we will list them here.
The most senior name on the list , "Major W.B Threlfall" was Richard Threlfall senior's third son and brother of archivist Richard Threlfall junior who had joined the Albright and Wilson board in 1921.
 W.B Albright (Arthur Albright's Grandson) is misspelt "Allright" on this list and is a Lieutenant by 1941.
Sydney Barratt listed as Captain joined Albright and Wilson as Assistant Director of Research, succeeding Sir Richard Threlfall as Director of Research in 1932.
John Clifford Christopherson, is also wrongly spelt or abbreviated on the list as  Lieutenant "J.C Christopher". He was another Director of AW by 1942.
Other self appointed hierachy within the Albright and Wilson fold included, R. Dorey, and R.G Stilton as Lieutenants.
As at footnote to this research it appears that the works management of Albright and Wilson took the role of commanders in true Captain Manwaring style. An Albright World article from 1980 recalls memories of a member of the Home Guard unit.
"Half of us were in the Home Guard and the other half fire watchers.' Said Recreation Club Secretary Eric Dawes… Added Harry Harvey: "each morning we gathered to dismount the guard. All the works management- including Threlfall, Christopherson, Knight, Dorey and Stilton- would be there in their full uniform. One day Bill Albright was missing so I was sent to fetch him from his bedroom at the edge of the factory. He appeared to dismount the guard in his dressing gown and  pyjamas!" ( aw 1980)
In Summary
Albright and Wilson produced phosphorus weapons as a Government contractor, this stemmed from a 1922 agreement concerning phosphorus and smoke-charging. "The company will execute all orders placed by the Admiralty, War Office and Air Ministry for
(i)supply of phosphorus
(ii)smoke charging of projectiles, bombs, grenades or other phosphorus containers for warlike purposes."
Specifically their "Molotov cocktail" design contained a "self igniting" form of phosphorus that was preferable to earlier suggestions which needed to be lit by match. This would be known as "the number 76 grenade" or "AW bomb"
They had their own Home guard units based at the Trinity Street works which formed part of the 8th Worcester Oldbury area, which included the Rattlechain brick works site within its territory.