THE WILL OF THE MUTE SWAN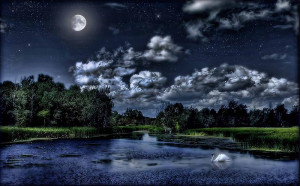 Upwards my gaze watches the night,
The still white clouds that spring to life,
With drowning breath my dying quest,
To join that heavenly herd in rest.
My busking chariot's charging might
Climbs the air in ghostly flight.
I leave no estate, possessions nil
My death is left to Nature's will.
To the waters my body committed,
A fiery foxes hunger remitted,
To the earth my bones lie battered,
To the winds my feathers scattered,
And to the young man who picked but one,
From that quill my soul lives on……