WHITE PHOSPHORUS CONFIRMED IN DEAD RATTLECHAIN SWAN
On 3/3/09 a dead male swan was found on the pool along with a dead male mallard duck. Rhodia were contacted and the carcasses retrieved by them. They were taken to the VLA at Shrewsbury (now AHVLA), where various tests were done, including for lead poisoning and avian influenza, all which proved to be once again negative and the cause of death inconclusive. VLA ref number 26-B0069-03-09.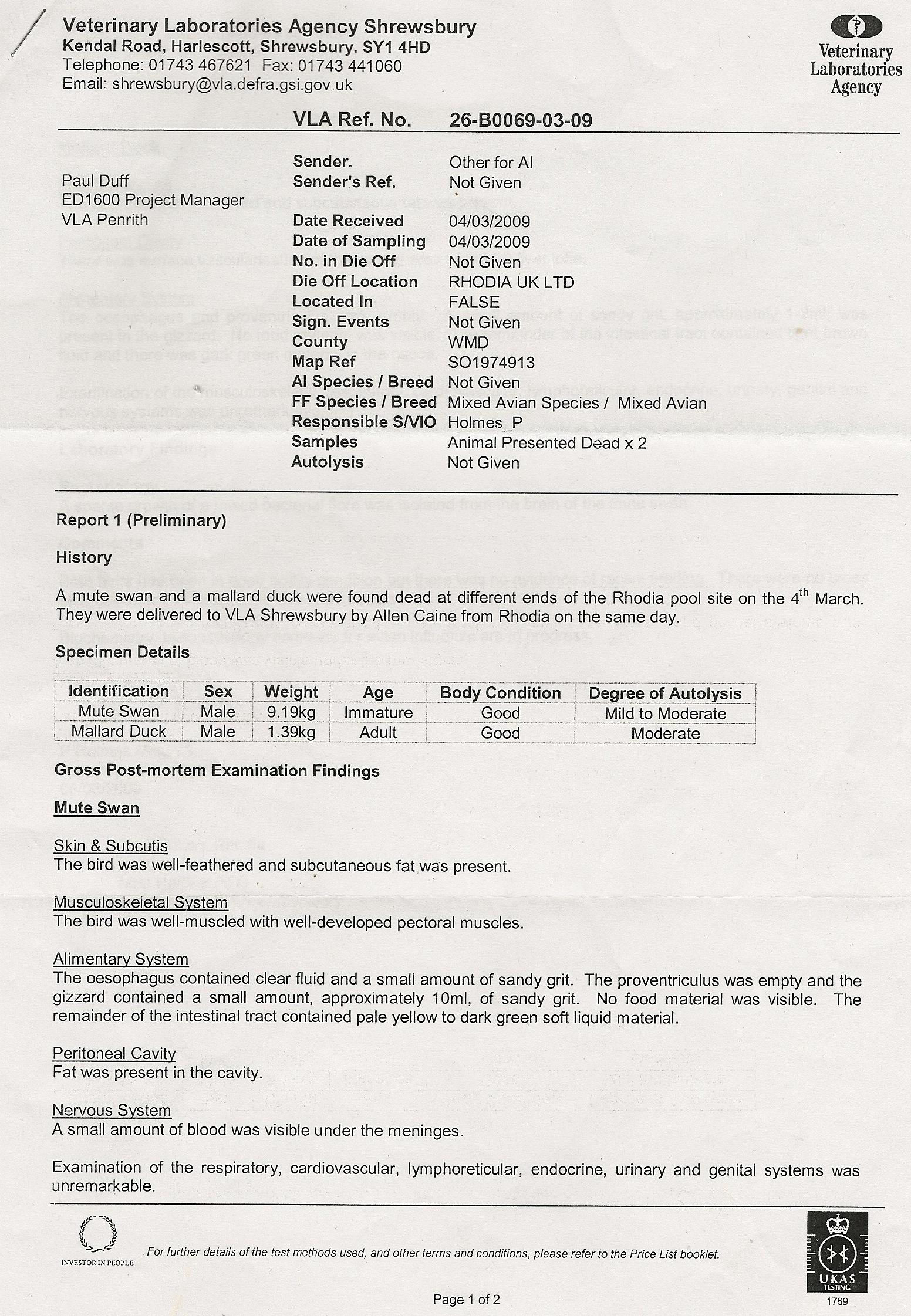 At this point after constant pressure from Swan Watch to test a bird for white phosphorus and after stating that we had contacted people involved with the Eagle River flats studies and sent them a video of dying swans from rattlechain , and who believed that the symptoms were consistent with such poisoning, the possibility was looked into by the VLA and Rhodia.
The following emails took place between a co-ordinator of the National swan Convention and Aiden Foster of the VLA.
From:
Sent: 23 March 2009 18:51
To: VLA Luddington
Subject: Re: White phosphorous.
To whom it may concern
We are trying to find a veterinary laboratory which is equipped to carry out the procedure to test a gizzard from a dead swan suspected of dying from White Phosphorous.
There's a big problem in the West Midlands involving white phosphorous. A firm called Rhodia has a very large area of water known as Rattlechain lagoon on their property and the sediment in that lagoon contains white phosphorous. Before Rhodia, the site was owned by Albright and Wilson who were involved with the production of explosives (shells and other armaments including phosphorous smoke screens and anti Zeppelin bullets) etc. Since 1999 18 swans have died after landing on the water for only a few hours – WP works that quickly. Until now none of the bodies have been tested for WP as we've been unable to find a VLA equipped to do the test.
There is a similar problem in Alaska at the Eagle River Flats where a large area was used by the US military and is 'full' of WP so much so ducks which have landed on the water are seen to ignite in mid air when they take off. Sounds a nightmare. But at least they are doing something about it whereas here, it seems an unknown quantity. I understand it is a very simple procedure. Can you help or maybe suggest who I could contact.
Thank you
name redacted (The National Swan Convention).
—– Original Message —–
From:Foster, Aiden
To: redacted
Sent: Tuesday, March 24, 2009 2:23 PM
Subject: RE: White phosphorous.
Hello redacted
Your email has been passed to me – I am familiar with the situation at Rhodia and would be prepared to discuss this matter further – please feel free to call.
Dr Aiden P. Foster Dip ACVD PhD MRCVS
Veterinary Investigation Officer
VLA Shrewsbury
Kendal Road, Harlescott
Shrewsbury, Shropshire, SY1 4HD
Tel
Fax
a.foster@vla.defra.gsi.gov.uk
The VLA took various tissue samples from the swan and mallard, forwarding them to the Central Science Laboratory, now known as FERA (Food and Environment Research Agency).
In a final report outlining a once again inconclusive cause of death, it is unclear what happened at this point, but the VLA through Aiden Foster claim that a "miscommunication" took place which resulted in the then unnamed lab testing for "total phosphorus" not elemental white phosphorus. This rendered any finding redundant as total phosphorus would have included all phosphates- products found in all living organisms. Their error was unacceptable, jepodised an already woeful investigation on their part and it is difficult to see how a "miscommunication" could have occurred when the VLA had been sent all the Eagle River Flats studies by Swanwatch and knew full well what chemical was being questioned.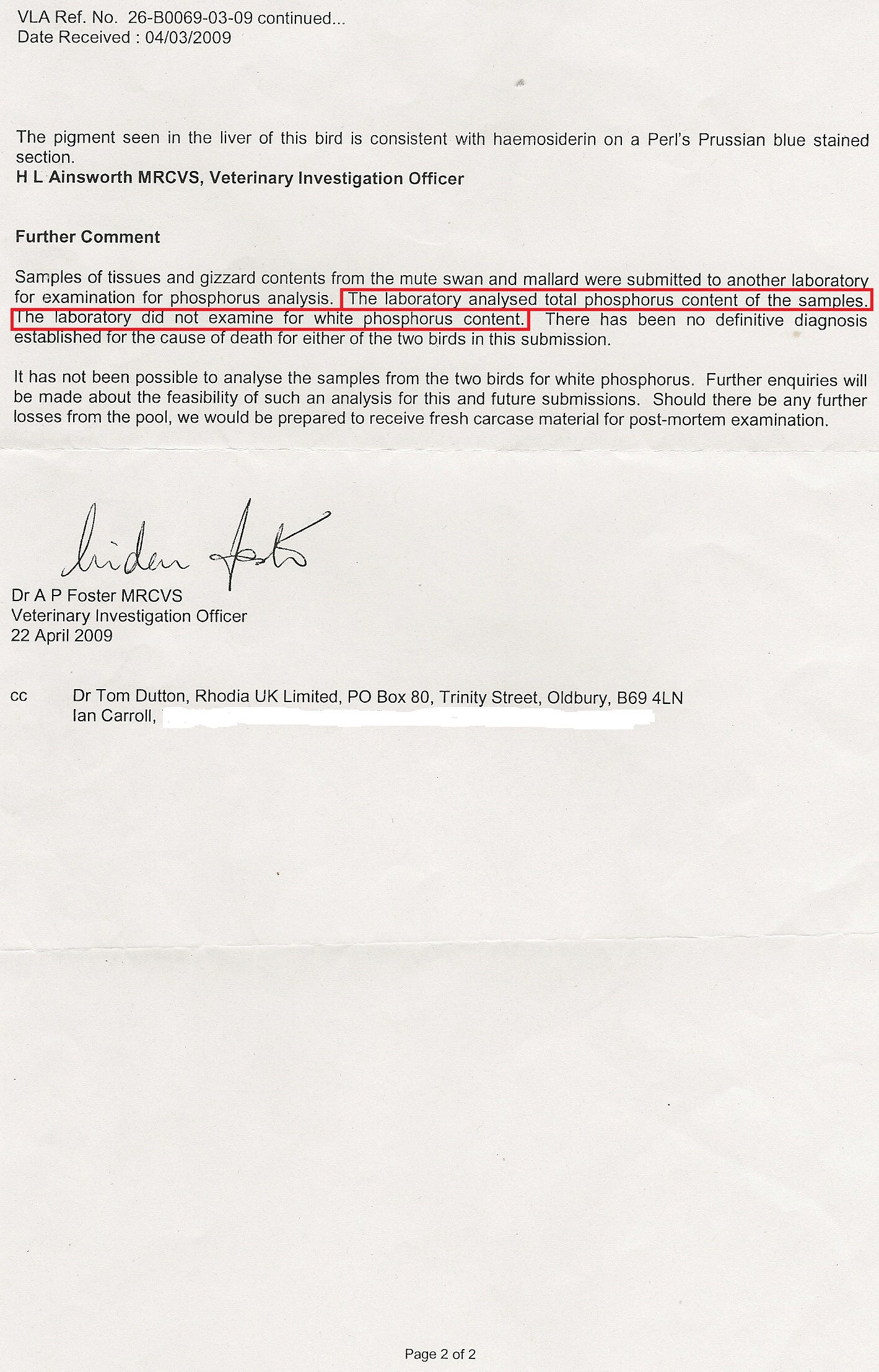 It was subsequently stated that the FERA labs could not in fact test for white phosphorus at this point.
With this I made a formal complaint to the VLA about this fiasco, and was provided with a response by manager Ian Davies. This is what he stated below regards P4 testing.
This letter confirmed that the matter had been passed to the group "CHaIRS" in JUNE 2009. Further outstanding revelations were to be unravelled on enquiry to this group about what they knew about Rattlechain, or rather what they did not!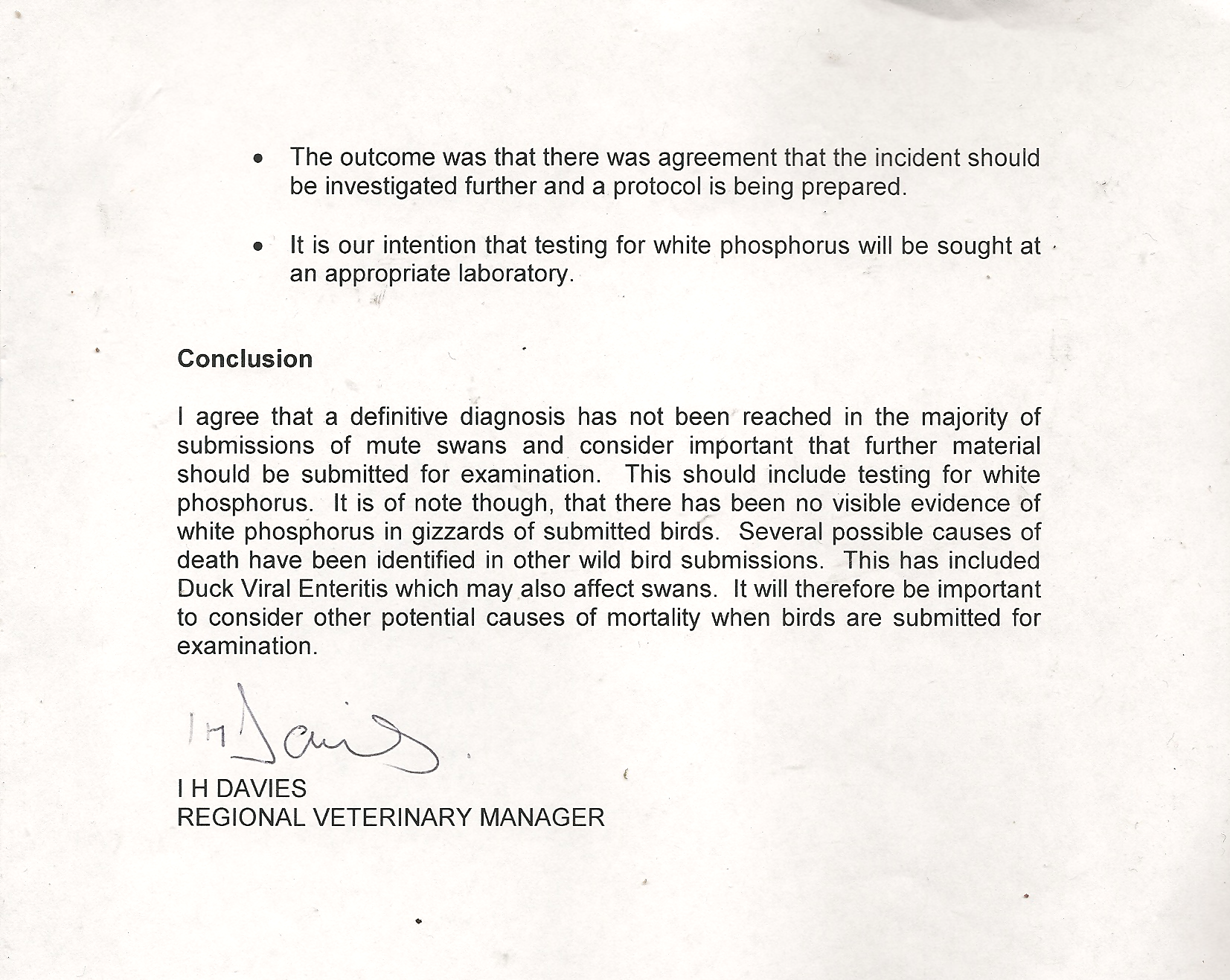 In conclusion, Ian Davies states that no "visible" evidence of p4 was noted, but having made enquiries to individuals at the Eagle River Flats studies, not all material from gizzards was observed to "smoke" on examination, and in their case they knew or suspected what they were looking for, unlike the clueless VLA, who had not been informed of the risks associated with the chemical by the deception of Rhodia who were paying for the post mortem reports, that would of course show nothing.
He also refers to Duck Viral Enteritis, yet a bird could be suffering from this condition (which they could confirm on post mortem), yet still swallow a lethal amount of white phosphorus (which they could not detect), and thus a cause of death may only record the element that they could confirm.
A Freedom of Information request to FERA has unravelled this "error of communication" was almost entirely the fault of Aiden Foster, whose name has been redacted in the email exchanges by FERA but is reproduced here having been retained by the sender from the NSC. It is chronological in order continuing the earlier chain above.
From:
Sent: 01 April 2009 16:49
To: Foster, Aiden
Subject: Re: White phosphorous.
Hello Aiden,
Thank you for your email and apologies for the delay in replying. Maybe you can help me with the following: the dead swan which came to you recently (about a week or so ago) from Rattlechain for possible identification of White Phosphorous (WP) being the cause of death was sent on to York as it seems your lab was unable to carry out such a test. Are you able to let me have any information on their findings or perhaps you could give me a contact name and email address in York. I understand Rhodia are bearing the costs for this work.
Regards
From: Foster, Aiden
Sent: 01 April 2009 17:24
To:
Subject: RE: White phosphorous.
Hello
Samples are at York.  No report available yet.  On this occasion Rhodia are paying for the tests for this and another bird.  In principle the company would need to give permission for results to be copied to you – perhaps you could provide more contact details.   Given that the samples were submitted by VLA on behalf of Rhodia I do not see a way to give you the name of the CSL people involved.
If you wish I will contact Rhodia on your behalf, to see if they are willing to release the results to you in due course.
Aiden Foster
The misinformation that Aiden Foster gave to CSL "PHOSPHORUS ANALYSIS"
Not only is it clear that it was his mistake, it is also revealed in the FOI request that the following emails were sent by him. (Names have been redacted by FERA)-
WHY THE PROBLEM WITH THE CO-ORDINATOR AT THE NATIONAL SWAN CONVENTION OR MYSELF OBTAINING THE RESULTS? WHY THE COLABORATION OF SILENCE BETWEEN A PRIVATE COMPANY AND A SUPPOSEDLY INDEPENDENT GOVERNMENT AGENCY?
WE ARE PORTRAYED HERE AS SOME FORM OF DEVIOUS SCOUNDRELS TRYING TO UNPICK THE TRUTH. MY FIRST THOUGHTS ON READING THIS EMAIL CHAIN WAS THAT WE WERE DEALING WITH SOME FORM OF FREEMASONRY RATHER THAN A VETERINARY INVESTIGATION.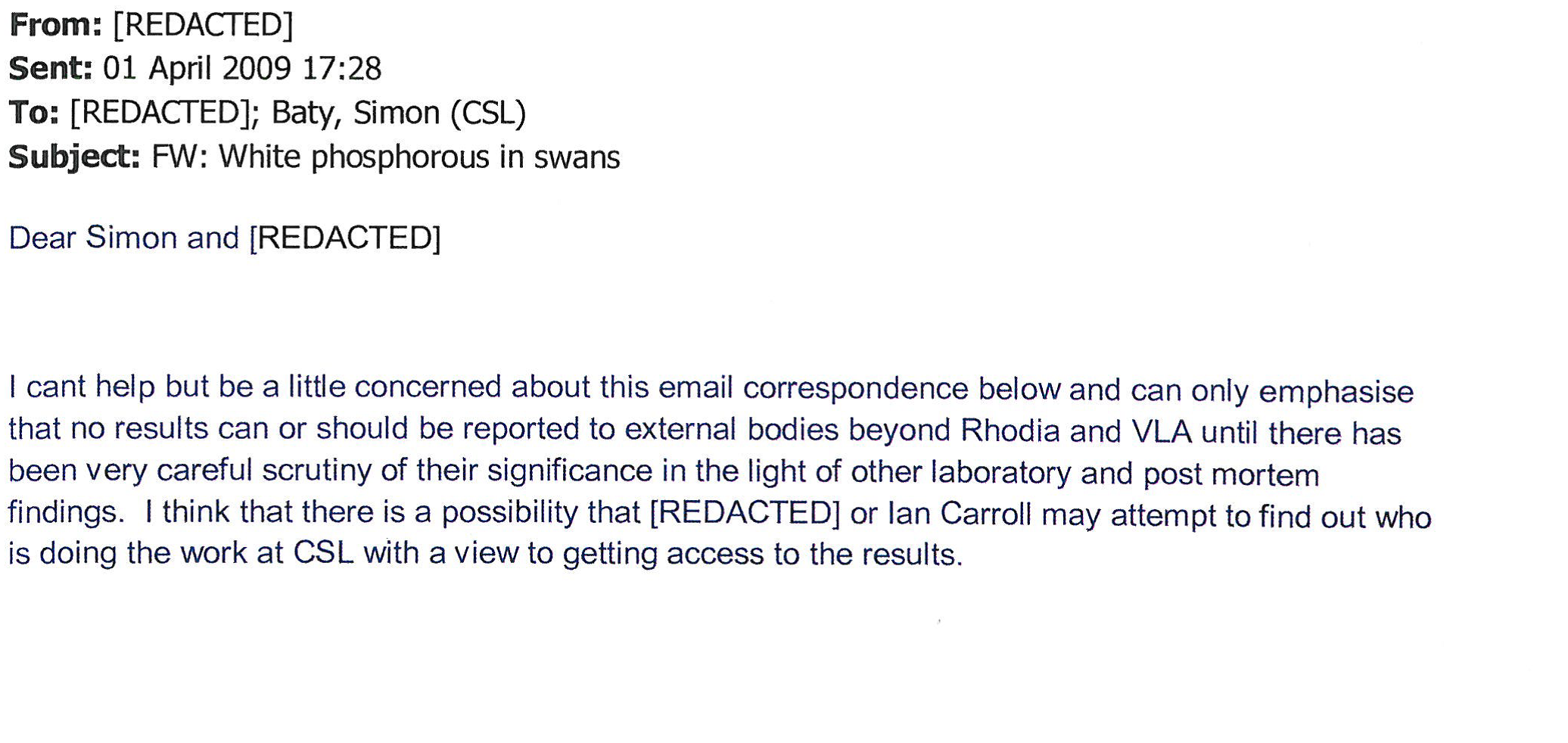 It should be noted that although the swan tissues in this case were later resubmitted for white phosphorus analysis, and found it ,the mallard tissues were not. The mallard concentrations of "phosphorus" in gizzard show a greatly enhanced quantity compared to the concentrations in the swan. There has been no explanation given as to WHY the mallard samples were also not resubmitted for white phosphorus analysis, but given that Rhodia and the VLA had had access to the "high" results, we believe the omission was entirely deliberate, for fear of finding a high yield of white phosphorus in the duck tissues- and therefore confirming systemic poisoning. Marianne Walsh has clarified "total phosphorus" testing in the email below.
—– Original Message —–
From:Marianne Walsh
To:
Sent: Thursday, February 17, 2011 3:39 PM
Subject: Re: Letter.
Hi         , Unfortunately, the method for total phosphorus is not specific for white phosphorus so there is no way to know how much white phosphorus was present in the tissues or gizzard contents.  The analytical method uses nitric acid to convert all (total) phosphorus in a sample to phosphoric acid (H3PO4).  Phosphate detergents would give a high result too.  Before we became involved in the Eagle River Flats project, a total phosphorus method was used to compare phosphorus levels in ducks from Eagle River Flats to some ducks that were "collected" elsewhere.  
The total phosphorus concentrations appeared to be higher in the ducks from Eagle River Flats, but the results overlapped those of the "control" ducks.  That said, the one result in the report that you sent of over 17,800 mg/kg is much higher than any total phosphorus from Eagle River Flats.  Best to insist that the analytical method that is specific for white phosphorus be used. Best Regards, Marianne
HARLAN LABORATORIES AND TESTING FOR P4
Rhodia recommended a "specialist laboratory" which they had obviously used before and who were a "UKAS accredited laboratory" that could carry out the necessary gas chromatoraphy testing for P4, thus satisfying the VLA criteria.  It is not known what relationship exists between Rhodia and the laboratory which they recommended, but they are obviously a paying client. Harlan laboratories in Derbyshire were paid by Rhodia to carry out the test, over four months after the bird had died and samples had been taken and stored by the VLA.  Samples analysed for white phosphorus from the swan were- skin tissue, gizzard tissue (but crucially not contents), liver tissue and fatty tissue). The same laboratory was retained for subsequent testing of bird tissues on the lake. These will be reviewed one by one in other pages, but the first result was by far the most significant.
Using a different method to that at Eagle River Flats where tissues had been tested, Harlan reported
This method involved collection of given bird tissues and dissolving a given quantity of p4 (supplied by Rhodia) as a standard solution to compare amounts of p4 against in the tissues.
Marianne Walsh has presented the principle of the way in which the test is carried out in layman's terms in an email to us.
"To measure P4 in tissue or gizzard contents using gas chromatography, the P4 must be extracted into a volatile solvent that can be injected into the gas chromatograph. For P4, we use isooctane or toluene.
 The detector of the gas chromatograph gives a signal that increases with increasing P4 concentration. The detector's signal is calibrated using solutions (standards) of known P4 concentration. As the concentration of P4 increases, the signal increases until it reaches its upper limit. The concentration range where the signal increases linearly with the known concentrations is called the calibration range.  
Dilutions of the extracts are needed for P4 concentrations that are higher than the calibration range. If mg quantities of P4 are in the gizzard contents, dilution of the extract would indeed be needed, but the dilution factor is known, so the final result or mass reported is corrected for the dilution. Dilution will not distort the mass reported."
The concluded result of this, the first bird to be tested after a ten year battle to confirm a positive link between the contents of this pool sediment and the bird deaths is shown in the table below, and the full 20 page Harlan report can be read HERE.
It was a full vindication of what swanwatch had been saying since day one; that this pool and its sediment contents are capable of causing significant harm and are capable of poisoning  wild birds-