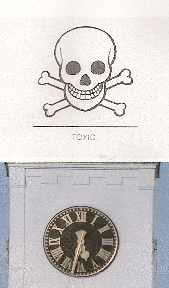 HS/ 034
OVERVIEW
This application sought to increase the amount of Chromic acid which had already been allowed under consent HS/020  and HS/021. New consents were also applied for diisobutylene and Proban Sti- all classified as "very toxic chemicals" as the planning committee report points out. It was granted on 10/9/2008.
For some reason, Sandwell Council appear to have not uploaded the committee report or the application form when amending their planning website. We have however shown these below.
Application.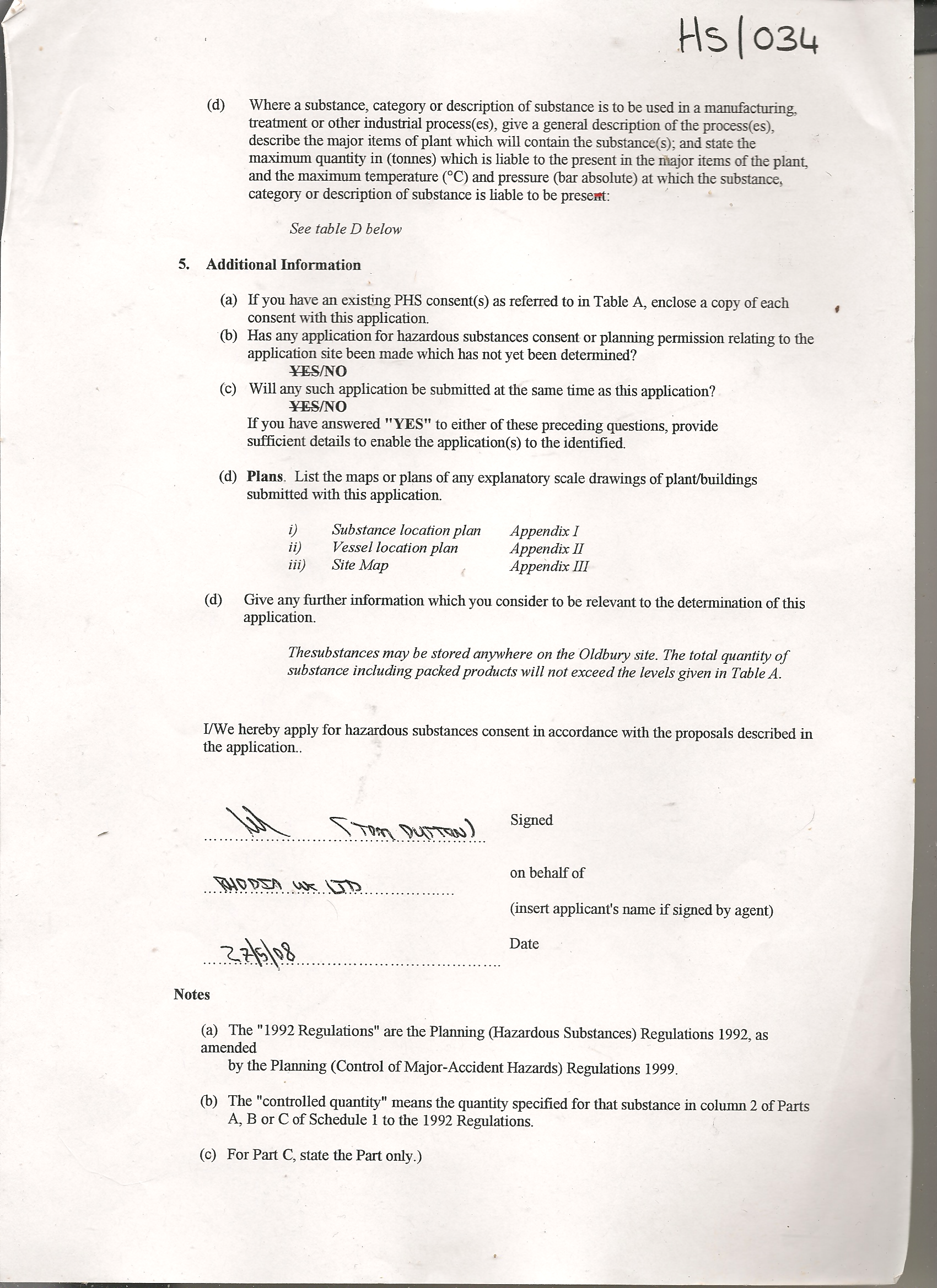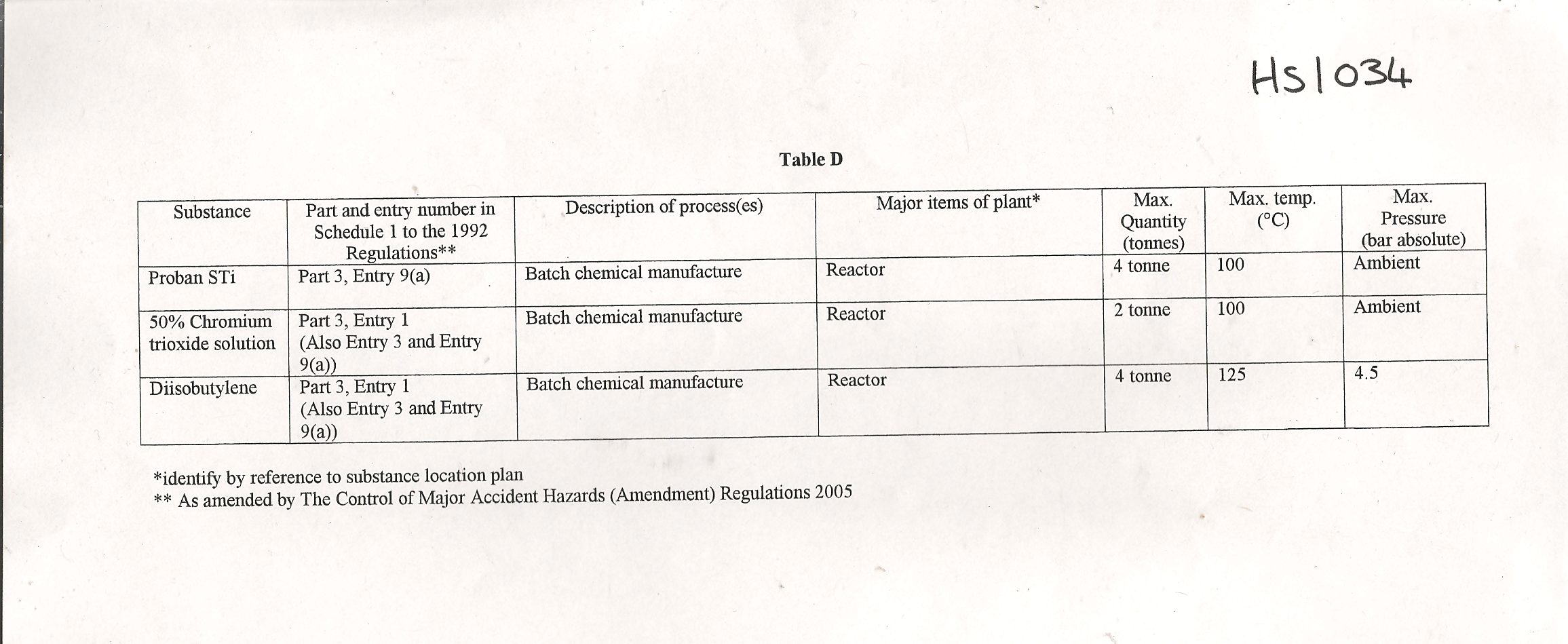 Committee report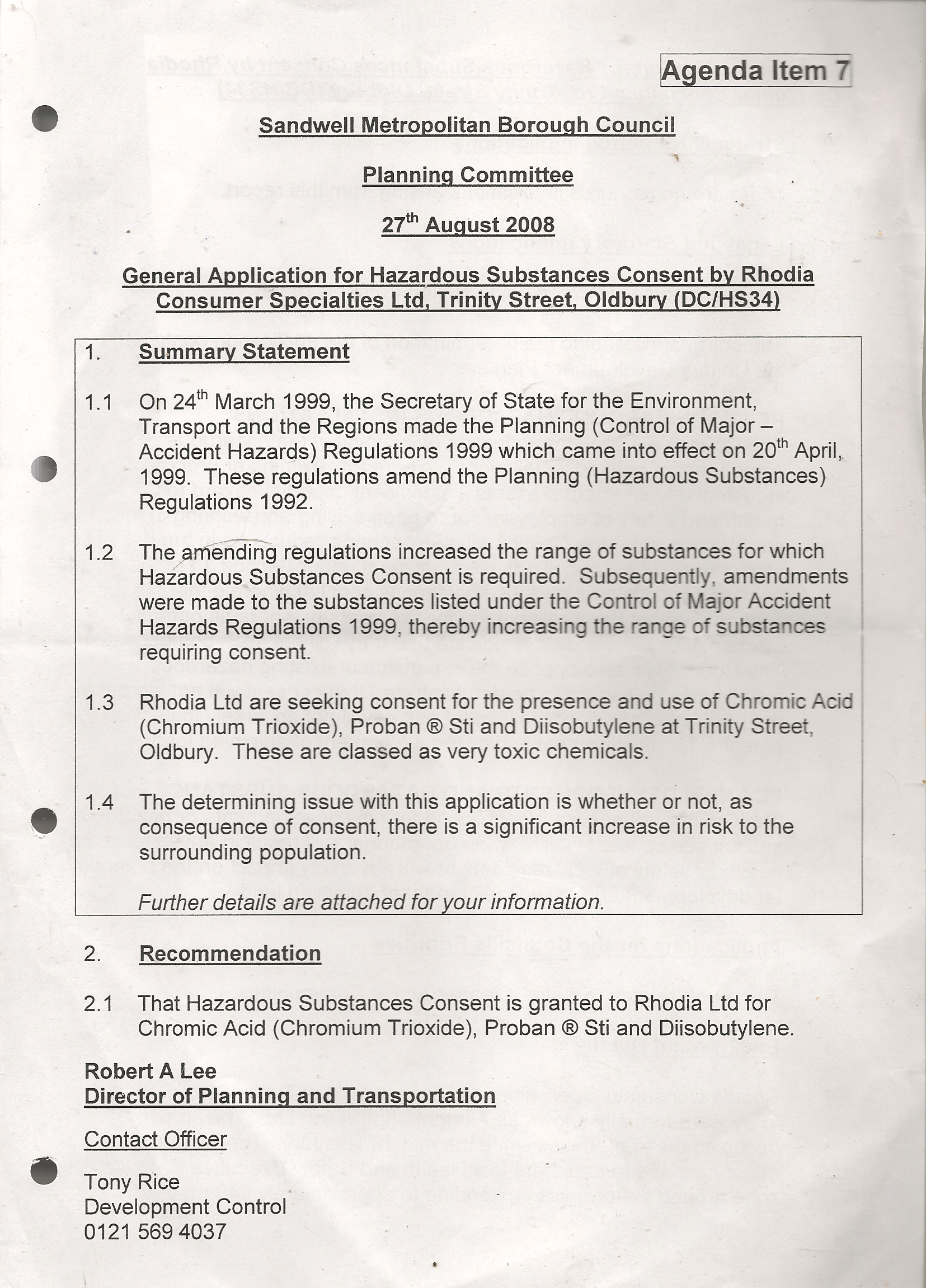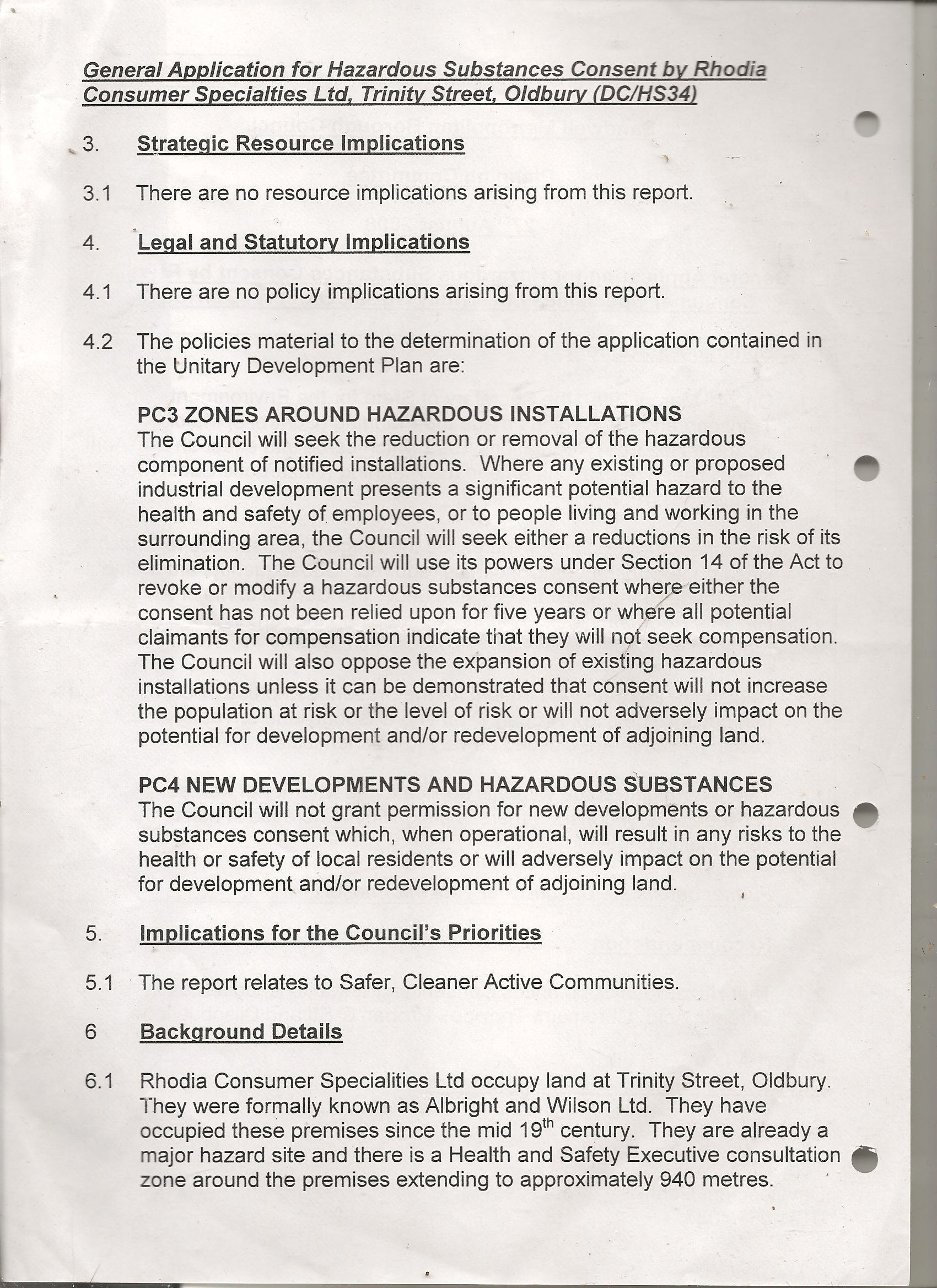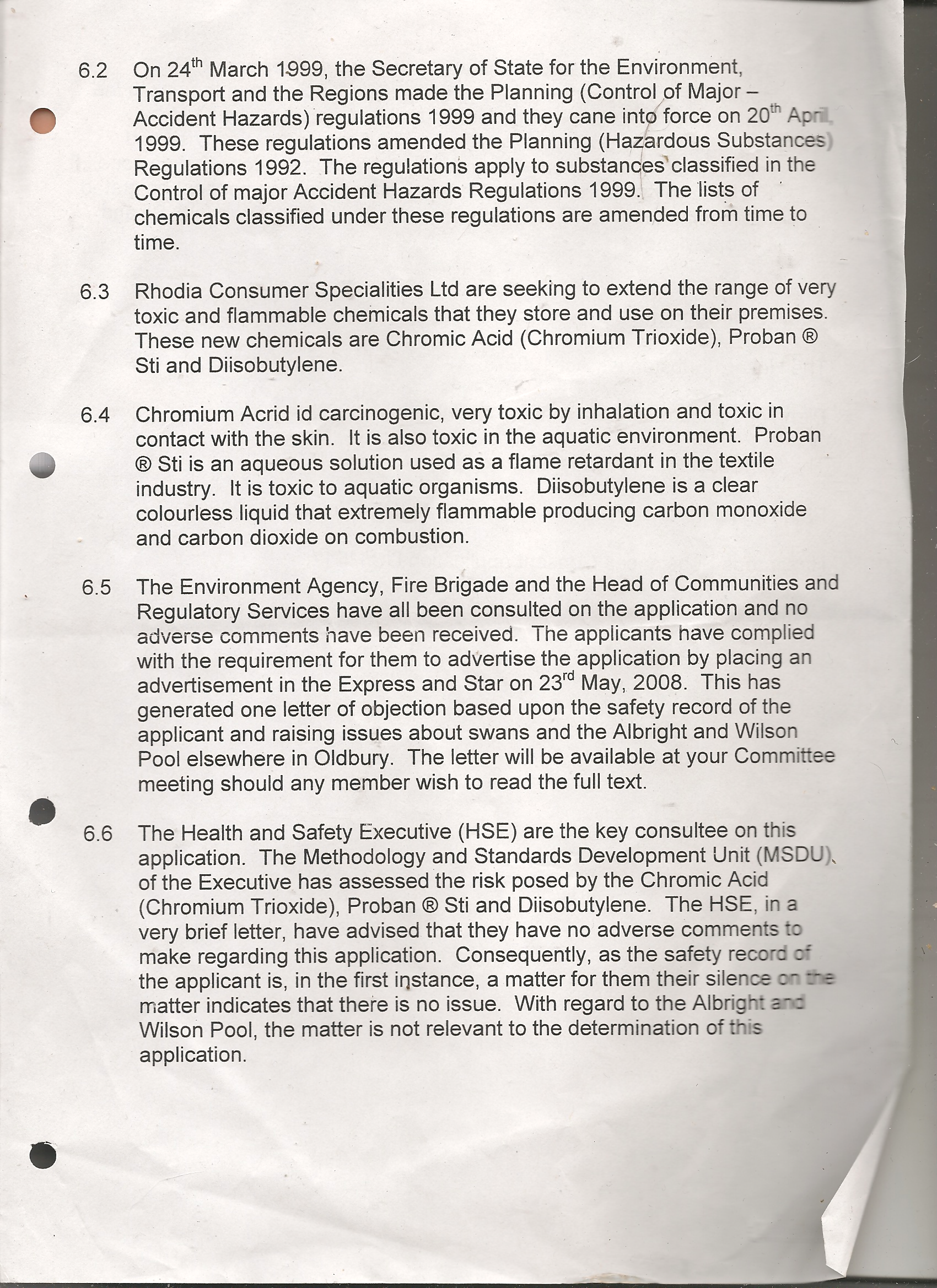 A plan of the location of substances can be found HERE
A vessel location plan can be found HERE
Once again "advertisement" of this plan involved contacting Rhodia for more information.
Chromic acid –carcinogenic, very toxic by inhalation and toxic in contact with the skin and in the aquatic environment = Maximum of 10 tonnes  (double the existing dose)
Rhodia submitted the above safety data sheet with the application.
– an aqueous solution used as a flame retardant in the textile industry and toxic to aquatic organisms = Maximum 1000 tonnes.
Rhodia's own safety Data sheet for this chemical identifies that it is
HARMFUL IF SWALLOWED

CORROSIVE. CAUSES BURNS.

DANGER OF SERIOUS DAMAGE TO HEALTH BY PROLONGED EXPOSURE IF SWALLOWED.
a clear colourless liquid that is extremely flammable producing carbon monoxide and carbon dioxide on combustion.= Maximum of 35 Tonnes
We objected to this proposal on the basis of Rhodia's poor safety record at this site, and their continued ignorance of bird mortality at Rattlechain lagoon. For this Principal planning officer Tony Rice commented that this was not related to this application. Unfortunately Mr Rice also submitted a rather dismal attempt to the planning inspectorate in 2003 concerning a planning appeal which allowed houses to be built next to rattlechain lagoon. He described the bird deaths as "myths".
THIS APPLICATION WAS APPROVED ON A SPLIT DECISION AT SANDWELL COUNCIL'S PLANNING COMMITTEE. AS CHAIR OF THE COMMITEE, IT FELL UNFORTUNATELY FOR HER, TO GP DR ANN JARON TO CARRY THE CASTING VOTE FOR APPROVAL HER COUNCIL DECLARATION PAGE LISTS TO BEING A MEMBER OF FRIENDS OF THE EARTH AND GREENPEACE.
THIS IRONY PERHAPS UNDERLINES WHAT LITTLE REGARD IS GIVEN TO DETERMINING THE HEALTH IMPACTS ASSOCIATED WITH EXPANDING THE RANGE OF SUCH TOXIC AND HAZARDOUS CHEMICALS AT THIS SITE.
JUST 3 MONTHS LATER A MAJOR CHEMICAL FIRE HAPPENED AT THE SAME SITE INVOLVING ONE OF THE HAZARDOUS SUBSTANCES PREVIOUSLY GRANTED APPROVAL BY THIS AUTHORITY AND UNDER THE "GUIDANCE" OF THE HSE.
There were probably several red faces that day, and not just those affected by the chemical fallout from this plant. The company in the new guise of Solvay would be found guilty of a toxic assault on Oldbury and fined nearly £500,000.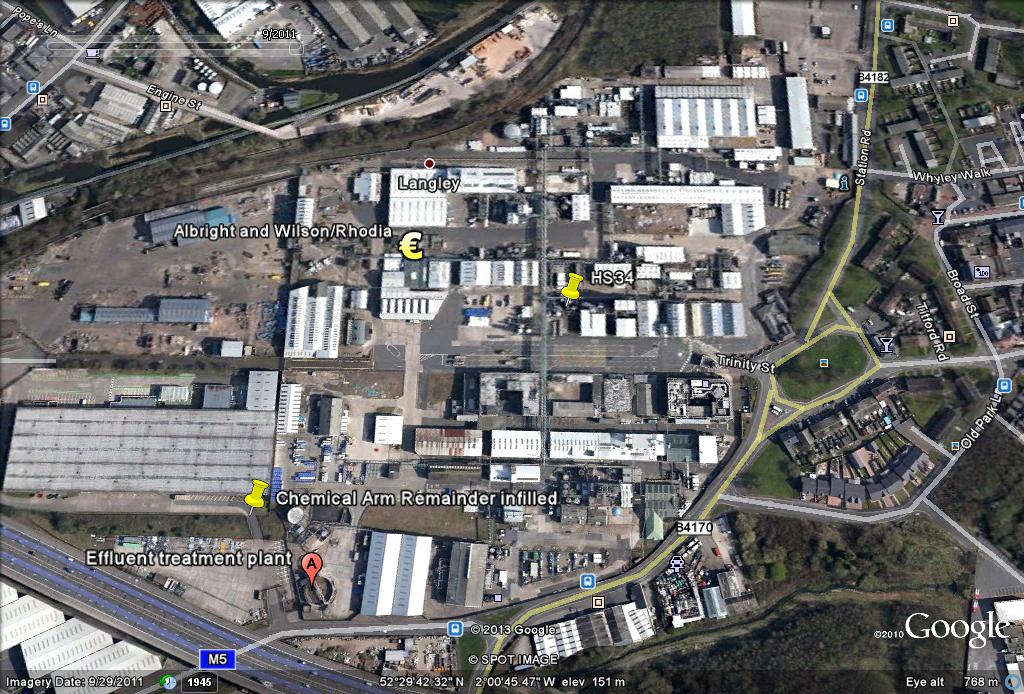 APPROXIMATE LOCATION OF SUBSTANCES FOR HS/034 BASED ON PLAN SUBMITTED FOR THIS APPLICATION.