Evidence of wildfowl flying to other sites and dying  after ingesting white phosphorus was found in The Eagle River Flats investigations.
REMEDIAL INVESTIGATION REPORT WHITE PHOSPHORUS CONTAMINATION OF SALT MARSH SEDIMENTS AT EAGLE RIVER FLATS ALASKA 1992
"Following ingestion of WP particles, waterfowl are capable of flying to other feeding pond areas in ERF. Four green-wing teal out of 13 flying ducks harvested in ERF at the end of August contained WP.
This movement, along with the finding of WP in waterfowl capable of flying and in carcasses found in Gwen Lake and on the road to ERF, substantiates the possibility of ducks ingesting WP in one area and flying to another area where they die
Given that several birds roost on the site and alight early at first light, there is the  possibility of birds having ingested particles of white phosphorus during early feeding, only later to succumb to acute effects elsewhere.  Potentially as could their predators carrying prey off site."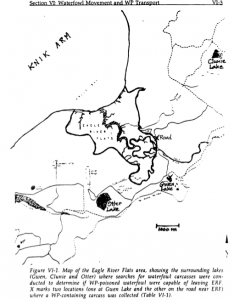 OFF SITE WILDLIFE DEATHS LINKED TO RATTLECHAIN LAGOON AND WHITE PHOSPHORUS
A swan that had been at Rattlechain lagoon on 7/2/01 with a clear colour code darvic leg ring number having been read in the field,  was subsequently found dead on the Birmingham Old Mainline canal near to the Tividale Quays the next day. THE DISTANCE INVOLVED FROM LAGOON TO CANAL POSITION OF DEATH WAS LESS THAN 400 METRES. Although no formal post mortem was carried out, as with the dead birds at rattlechain, there were no apparent gross external signs of injury or explanation for its sudden death. I believe that this swan was a victim of white phosphorus poisoning.
It is possible to study individual birds in this way by recording their leg ring numbers. Some swans have a plastic darvic ring consisting of numbers and letters. They also may have a British Trust for Ornithology metal ring- these are shown below.
Some canada geese in the Midlands area also have rings. Whilst they offer a valuable observational tool, their brittle nature makes them easily crack, and they have been responsible for several incidents of needless damage to birds feet and legs.
The colour coding of swan darvic rings for the Midland counties tends to be
Yellow

– Staffordshire/West Midlands,

Blue

Shropshire/mid Wales,

Green

/Cheshire,

White/

Oxford

Orange

/ Worcestershire and Warwickshire.
Birds have been noted by us as well as other observers to fly many miles between sites, and sometimes between surrounding counties. We know of some that have left the Rattlechain site and have been seen in Tamworth, Lichfield- a distance of over 20 miles.
THIS THEREFORE DEMONSTRATES THAT SWANS AS WELL AS OTHER WILDFOWL CAN MOVE CONSIDERABLE DISTANCES.
There has in the past been anecdotal evidence of other unexplained bird deaths on the Tividale Quays on the Old Mainline Birmingham Canal. Though swanwatch have not been involved with the removal or examination of carcasses, British Waterways now known as the Canal and Rivers Trust routinely remove animal carcasses from the canal system, whereby they are incinerated. Similarly park staff working for Sandwell Council and surrounding boroughs and also waste contractor SERCO may remove carcases from Local authority controlled waterbodies. The RSPCA are also likely to have removed ailing birds from these different areas, but with no information concerning white phosphorus poisoning available to them, why would they have ever suspected the cause to be from a different site, or have known the symptoms associated with p4 poisoning?
There have been numerous dead Canada geese found at other local sites in addition. Though these deaths may be explained away by "natural" or other causes, it is important to note that the deaths on Rattlechain were in the same way dismissed in this regard by people who have now had to reconsider their dismissiveness in the  face of scientific evidence- i.e The Environment Agency and the former Veterinary Laboratories Agency (now APHA).
Below is a map of sites within 1km used by wildfowl near to Rattlechain Lagoon known as "Rattlechain Mere." by Rhodia when they were trying to disguise the toxic legacy that it contained.
Though we have yet to observe clinical signs of white phosphorus poisoning in wildfowl not on Rattlechain lagoon, we strongly suspect that deaths have occurred off site from white phosphorus poisoning and that post mortems and tests for white phosphorus on these birds should be being carried out.
IT IS IN THE PUBLIC INTEREST TO DO SO- AND WOULD THUS PROVE THAT WILDFOWL DEATHS ARE NOT CONFINED TO THE CONTAMINATED SEDIMENTS OF RATTLECHAIN LAGOON.
Given the proven toxicity of white phosphorus poisoning wildfowl on Rattlechain pool, it also has to be asked as to whether these birds or their secondary predators can leave this site to die elsewhere.
Evidence for this would need to be tested for "direct evidence" by testing dead animals off site for white phosphorus exposure. Typically when asked about the feasibility of retrieving recently dead birds from other sites for P4 testing, once again the VLA and Environment Agency did not appear to want this evidence to be tested.
Ian Davies of the AHVLA commented in his letter of 12/3/10
"There are several reasons for not testing birds outside the Rattlechain pool site for white phosphorus
We are now aware that birds can be exposed to white phosphorus at the Rattlechain pool following confirmation of exposure in a goose and swan.

If a bird is exposed at the lagoon site then the likelihood is that clinical signs will be quick in onset and consequently unlikely that the bird will then fly to another site.

If a bird has not ingested sufficient white phosphorus to cause acute clinical signs and flies away, then it is very unlikely due to the limit of detection of the test, that analysis would be sensitive enough to detect white phosphorus."
He further goes on to state
"Your request has been discussed with The Environment Agency. They have indicated that they do not require birds to be examined for white phosphorus outside the Rattlechain site at this time as they consider it unnecessary in view of the steps already being taken to resolve the issue."
By this he refers to the untested success or failure of the geotextile membrane laying scheme being carried out as part of Rhodia's closure of the site.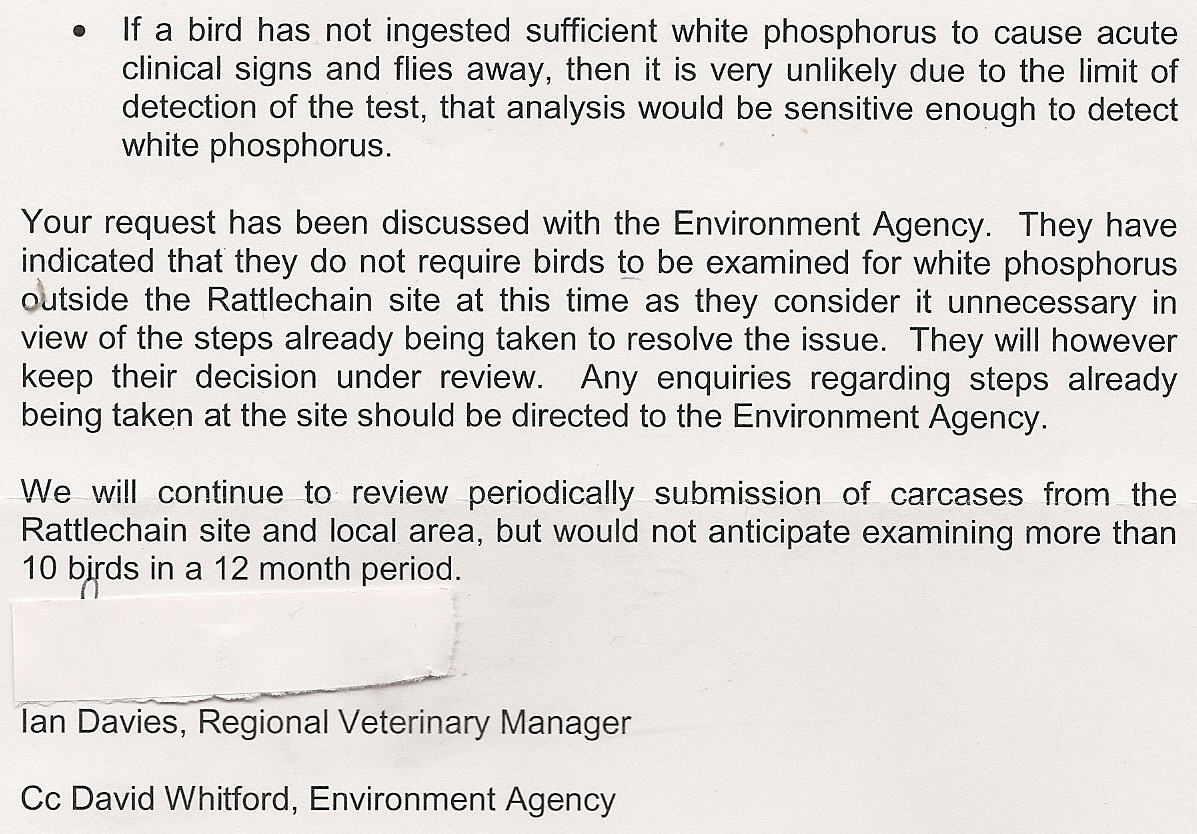 The comments about birds dying quickly and not leaving the site are not substantiated by the direct evidence supplied in the Eagle River Flats investigations. 
Marianne Walsh, a key player in The Eagle River Flats investigations into wildfowl mortality and the site remediation, has made the following comments regarding exposure to wildfowl and their subsequent movements.
"Ducks can fly after they ingest white phosphorus.  The symptoms of poisoning take a few hours before the ducks become lethargic.  We have found poisoned birds on the edge of Eagle River Flats, which is at least 0.5 kilometer from the contaminated areas." Marianne Walsh