Rattlechain Lagoon (or mere) is a chemical Hazardous waste lagoon located in Tividale, Oldbury, Sandwell, West Midlands near Birmingham.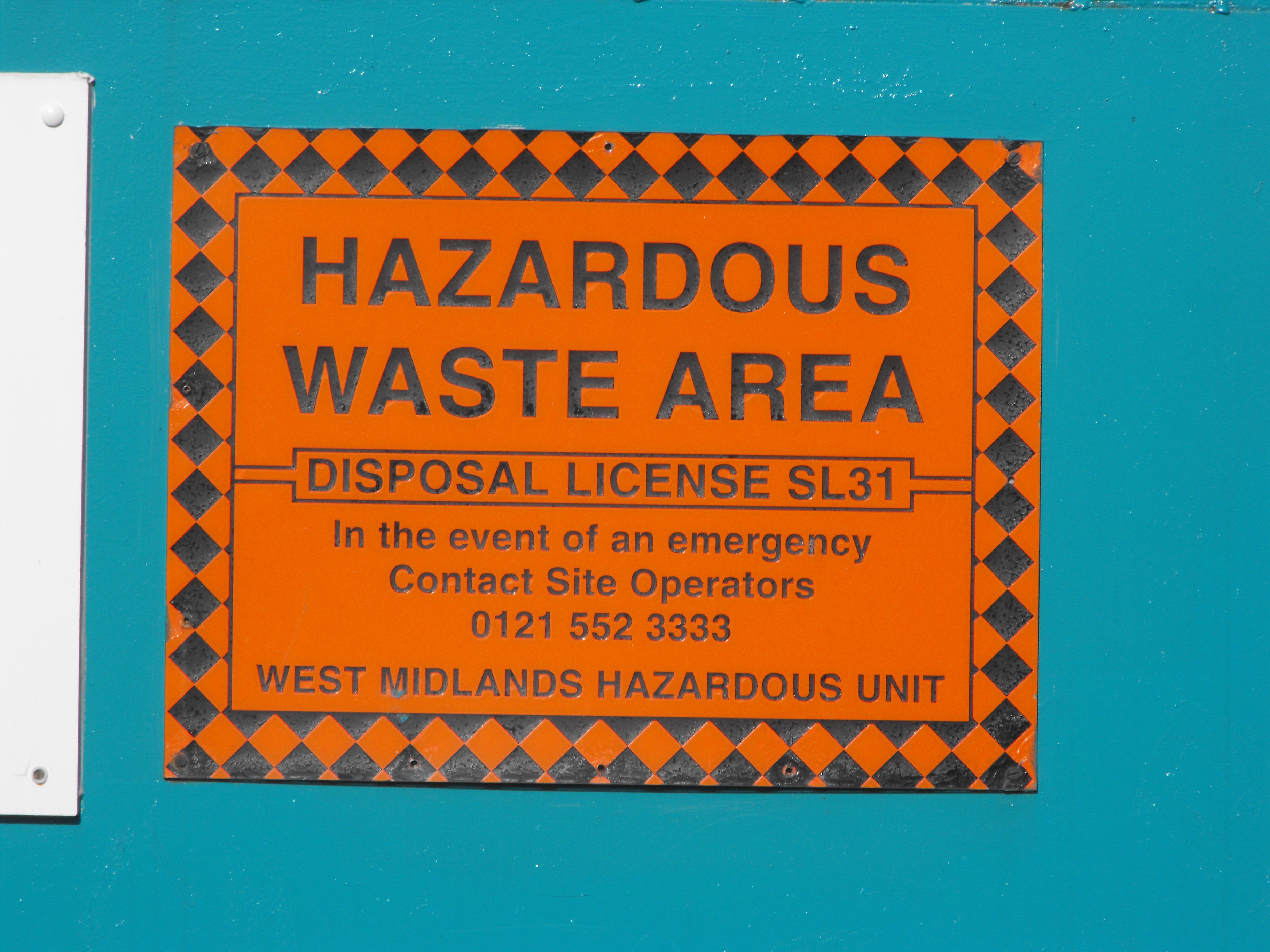 Rattlechain lagoon was originally a clay pit created by Samual Barnett to supply materials for his Rattlechain & Stour Valley Brickworks. On September 9th 1899 the nearby Birmingham Canal New Mainline burst its banks, and this "water leak" flooded the clay pit to a depth of 300'. In the 1940's, Albright and Wilson obtained the use of the pit as a waste disposal facility. They were a military contractor during World War Two producing white phosphorus based weapons for The British Government including their own  "AW bomb" half pint milk bottle grenades.
For the next 32 years the company continued to tip their industrial white phosphorus contaminated waste into the pit by boat and then lorry– all totally unregulated and unrecorded. It is this toxic legacy which defines it as "a hazardous waste site."
Public concern about what was being tipped there appears as early as 1957.
From 1978, a waste management licence allowed Albright and Wilson, and then French company Rhodia who took over from them in 2000, to continue to tip waste containing white phosphorus up until 2006.
What "lies" beneath the water is a long story of denials, deceptions and a stain on the local area by the company that tipped it there, who were politically well connected as a large local and National employer.
Location
Rattlechain lagoon is a few hundred metres from Tipton Road (A457). It is surrounded by two legs of the Birmingham Canal, the Dudley Canal, and the Gower Branch Canal. It is a scant 60m from one arm of the Birmingham Canal. The River Tame runs past, about 150m away. Newtown Primary School is 500m away. The industrial units located nearby are giving way to new housing estates. The garden fences of some houses on Callaghan and Wilson Drives are within 20m of the lagoon.
Rattlechain lagoon is located in the middle of a heavily populated town . It is within the Sandwell Metropolitan Borough near Birmingham. The actual location is off Johns Lane in Tividale, Oldbury, West Midlands, National Grid reference S0 974 913. It also together with the chemical factory at large that supplied it within the parliamentary constituency of WEST BROMWICH WEST. The area is recognised as one of the most deprived in the country, and this has been linked to polluted areas in Britain.
The site is visited by birds and waterfowl, including swans, geese and ducks. Foxes and domestic cats visit the site.
Rattlechain Lagoon is known to contain several tonnes of  white phosphorus, (p4), a banned rat poison, as well as other highly toxic chemicals. Birds landing on the lake were confirmed to be being systemically poisoned by this waste  after a long campaign where our observations as rescuers were backed by US scientists who had studied white phosphorus poisoning of birds at a salt marsh in Alaska used for military training. This confirmed that the site was not safe, despite the attempted denials and spin of the site owners.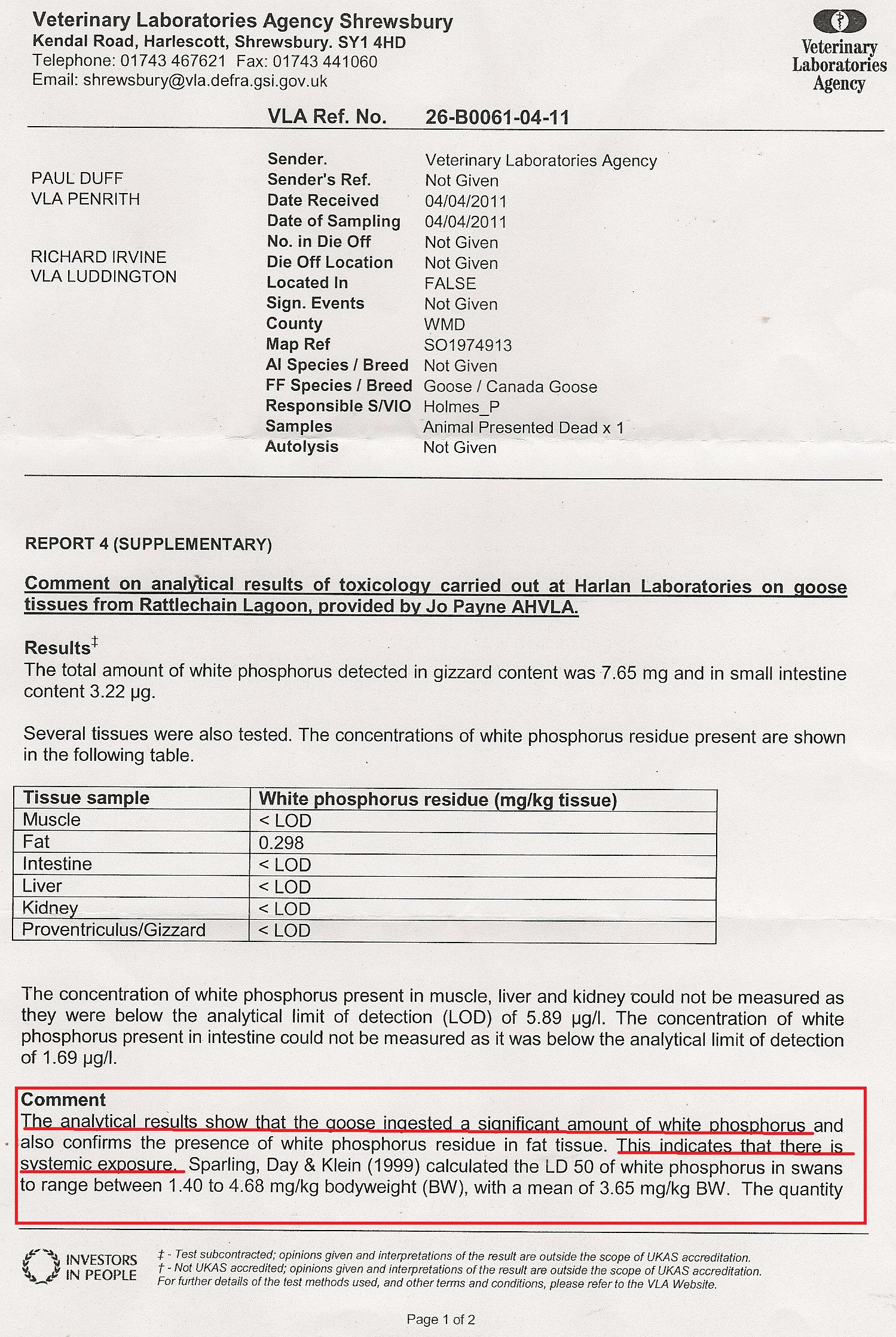 We will attempt to tell its long story, (warts and all) , and record the changes that have and will take place on the site in the coming years.
Look at the map. Zoom out and see where it is.
COMMENTS

"I find the information about the Rattlechain Lagoon very concerning. Why has these issues not been brought to the public's attention before?
What secrets do other local beauty spots hold? What will local people and wildlife suffer in the future following the consequences of such disgusting coverups from the past?"

"In reply to John.
Yes you'll certainly "find it in Sandwell". This one is just the tip of the iceberg, and some people like to publicise it's "a borough to be proud of." Unfortunately these type of things get buried like bad news John."

"I am so shocked to find this is in my local area! Very concerning!"

"Fantastic website – it's about time people get to know about this Lagoon – Well done!"

"I am researching my paternal grandmothers family and was told that they worked for Sheldon Brickworks. Looking for information under the name of Sheldon gave no info or responses. Then fortunately I log in Tividale canal, and have turned up a wonderful cache of information, Sheldon name crops up in some reports but the owner is named as Samuel Barnett. I am still researching but would like to thank all the people who have made a contribution to make the "Lagoon" an issue. Who in their right mind would want to PURCHASE a home within wind distance of this toxic waste. Were all the buyers made aware of this before buying, are their funds in keeping for any health issues now and in the future? Any families with the name of Goode or Biggs in their tree, I would love to hear your response too."

"The legacy of the Industrial Revolution (and what came afterwards) has left an impact on the Black Country (and parts of Birmingham) in general. There will possibly other sites dotted around where there are toxins beneath the surface water or soil, depending on what the site is or what was manufactured there. In fact, this is probably almost certainly the case."

"The local council by there own admission boast about how many millions of pounds they have generated through sales of land in sandwell without considering the safety issues regards this site I have lived in sandwell all my life and know that this site has been used by albright &wilsons for years. And on one occasion the water level droped in this pool and people living on the site next to tip where advised to stay indoors and keep windows closed. This plan needs to be halted."

"Can I just add, that I remember the sickly smell which used to drift across Greets Green, with the wind direction, from Robinsons Chemical Factory in West Bromwich. This was located at the top of Phoenix Street. I remember this smell in the late 70s/early 80s, as my Grandad lived in Atlas Grove and I sometimes was taken to play on the park swings etc in Farley park. It was awful.
I can't exactly remember when, but a few years later (I was working , so it was sometime after 1988), I remember Midlands Today picking up with several stories of residents living near the factory being sick and pets falling seriously ill. I think one person at least , was hospitalised.
Does anyone else remember this? The perils of living in Sandwell, it seems. Or at least it did, then."

"Is this site undergoing evaluation and subsequent remediation? This site isn't just being left alone to sit there, is it? Surely as a modern western civilization there are environmental laws that require site cleanup? I live in the US and I had to find out about FMC, Pocatello Idaho. Although I was disturbed to find the cleanup process ball had not even started rolling until 2012, at least it's happening. It takes years. There are like 5 phases to cleaning and managing toxic waste appropriately. It won't be until next year, 2019 that the toxic marsh is undergoing actual cleaning! Thank God for the Environmental Protection Agency! Our evil cheeto of a president has no clue of which he speaks when he says we need to get rid of the EPA.
There'd be hell to pay for a president who challenges the agency! Now, if the US has such protections and actions, surely the UK does. Is this site going to be managed or not? You know, someone could just fall in and die. I can't believe people live, work, and go to school within walking distance of such a place. There are automobiles parked right next to it! Leaving Rattlechain as-is would be a criminal act against humanity and the planet. How could a country with both a Queen AND a Parliament let such a travesty be?"
"In reply to Kristina Richman.
Hi Kristina,
Thanks for your interest and information regards the FMC plant. Unfortunately the process in the UK is usually to bury it and forget it, and so long as there are no "pathways" , the environment agency and others believe it to be "safe", even though the many lessons of history point otherwise, but by then the main actors will long have fled the scene. A fence , some sand over the top of the waste and attempting to solidify it is all that they have done. Phosphorus in water with high ph emits phosphine gas, which is what is clearly happening here. I'm aware from literature that at the FMC plant, this was also a factor, but probably at higher levels, though the nearest houses I believe were not right next door as is the case at Rattlechain.
This area is unfortunately saturated in housing, and it is for this reason that the waste mass in the pit probably cannot ever be removed, without rehousing all those who live anywhere near to it. Perhaps big business/politics prefers it this way.
We owe a great debt of thanks to US scientists who advised us about white phosphorus and its effects on the environment and birds."

"I used to work for Alfred Matty and Sons in the early 1970's. My self and Tom Heritage used to work on the canal boats taking the phosphorous waste to the Rattle Chain tip. It was a very heavy sludge which had to be stirred so that it could be pumped out of the boats. If the water / phosphorous mix was wrong and you bumped the boats in the locks or brushed against a bridge the sludge would catch fire giving of blue flames. to give you an idea how much sludge is in the pool we used to deliver 8 boats a day for 5 days and 4 on Saturday. Each boat had 20 tons in them."
"Just found your interesting site while researching dubious Quaker involvement in Birmingham industry. I am sure much interesting info could be added, but the comments section seems to be turned off. Is there a reason?"

"In reply to Peter Cutler.
Only against spam"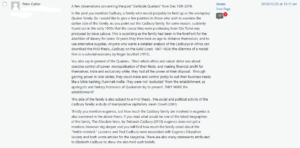 "A few observations concerning the post "Darkside Quakers" from Dec 13th 2019.
In the post you mention Cadbury, a family who would propably be held up as the exemplary Quaker family. So I would like to give a few pointers to those who wish to examine the darker side of this family. As you point out the Cadbury family, for some reason, suddenly found out in the early 1900s that the cocoa they were purchasing from São Tomé was produced by slave Labour. This is surprising as the family had been in the forefront for the Abolition of slavery for some 70 years.They then took an age to distance themselves, and to use alternative supplies. Anyone who wants a detailed analysis of the Cadburys in Africa can download the PHD thesis…Cadbury on the Gold Coast, 1907-1938: the dilemma of a model firm in a colonial economy by Roger Southall (1975).
You also say in general of the Quakers…"their whole ethos and raison detre was about coercive control of power, monopolisation of their fields, and making financial profit for themselves. Male and exclusively white, they had all the power at their disposal.  Through gaining power in civic circles, they could make and control policy to suit their business needs like a bible bashing illuminati mafia. They were not "excluded" from the establishment, as apologists and fantasy historians of Quakerism try to present, THEY WERE the establishment!"
This side of the family is also subject to a PHD thesis…The social and political activity of the Cadbury family: a study of manipulative capitalism, Kevin Dowd (2001).
Thirdly you mention eugenics. Just how much the Cadbury family are involved in eugenics is also examined in the above thesis. If you read what would be one of the latest biographies of the family, The Choclate Wars, by Deborah Cadbury (2010) eugenics does not get a mention. However dig deeper and you will find how much the family cared about the "feeble-minded." Laurence and Paul Cadbury were associated with Eugenics Education Society and both wrote articles for the Magazine. There are also many statements attributed to Elizabeth Cadbury to show she also held such beliefs."

"Very interesting stuff Peter, and thankyou. The Cadbury family were also prominent in the reconstruction of The Birmingham and Black country conurbation- Paul Cadbury, Hon. Secretary on "The West Midland group on post-war reconstruction and planning" – who appointed them onto these committees, who knows? The unitarians also played a role in this scheme with the Martineaus and Kenricks. I'm not sure that their vision was the one that many had actually stood up to between 1939-45."

"Very informative site. Keep up the good work"
"I have only just found your site.
I was born in 1951 in Tipton.
We were one of the first families to move to Jays Avenue in the early sixties and as a youngster the railways and canals were my playground.
We used to walk along the Grand Union towards Birmingham from the top of Jays Avenue.
Not far along the canal was a derelict brick works and we used to play by it in the surrounding area.
Nearby, down a slope was what we used to refer as the Green Lagoon, which was quite famous. We found that by chucking bricks into the strange coloured water we could cause a small explosion and showers of bright fire sprays as the water mixed with the air.
One day I moved a little way from where we normally threw from, looking for stones to throw. I walked onto a bare patch of ground and instantly went down up-to my waist.
Something stopped me going further and I managed to get out.
I was wearing wellington boots and they were smouldering. I had walked onto some kind of underground fire.
After that and the thoughts of what might have happened, we stuck to roaming the canals and railways."
"I grew up in what was once a small development, now a sprawling estate right next to Tipton Road, a few hundred metres from this lagoon.
I'm sure many of my early and long term health issues were as a result of the air pollution caused by this site and a few surrounding companies operating furnaces.
The whole area had a distinctive aroma in the hot summer months and enjoyed layers of various coloured dust particles that settled during rain showers and strong winds.
For years my parents hounded the council to get answers and were constantly fobbed off. It wasn't until the internet became widespread that researching this kind kf
Information became much easier for people like us.
Thank you for such an interesting site.
I hope that whatever happens long term there is some kind of sore remediation – even if that means just sealing it in and covering it over."