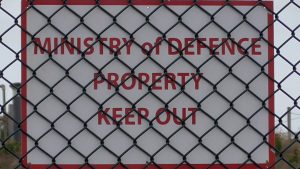 The Ministry of Defence (MOD) is the United Kingdom government department responsible for implementing the defence policy set by the UK's government, and is the headquarters of the British Armed Forces. The MOD also manages day-to-day running of the armed forces, the British Army, the Royal Navy, and the Royal Air Force, contingency planning and defence procurement.
From 1946 to 1964 five Departments of State did the work of the modern Ministry of Defence: the Admiralty, the War Office, the Air Ministry, the Ministry of Aviation, and an earlier form of the Ministry of Defence. These departments merged in 1964; the defence functions of the Ministry of Aviation Supply merged into the Ministry of Defence in 1971.
The Defence Infrastructure Organistaion controls 2,400 square kilometres, about 1% of the area of the UK (244,820 km²). As "Defence Estates" , it was an executive agency of the Ministry of Defence until 2008.
Another arm of the MOD lies with the DSTL which includes the Porton Down science laboratory as its headquarters.
"Dstl is also responsible for championing and developing science and technology skills across the MOD, including managing the careers of Ministry of Defence scientists." according to their website.
The MOD was preceeded by The Ministry of Supply which played a crucial role during the war years. The Ministry of Supply was abolished in 1959 and its responsibilities passed to the Ministry of Aviation, the War Office and the Air Ministry. The latter two ministries were subsequently merged with the Admiralty to form the Ministry of Defence.
Our interest in this organisation rests with the historic links and involvements with Albright and Wilson as both an agency factory at Trinity Street during the Second World War, and its supply of white and red phosphorus for purposes of military activity during and post WW2. They  also remain as substantial users of white phosphorus today.