The infrastructure needed to operate a phosphorus war machine at Trinity Street is detailed in a letter from W.B Albright to T.N Blockley of The Ministry of Supply dated 11th February 1942.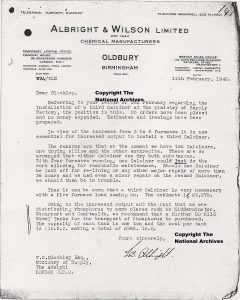 ©Copyright The National Archives, reproduced by permission to
http://whatliesbeneathrattlechainlagoon.org.uk/
Information also from The National Archives AVIA 22/2111 in a letter from W. B Albright to T.N Blockley of The Ministry Of Supply dated 21st June 1943, reveals that Albright and Wilson were receiving  American phosphorus in drums which was then melted into their own ton tanks for distribution.
By 1942 (the year in which it is known that the Rattlechain site was being "used"), with the threat of German invasion now unlikely, part of the Oldbury plant was converted to produce fero-silicon.
This was used as a cleansing and deoxidising agent in the manufacture of steel. It was also a source of silicon in the manufacture of high silicon iron and steels. Like phosphorus it had to be produced in a furnace.
The archives also reveal that "a serious shortage of electric furnace ferro-alloys from North America was envisaged and it was stated that it might be necessary to create additional capacity in this country to relieve the pressure on American supplies and to provide for our own essential needs."
With a shortage of electric furnace capacity in North America for ferro-alloy production, authority was therefore obtained to convert the phosphorus furnaces at Oldbury to the production of ferro-silicon. This was authorised on 20th January 1943 with an estimated cost of £83,000, with AW acting as agents for the Iron and Steel control.
This decision proved to be a fairly short lived one given that the furnaces proved to be completely unsuitable for purpose, with the scheme to produce the alloy being scrapped on 13/5/44. A National Archives document  from 1944 confirms
" The Oldbury plant was designed and equipped at a cost of £520,000 for the production of phosphorus and production had commenced from five of six furnaces when it was decided to import part of the UK requirements of phosphorus from USA instead of phosphate rock and the capacity became surplus."
"CARE AND MAINTENANCE"
The changes in plant, redundant plant to scrap and contaminated materials associated with all the effort would have resulted in some quick and probably hasty decisions having to be made. From the archives we learn that some of the plant was donated or loaned out to other firms and there is great detail given. Much of it however was retained by Albright and  Wilson after the war. At a time of its choosing, and in a location that it had "acquired", they had a free hand to dispose of any scrap that they no longer required or had a use for. The "care" taken in doing this is probably not contained in any archives but lying under water at a site in Tividale, their "works tip".