And so the sequel to waste side story, Rhodia's "Rattlechain lagoon site procedures"- as given to the Environment Agency as part of their closure plan for the site. The 6th edition formed part of the original closure plan in 2006. By October 2013, after the completion of works at the site, it emerges that this plan is now in its 14th edition. We will look below at what has changed between the intervening 7 years.
the revised p44 landfill gas assessment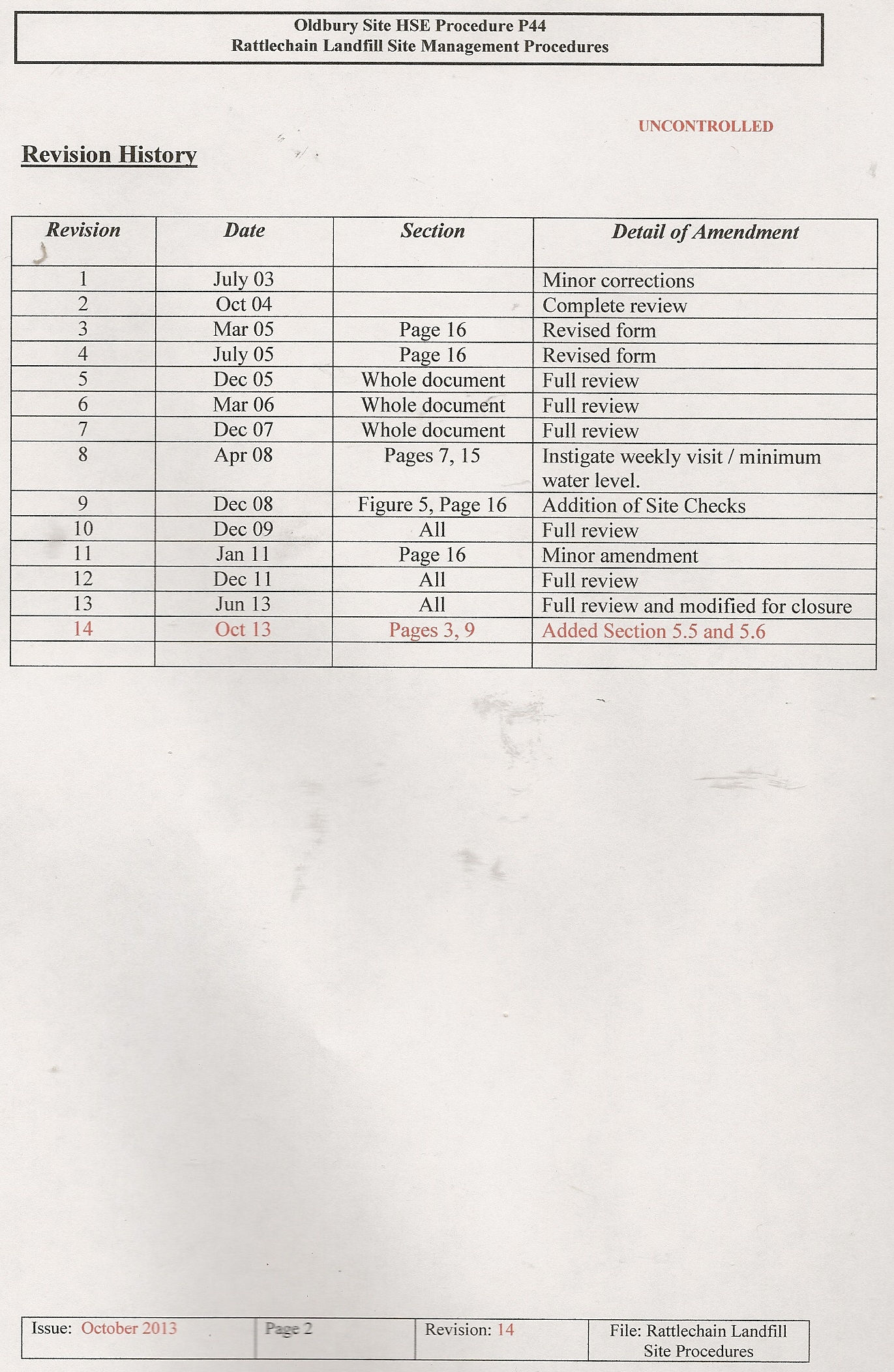 Confirmation of revisions to document over the seven years. The corresponding page from review 6 can be viewed HERE. It is interesting to note the inclusion of weekly site visits made from April 2008. Perhaps this should have been done much earlier. The new sections added in this latest version incorporate comments and recommendations issued by The Environment Agency.
A contents list showing that there are still 19 pages in the document. We note however that page 14 is missing from the version that we were sent in the freedom of information request. Appendix 4 also adds boreholes MW/103 and 5A, as recommended in the updated closure plan.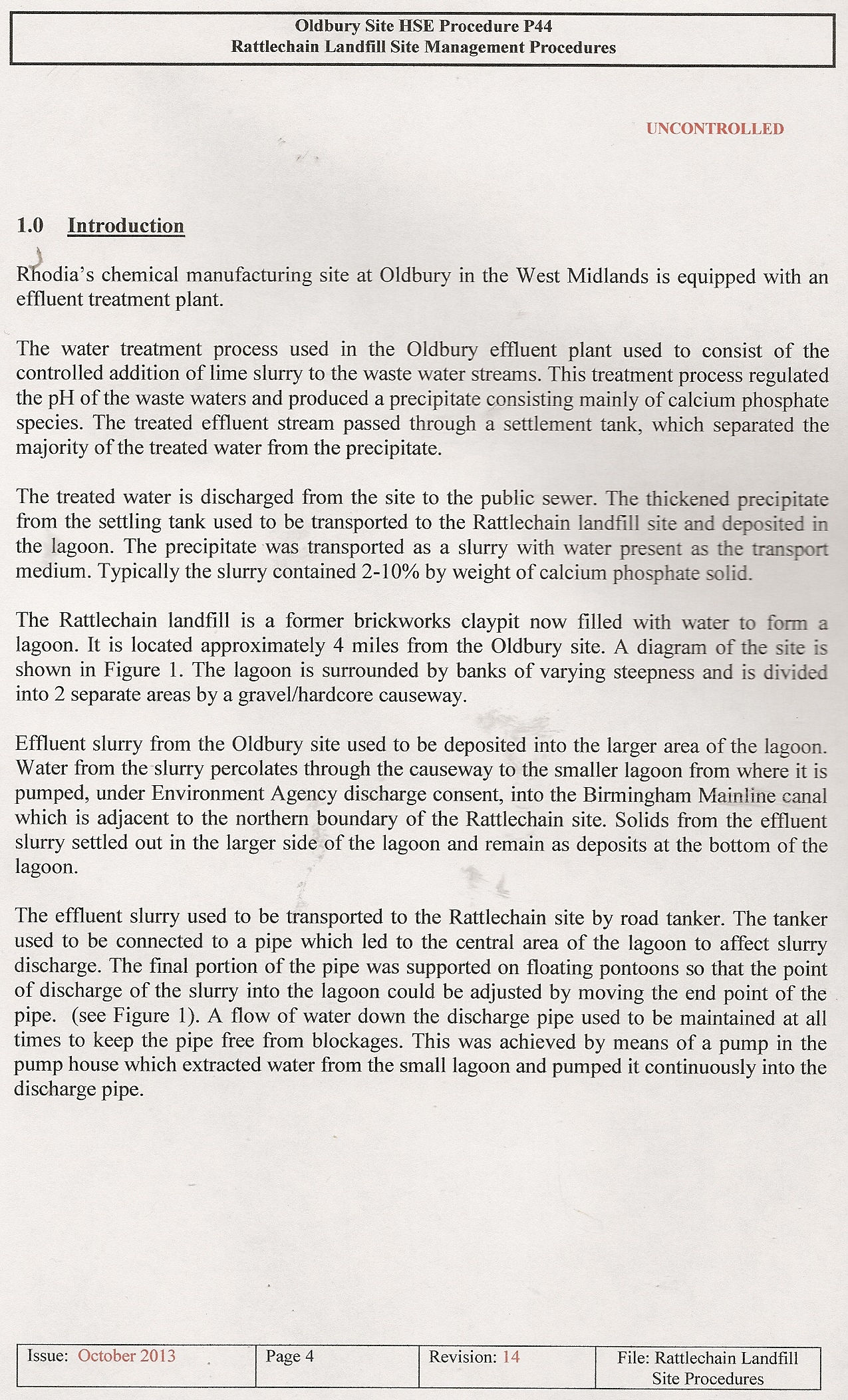 The first paragraph of this revision omits details concerning the fall of rainwater and "the treatment of wastewater from the site"
The third paragraph confirms that "The treated water is discharged from the site to the public sewer", wheras in revision 6 this stated that this used to be the case. This is not very reassuring for the public sewers!
There are no other changes from revision 6, though the historic false claims of Rhodia remain in the document.
There are no changes to this page from version 6. We noted the falsified information supplied to that part in Waste side story.
Documentation "no longer occurs."  given that waste is no longer deposited at the site. The upshot of this is that daily site visits no longer occur as they used to by tanker drivers. Though a security camera was added in 2010, this is not mentioned, nor what procedures are followed by whoever may be watching the cctv. In the case of a swan which died at the lagoon, and would have no doubt shown clinical signs of white phosphorus poisoing, it was claimed by Rhodia that the camera had not picked this up. It was however able to pick up the dead swan in the lagoon, after we notified them during our daily visits.
The site security now no longer has panelled fencing which we noted was frequently broken allowing access. Instead it has panelled metal fencing which is also frequently bent to allow access to trespassers.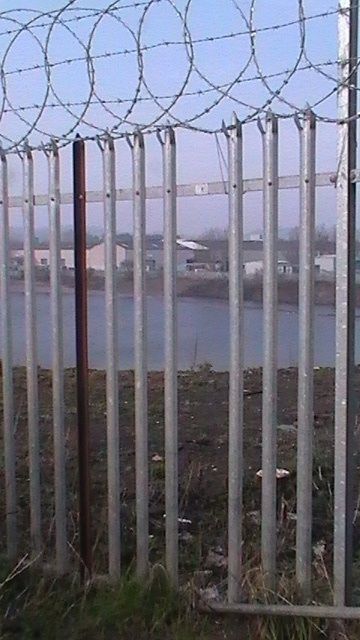 4.3 lagoon level has now replaced the ludicrous "clean side" with "small side" from version 6. There are also changes to the wording of the water levels in relation to the causeway path. The sludge islands in the lagoon has also now been removed. Granted we note that these no longer occur, but little was done to correct them when they were noted by the environment agency as we have pointed out before; except reccomendations to stir up the sediment- which probably led to the birds being poisoned.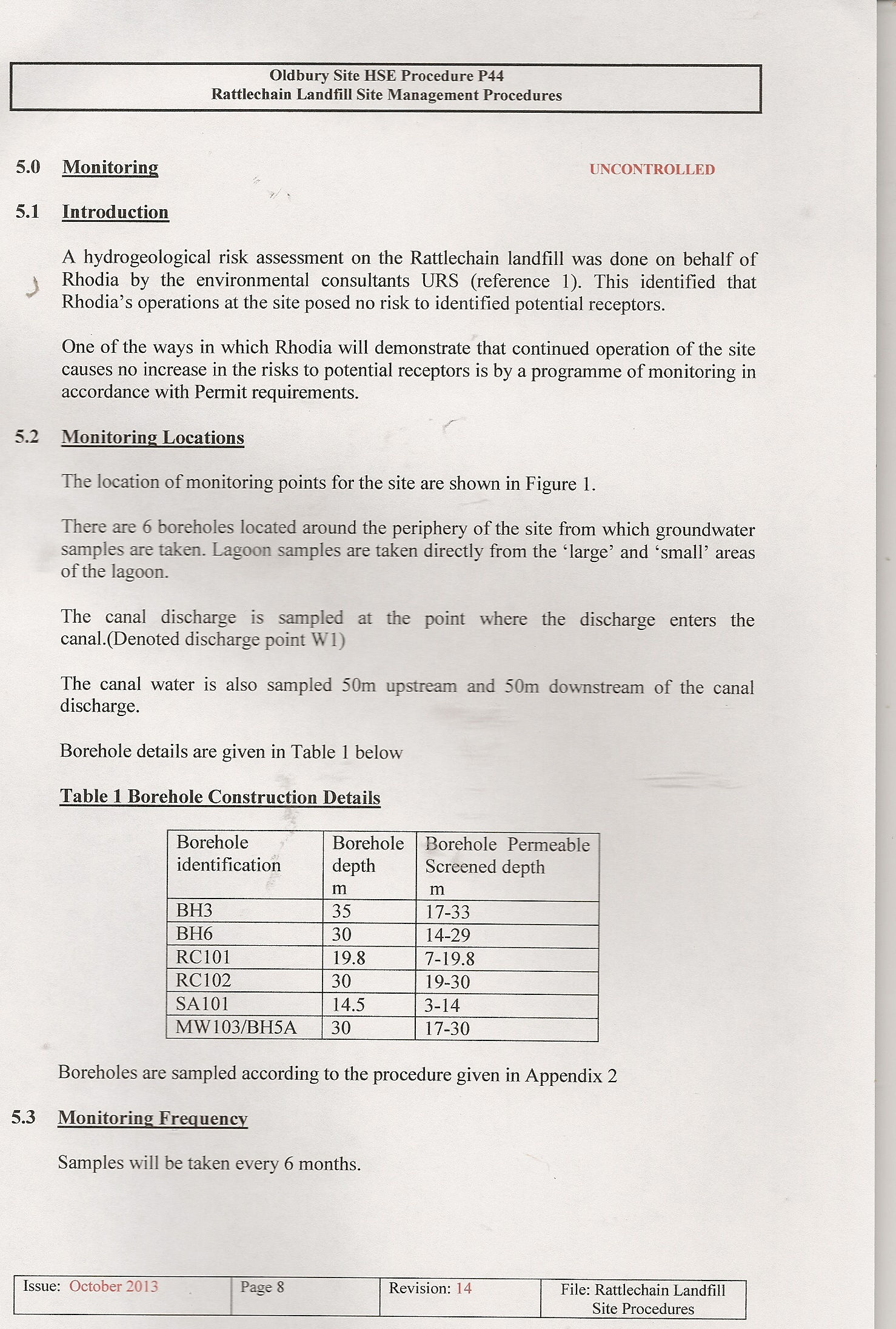 Some changes are evident from version 6. Monitoring is now less specific other than carrying out a programme in accordance with permit requirements. We do not believe that these requirements are robust enough. The lack of attention to phosphine gas is the main concern.
The canal water 50 metres either side of the discharge pipe is now sampled according to this revision.
Borehole 5 has now been omitted and replaced with MW 103/BH5A. As is revealed from a note of the revised closure plan held on 8th May 2013, it is clear that borehole 5 had not been monitored nor kept valid for some considerable time. See minute 1.3 dwhitford_P1
The corresponding page from version 6 can be read here.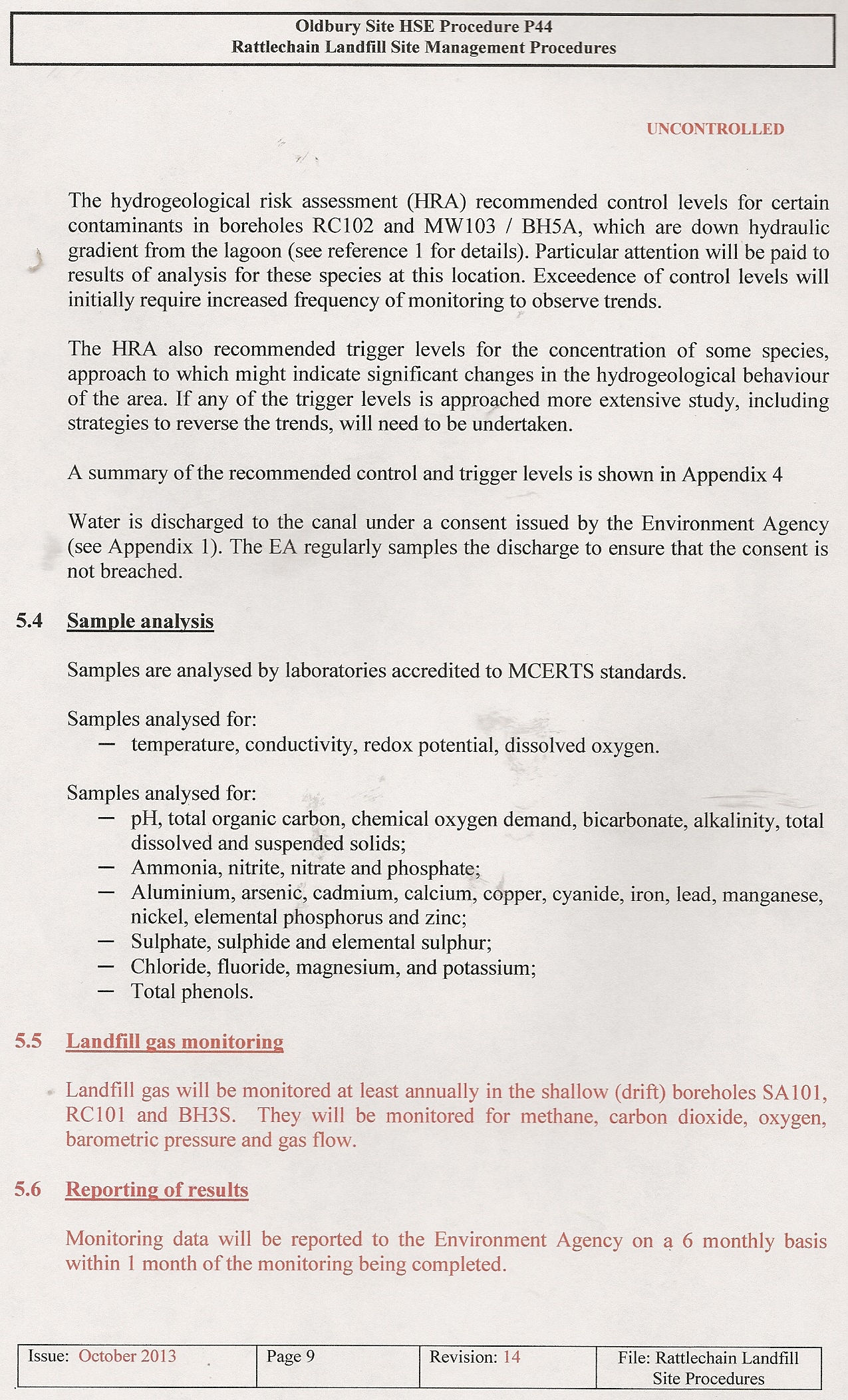 This updated page includes more information than in Version 6 concerning sample analysis.
5.5 and 5.6 are added following recommendations submitted as part of the updated closure plan. Whereas landfill gas monitoring was not considered relevant in the original closure plan ,"There is no potential for generation of gas from the landfill because of the nature of the waste deposited. Thus there are no accident scenarios which could give rise to gaseous emissions. "
,it is now included.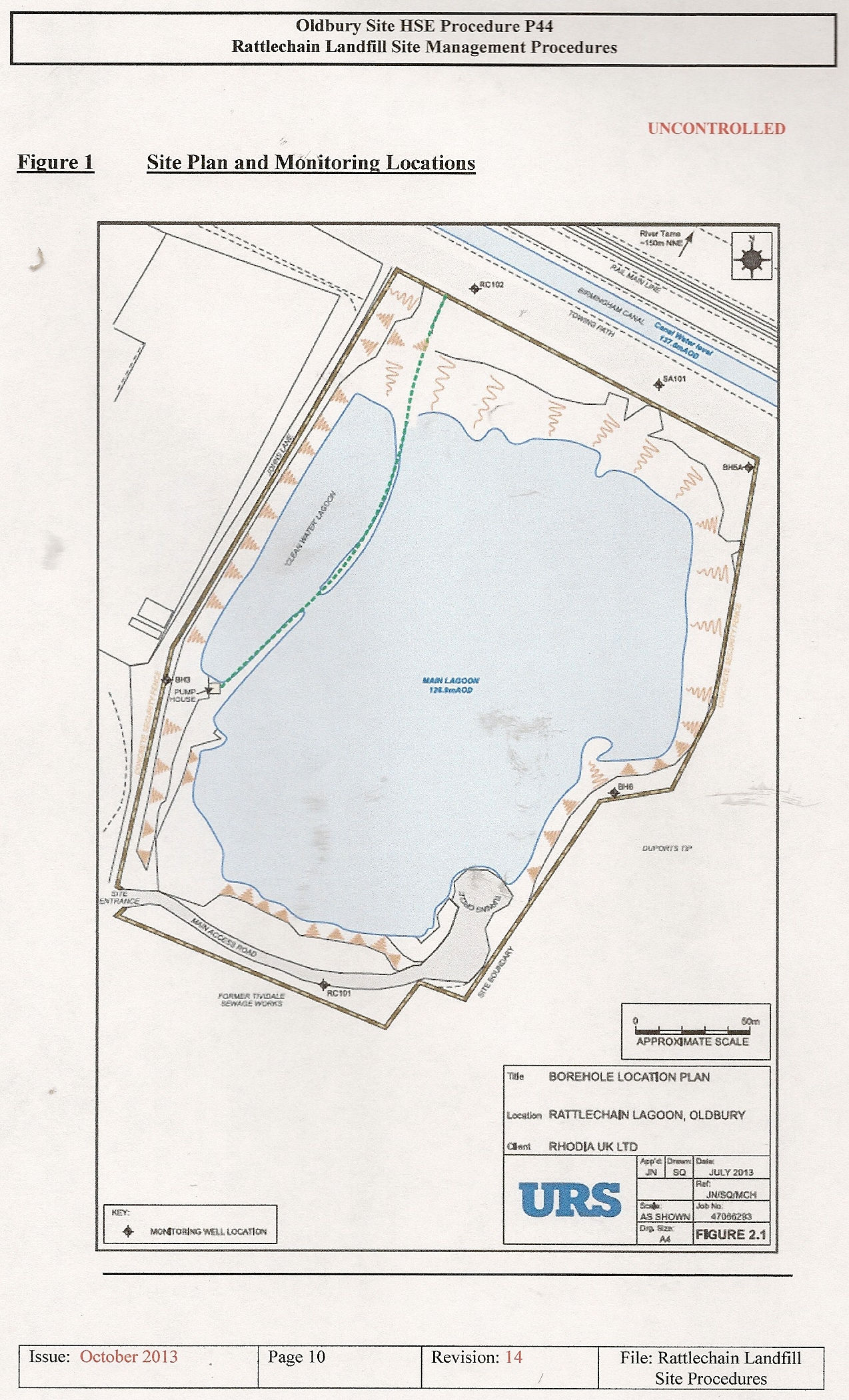 This map shows the new location of borehole BH5a. In version 6 the map appeared on page 11, with page 10 refering to the URS hydrogeological risk assessment from 2004. 
 This EA form figure 2 is identical to version 6.
 This WMS1 EA form is was also included in version 6.
 Figure 3 is Another identical page to version 6.
page 14 is missing unless it has been intentionally left blank, though it does not state this.  The corresponding page from version 6 (figure 4)  relates to a routine checksheet list concerning site observations, including "wildlife issues".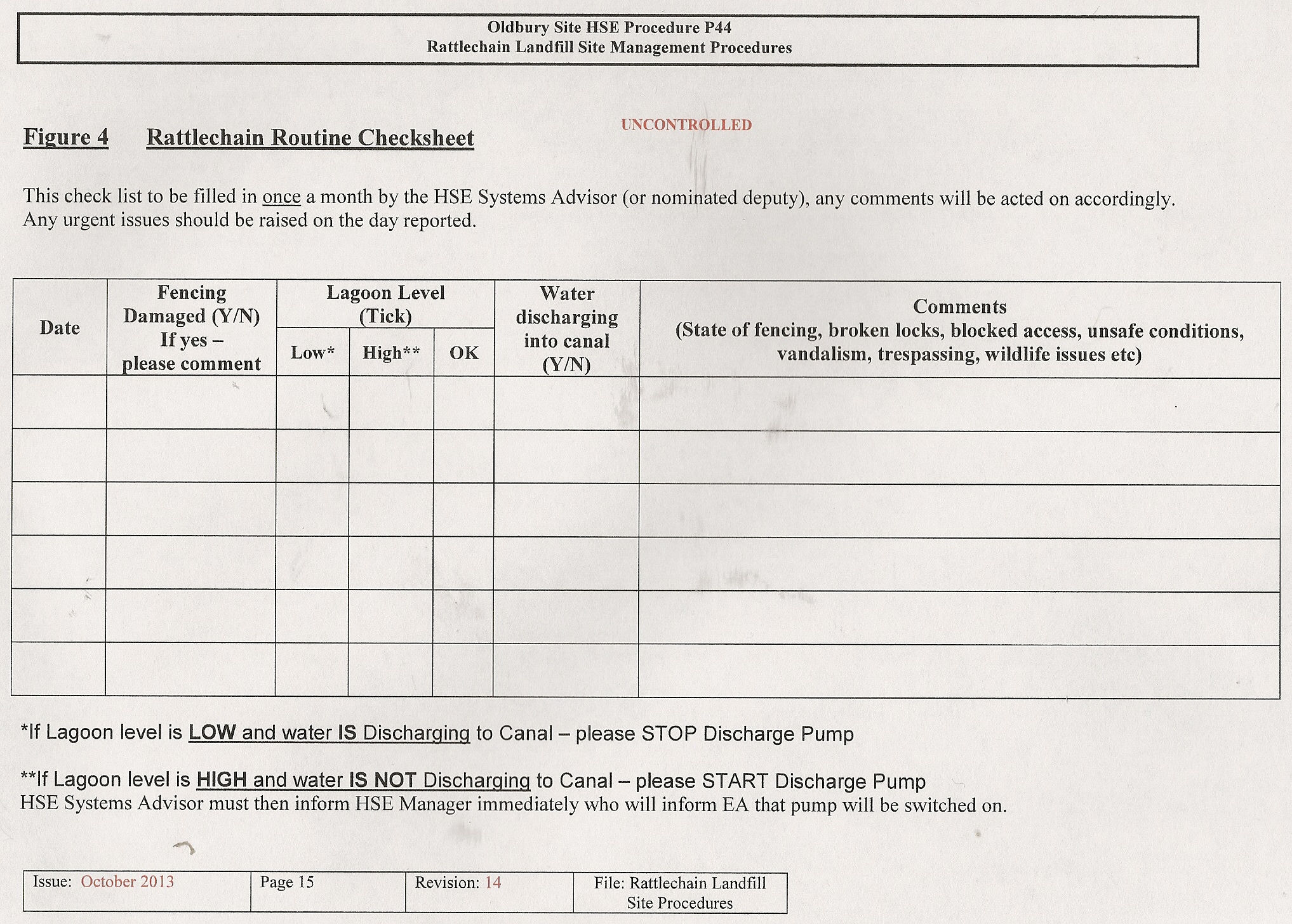 This page 15 has become the "routine checklist" mentioned above.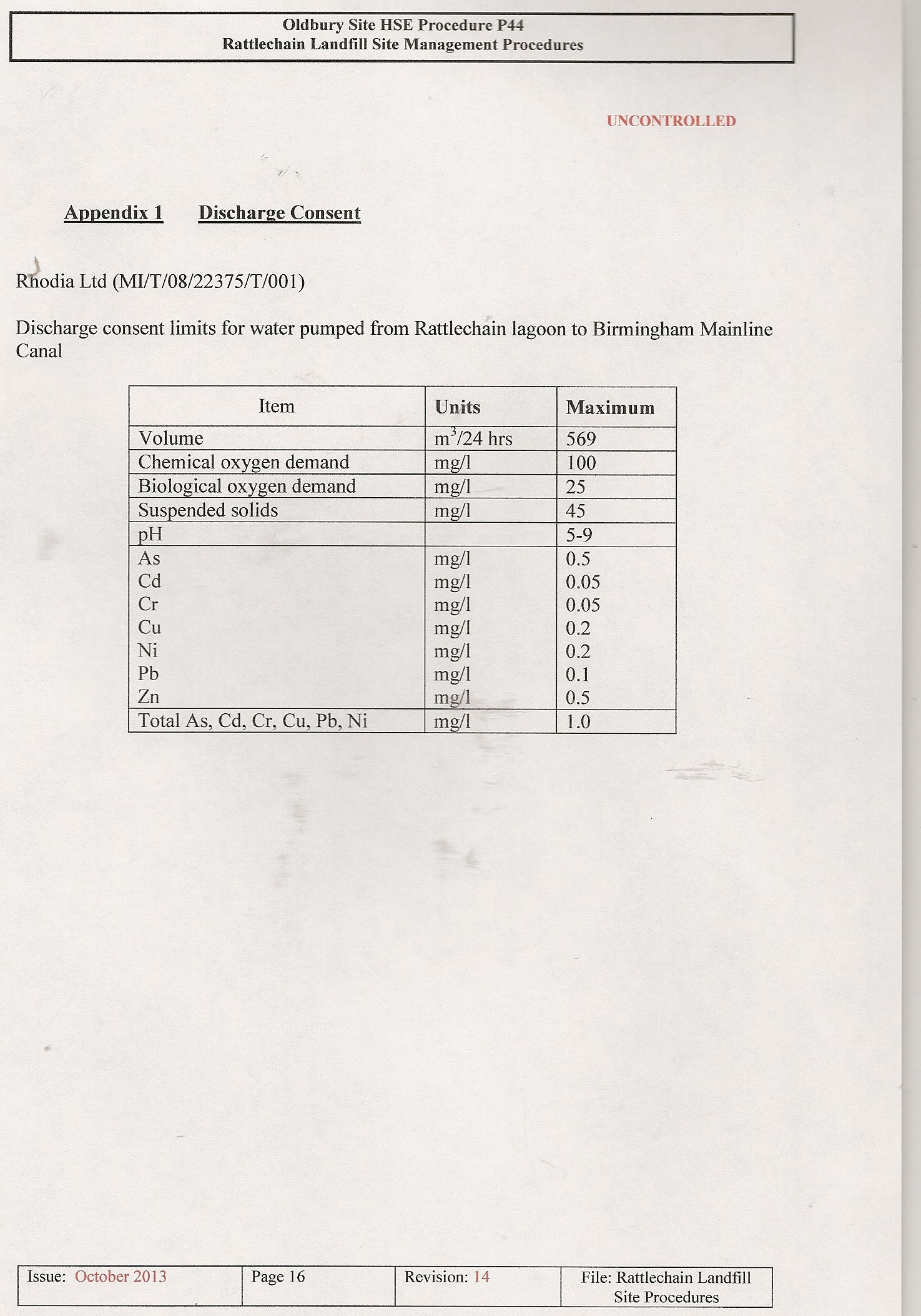 This appears to confirm that the discharge consent to the Birmingham Canal has now been altered to "RHODIA LIMITED" from "RHODIA UK LIMITED". The Environment Agency still fail to set a limit for white phosphorus, thus removing it from the radar even though it was found to be present in the lagoon water therefore being mobile in the Rhodia funded HPA study.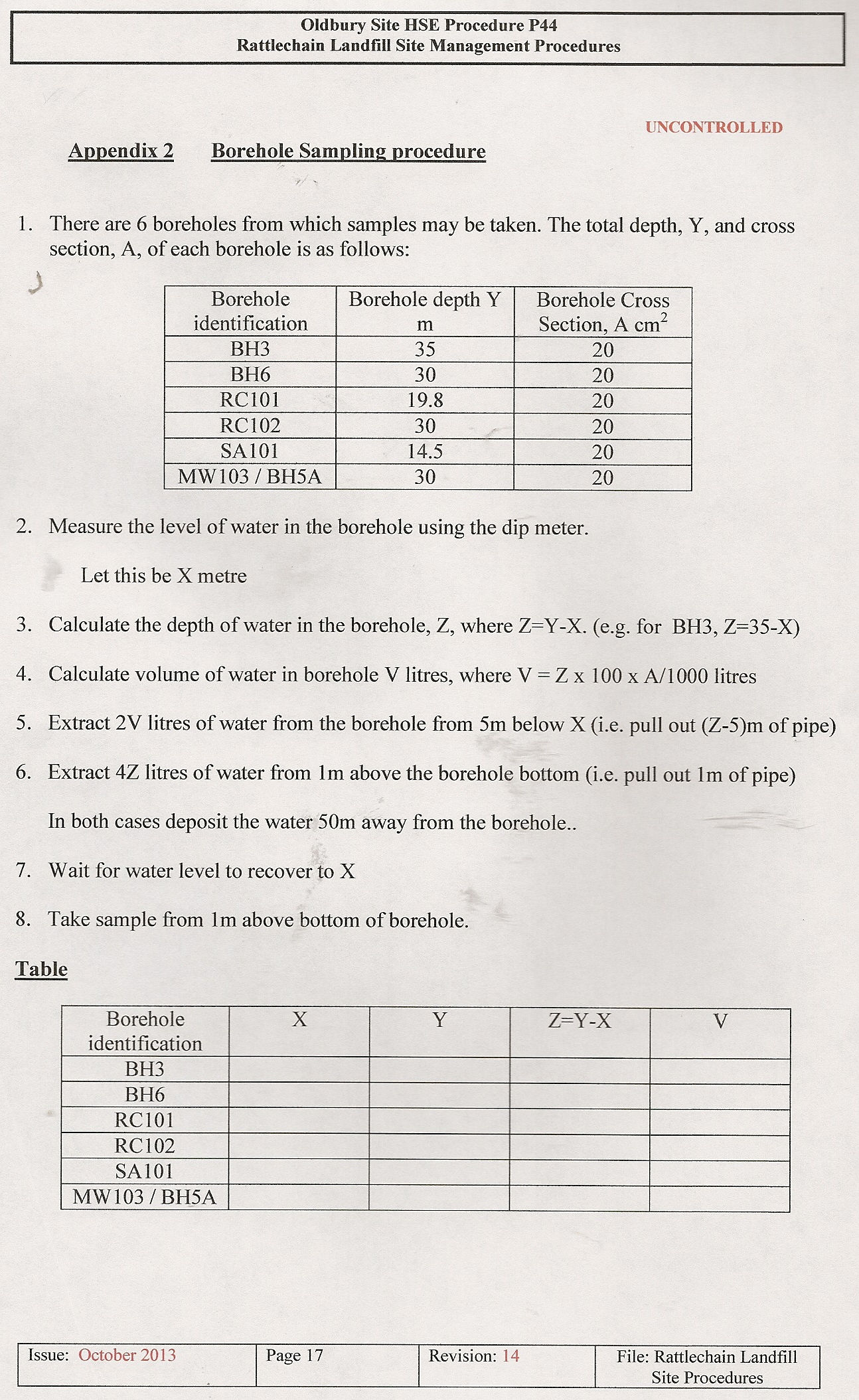 In version 6 the depth of borehole 5 was confirmed at 39.9 metres. The new borehole BH5A/MW 103 shown above only goes to a depth of 30 metres. It is clear that  borehole BH5 was not being monitored at all by Rhodia in recent years. The fact that results have now been limited even further is another example of how they evade scrutiny of this landfill, and that of the adjoining ones impact upon their site.
 This appendix 3 form is identical to version 6. Wehave seen how Rhodia try to invent statistics to reduce their landfill tax bill in the past.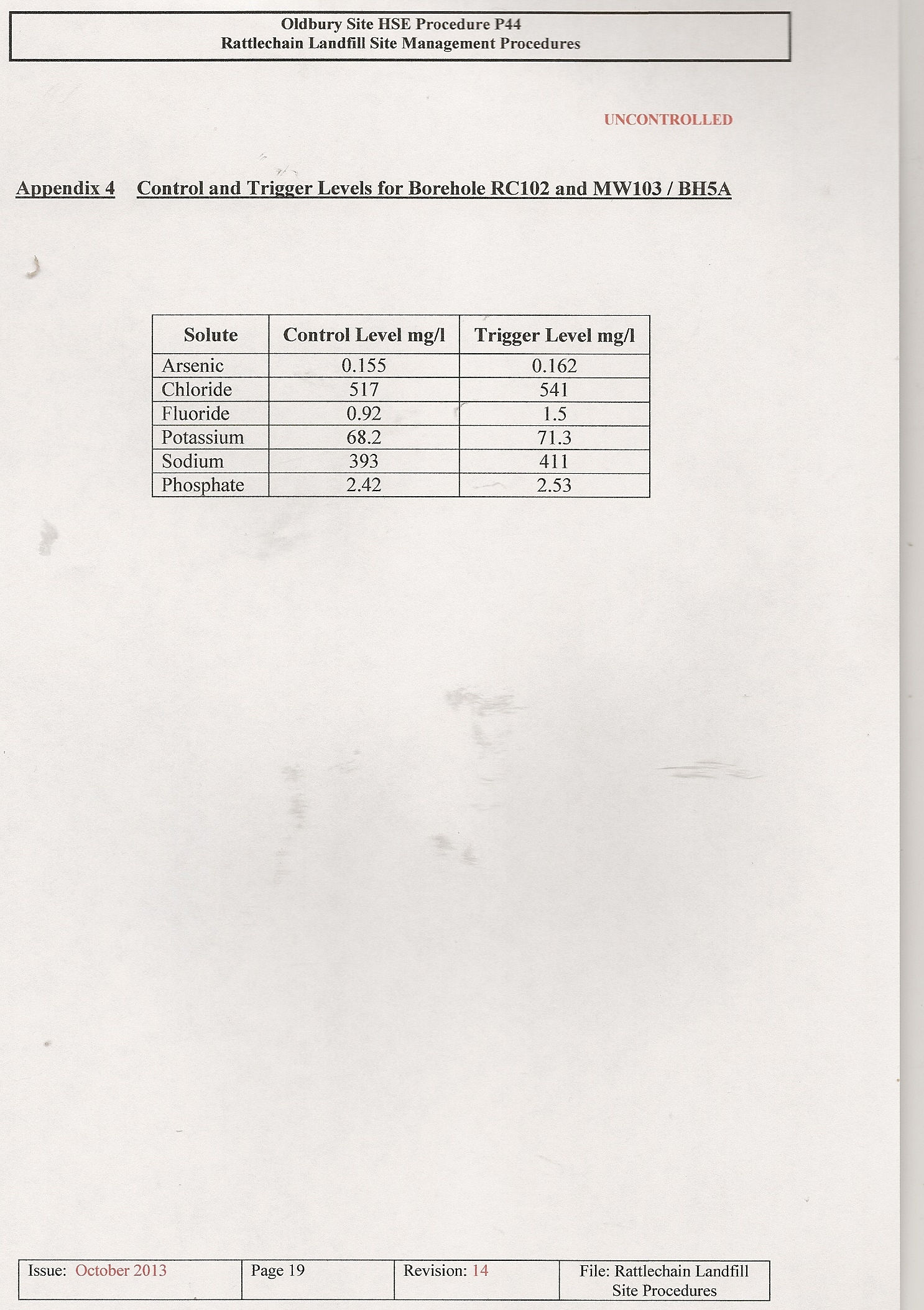 This page shows how the control and trigger levels for boreholes RC102 AND MW103/BH5A have been altered. Compare these with version 6 HERE. We really don't think these levels have ever been worth the paper they were written on. If they were breached then who would really do anything about it anyway, except add some more chemicals, turn on a pump to recirculate the water, and hope that swanwatch did not find out about it to make it public knowledge. That is about the size of it and the procedures that have been going on at this site for a very long time.