MASS PRODUCED PHOSPHORUS WEAPONS
Richard Threlfall in "100 years of Phosphorus making" on page 226 of Chapter 13 reveals:
"In the earliest days of the war the Research Laboratory worked on a self- contained, self-igniting version of the 'Molotov Cocktail' and evolved a novel charge for use in bottles, which was not only pyrophorus but highly inflammable and almost inextinguishable – a formidable mixture which on ignition gave off copious acrid white fumes. Its functions were incendiary, anti-personnel and smoke-screening."
On their manufacture at page 227 : "A & W. Engineered the whole job; the reception of benzene, bottles and packing cases; the installation of a most intricate plant; the manufacture of a special non freezing compound of phosphorus (Topley's formula); and the supply of women operators from the Kidderminster carpet factories, together with arrangements for special trains for three-shift work."
In a letter dated 13th July 1940, WN Stokes, Director of Ordnance services confirms. (National Archives WO/199/1891)
"I am directed to inform you that the self Igniting Phosphorus Grenade, which is an improved type of "Molotov bomb", is now being, manufactured by Messrs, Albright and Wilson, Langley Green, Oldbury, Nr Birmingham.
I am to add that the allotment of these grenades is as follows;-
Eastern command (including 75,000 for London Area)      495,000
Southern Command                                                                   250,000
Northern Command                                                                   375,000
Western Command                                                                    300,000
Scottish Command                                                                     200,000
Aldershot Command                                                                   55,000
1st Canadian Div.                                                                          50,000
IV Corps                                                                                         125,000
Northern Ireland District                                                           150,000
I am further to add that these grenades cannot be accepted as rail traffic, and therefore, it is necessary for Commands and formations to arrange for the collection direct from the above firm, on the dates shown in Appendix A, to this letter, only open lorries are to be used."
The letter also includes 3 further Appendices
"B" "Notes on description, Action, Storage and Transport,
"C"  Test carried out with the self Igniting Phosphorus Grenade
AND "D" Method of treating Phosphorus Burns."
"Appendix B Notes on The Self Igniting Phosphorus grenade."
"Description
The grenade which is self igniting, consists of a short necked half pint clear glass bottle containing yellow phosphorus, water, benzene and rubber, with a free space of 10%, sealed with a plain red crown cork.
Spontaneous ignition occurs when the glass is shattered, by the oxidation of the phosphorus in air, which in turn ignites the benzene. The crude rubber, a two-inch strip, gradually dissolves in the container during storage, rendering the contents tacky and therefore assists it to adhere to the object at which the grenade is directed.
The weight of the grenade filled is 1.5 lbs"
A DIAGRAM OF THIS FILLED BOTTLE IS SHOWN BELOW
"2. Packing
24 grenades are packed in one wire-bound wooden partitioned case measuring 21.5" x 13.75" x 9.25". Gross weight of case filled -53lbs.  The case has two rope handles and is fastened with two wires sealed with lead seals. The fastening can quickly be broken with a jack knife, bayonet or similar instrument. The top of the box is stencilled or branded 
                                                                          AW BOMBS
                                                                         FRAGILE GLASS
                                                                        HIGHLY INFLAMMABLE
An enamelled metal plate is screwed to the inside of the lid giving full instructions of storage and fire precautions."
These instructions for use were sent out to every home guard unit in the country, including those at the Albright and Wilson factory that they had originated from. They would therefore have been familiar with how to both handle and store these weapons after production. The scanned original document from 1940s below outlines the details contained above.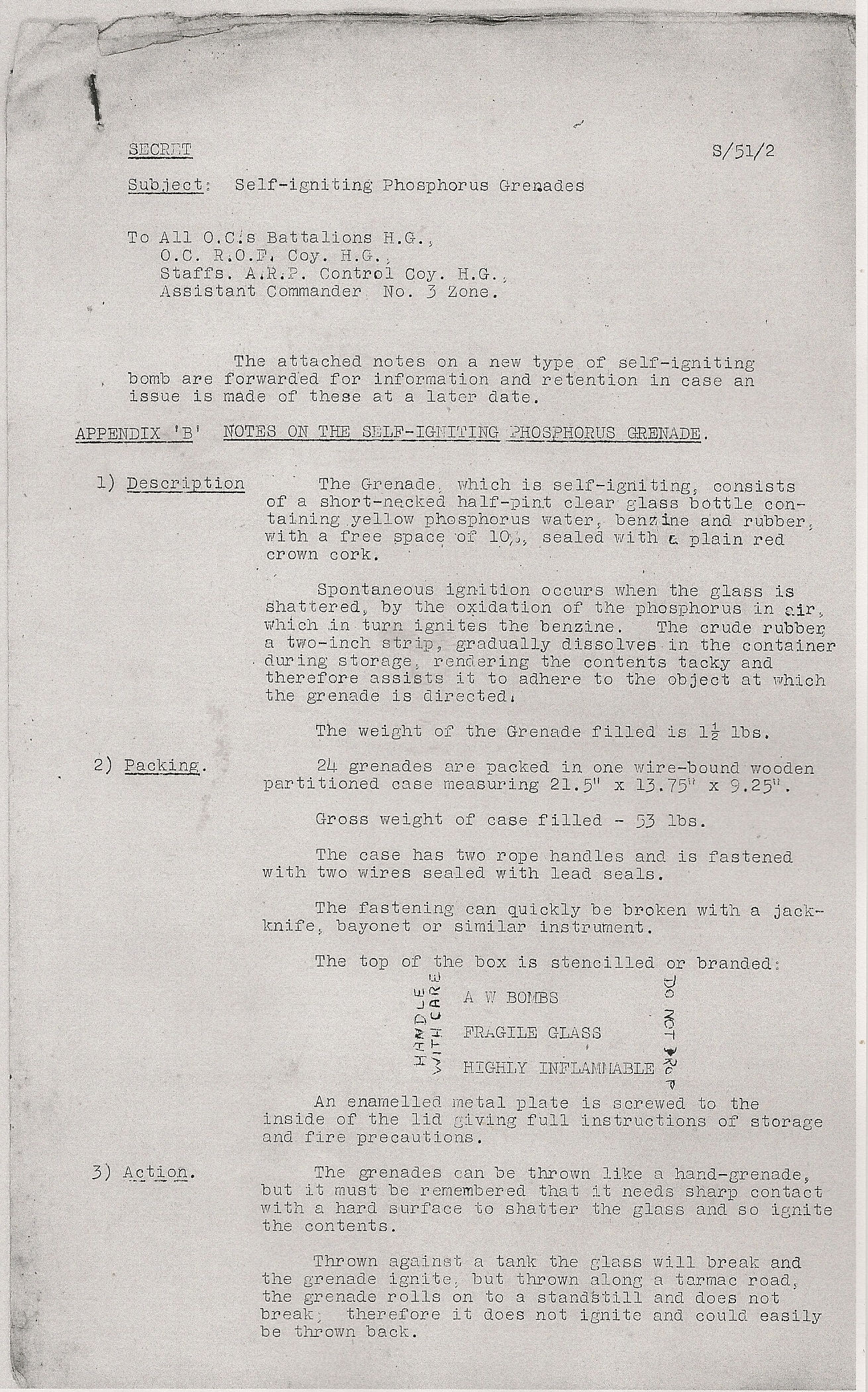 THE PICTURE BELOW SHOWS THE "PRECAUTIONS" ON THE ENAMEL PLATE. NB THESE PICTURES BELOW ARE COPYRIGHT OF I.CARROLL http://whatliesbeneathrattlechainlagoon.org.uk/ , and may not be reproduced for any commercial publication.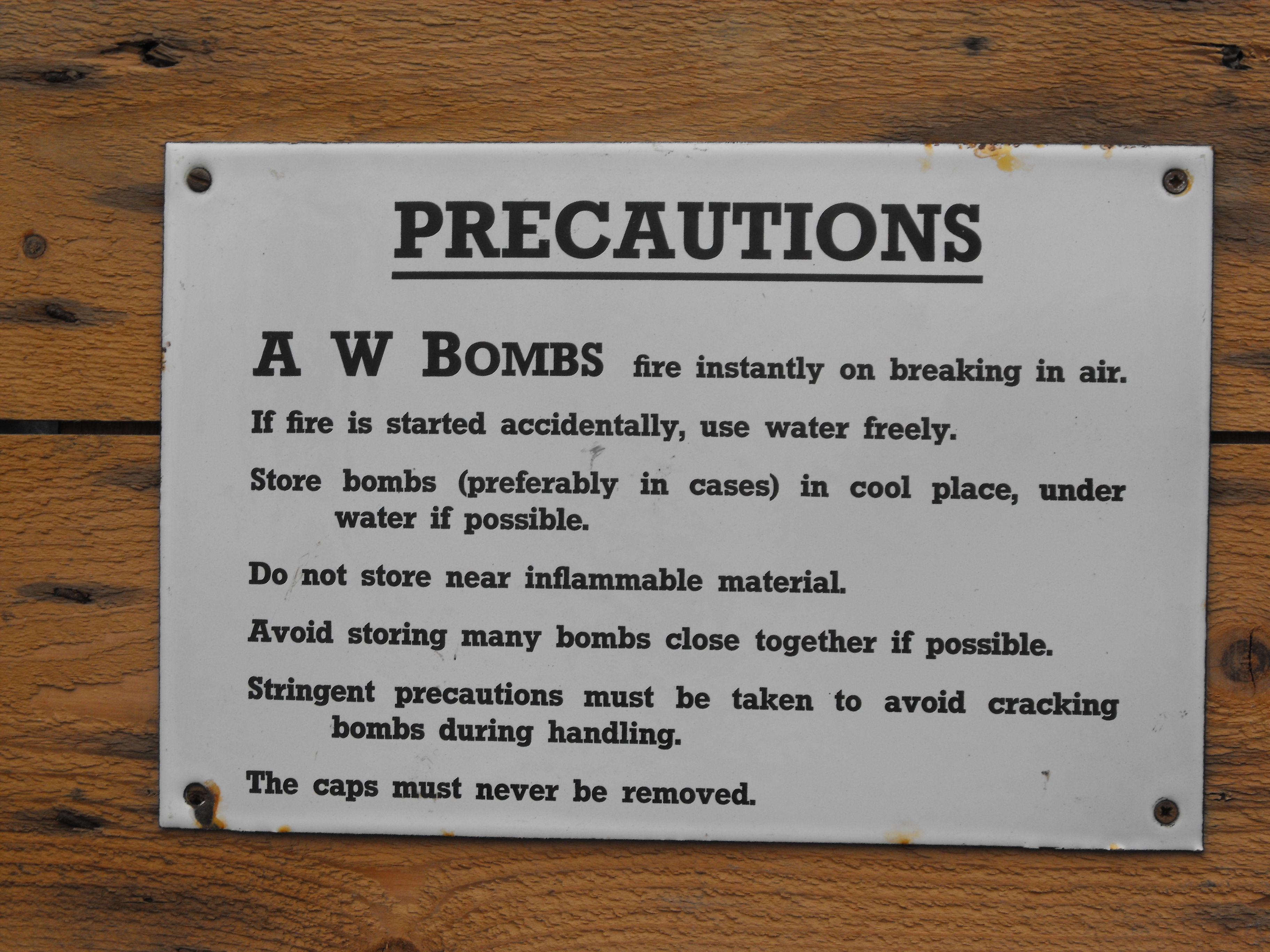 We have seen at least three versions of the text on these warning signs. A comparison of two are shown below. Though the wording is identical, the setting out of the letters differs slightly.  Some come with the name "Stocal Burton" written in the bottom right hand corner, the name of the manufacturer who made them. The Stocal version also doesn't appear as bold.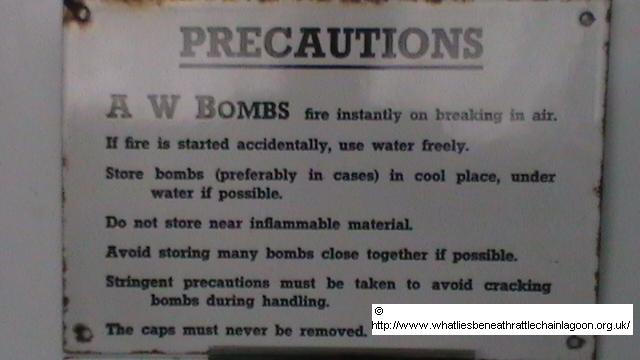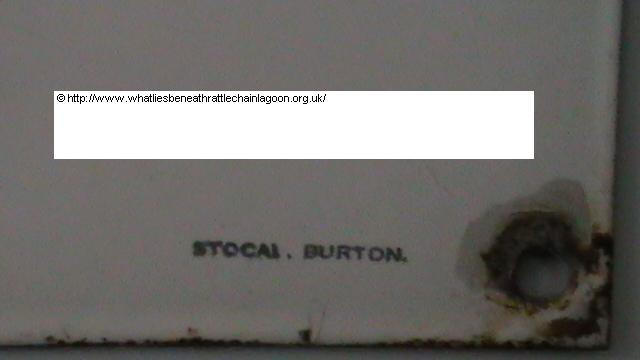 STORAGE AND TRANSPORT.
Clear instructions were sent out stating that the boxes of grenades should be stored under water. It is also clear from these insructions that Albright and Wilson ("the manufacturers"), knew that expended AW bombs were still dangerous because of the specific chemical contained within, and special instructions were given for treating these potential burns.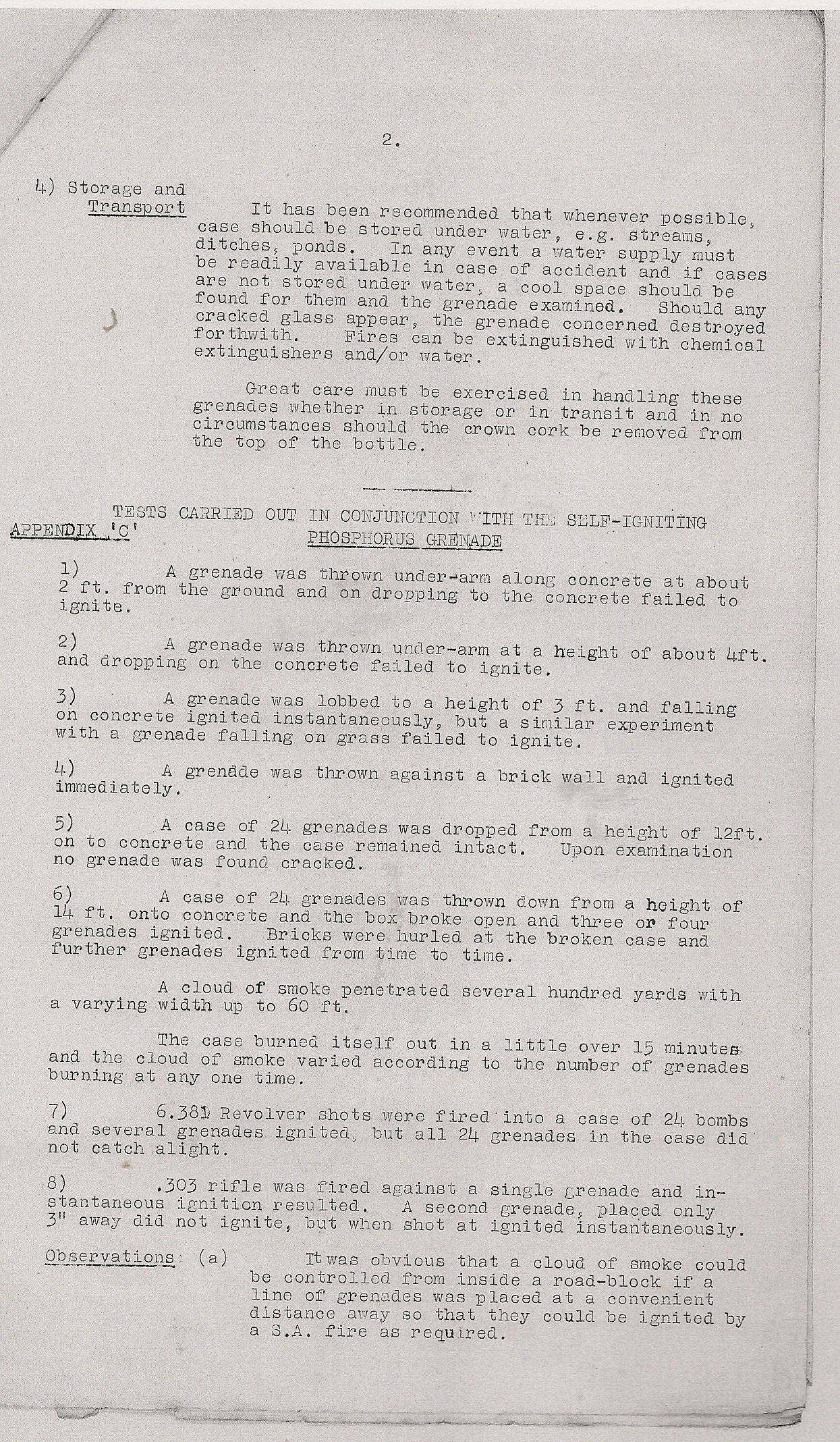 PROJECTILES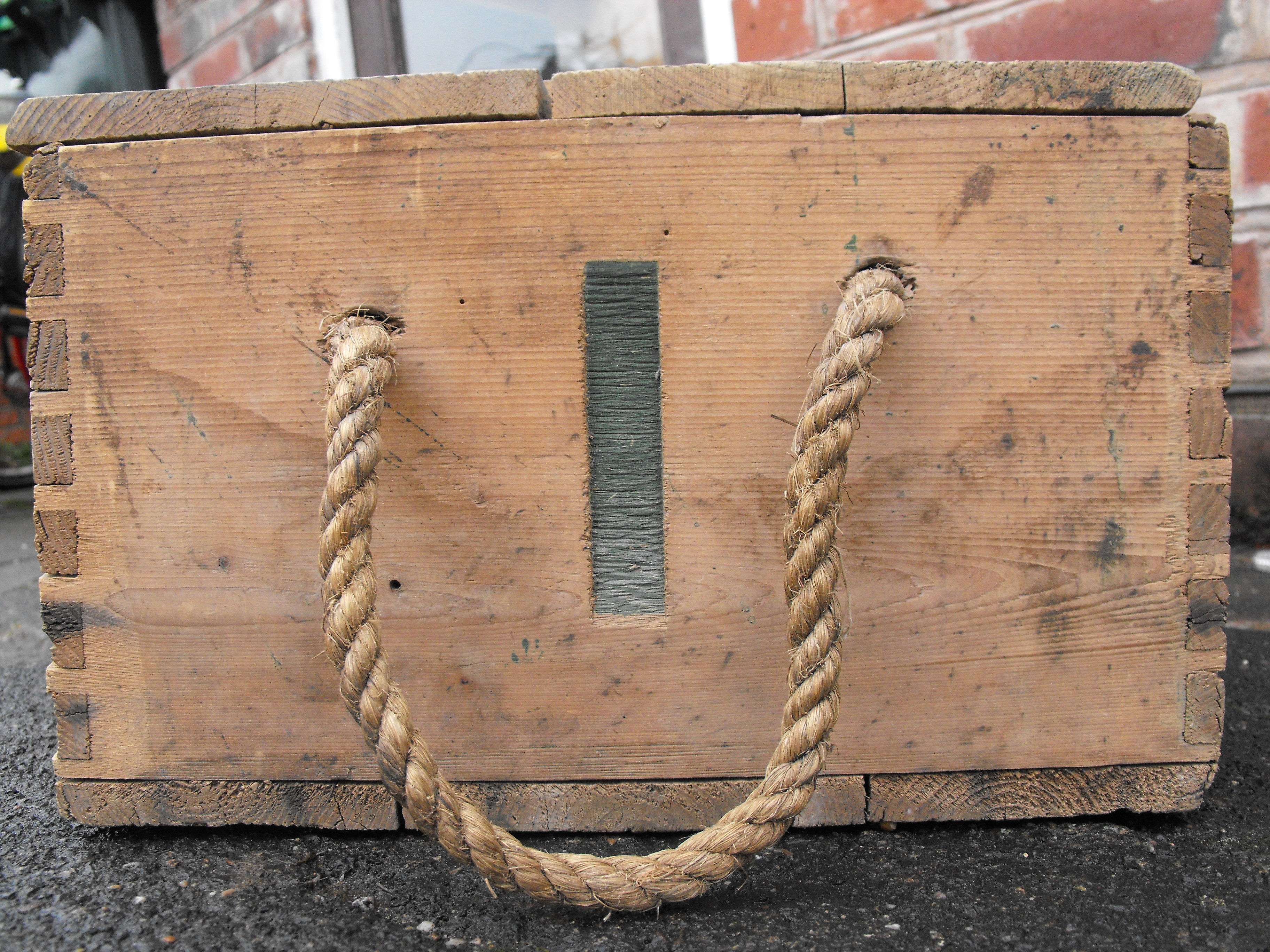 On the side of an AW box either a red or green band which ran vertically in the middle of the box. Those with a green band acquired by swanwatch, indicating that the AW bombs in this particular crate were to used in conjunction with  the Northover projector. This contraption could be moved around, increasing the grenade projectiles range from 25 to 200 yards. Around 21,000 were made by Major Northover , who was at the time of his invention "director of the Bisley clay target company". Demonstrations of the then £6 weapon were made by him around the country, even in front of Churchill himself.  Records show that after the war, Northover claimed expenses for his invention with a recommendation of £4,800 being made to the Principal patents and Awards office.
From the National Archives in a letter dated 18th November ,1941 it is confirmed that Albright and Wilson had two contracts with the ministry of supply for producing these weapons. 294/6/B5998 dated 4/7/40 and 294/B/6410/Con.7. dated 25/11/40.
"The above two contracts which call in all for 6,208,000 S.I.P Grenades are now almost complete, and in addition, we have received instructions to proceed with a further 1,000,000 delivery to follow on completion of the above mentioned contracts." (National Archives AVIA 22/2110) Images reproduced by permission to http://whatliesbeneathrattlechainlagoon.org.uk/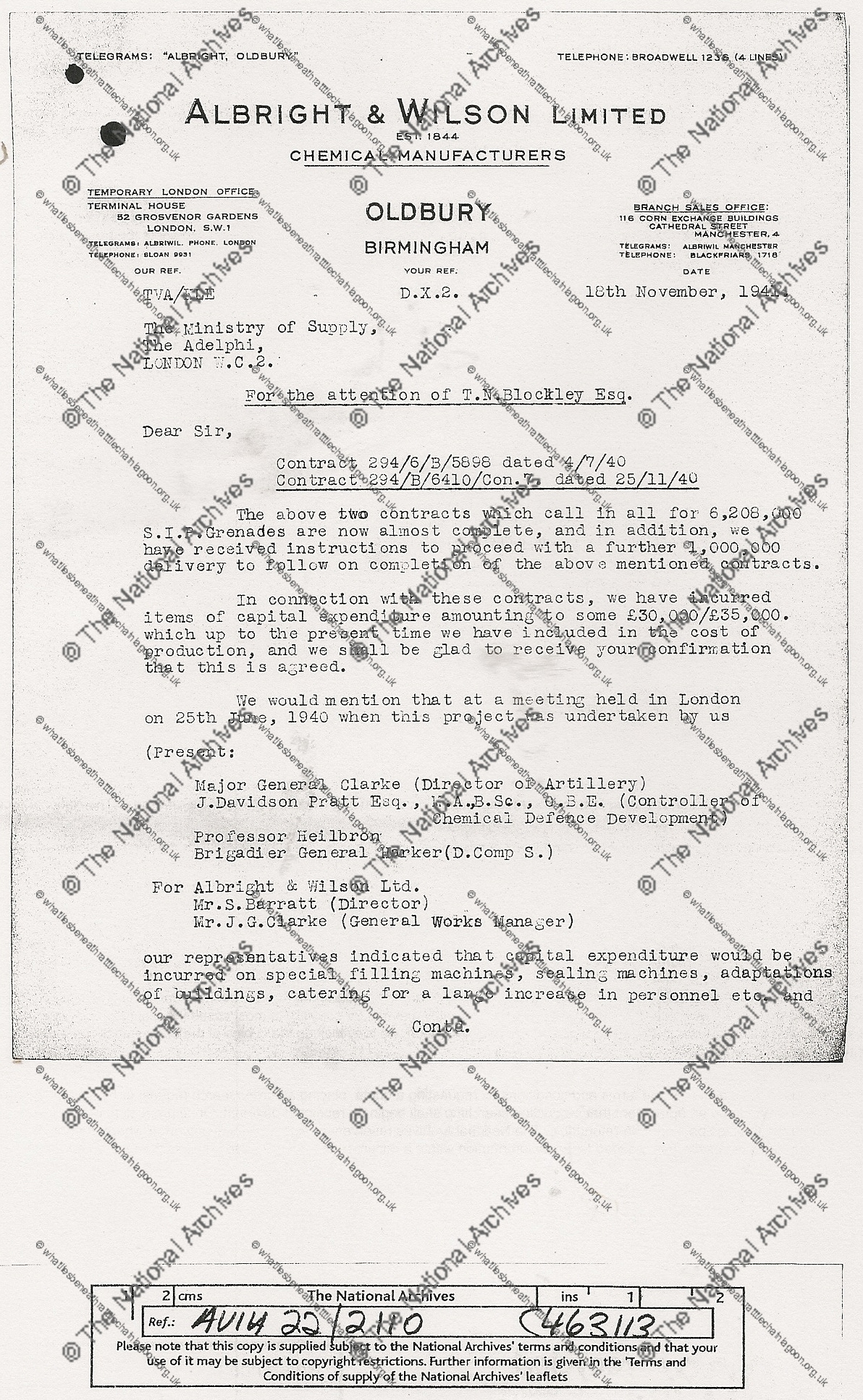 Aside from the SIP grenades, Threlfall's volume also reveals the truth about the other phosphorus based weapons manufactured at Oldbury. "Another new munition was the wafer or "razzle", together with its larger counterpart the "decker". The wafers were pieces of celluloid sheet, with a hole in the middle over which a small slice of phosphorus embedded in fabric was secured by staples. The decker had a sandwich of rubber-petrol jelly between two squares of celluloid."
He also states "Over thirty-two million wafers (and half a million deckers)" were made with the wafer designed to set crops on fire, the decker forests. It is possible that at least some of these were filled in canisters during operation outward– perhaps to get rid of some of them if nothing else.
The trial of these crude weapons and their mass manufacture was however another total failure on the part of this company to make a significant  contribution to the war effort and as with the grenades, it has to be asked what was done with these pieces of chemical mass produced rubbish after the conflict had ended?
Of the latter "weapons" Threlfall writes "It would be pleasant to think that all this effort was to some purpose. Unfortunately , as Oldbury learned a long time afterwards, neither wafers nor deckers justified the time and trouble that had been spent on them."
There are those who have worked for the company  who have exaggerated the role of Albright and Wilson in the Second World War as being of some major importance. The general presentation is that 'those cunning chaps from "The Oxford" (the pretentious name for Trinity Street based on a former works there), were up for a spiffing bit of derring-do against Gerry The Hun to stop him in his tracks.'
WE WILL HOWEVER ATTEMPT TO TELL THE REAL TRUTH BEHIND THE SPIN, FROM A REVISIONIST PERSPECTIVE.
The work force Of Albright and Wilson, mainly seconded female carpet workers who toiled with toxic phosphorus during this period wasted their time, and compromised their health for absolutely nothing, except to create further problems for future generations to have to deal with, yet for their efforts were rewarded with a piece of metal bearing the Albright and Wilson cherub logo. Rather than combating the enemy they produced a UK version of an I.E.D (improvised explosive device), or perhaps an "improvised incendiary device" to be more accurate for todays soldiers and the public to encounter.
WE ALSO FIRMLY BELIEVE THAT THEY ALSO CREATED A COCKTAIL WHICH FOUND ITS WAY INTO THE FOUNDATIONS OF AN "ABANDONED CLAY PIT" WHICH BECAME THE SMOKESCREEN FOR THE COMPANIES "PHOSPHORUS WASTE" DEPOSITION- RATTLECHAIN LAGOON.