AS DAFT AS A BOTTLE OF POP
The Albright and Wilson advert below shows one of the primary uses of phosphoric acid, which proved to be commercially lucrative as a rust remover. By directly applying a solution of Phosphoric Acid to rusted iron or steel, the Phosphoric Acid converts the red-coloured rust or Iron (III) Oxide to black Ferric Phosphate.
The more popular version of use for the chemical however is Food-grade phosphoric acid mainly used in Cola drinks. The  tale is that it gives it its "tang" by increasing its acidity. Additive E338, is used to acidify foods and beverages , but is controversial because of its potential health effects.
The use of the chemical in the manufacture of colas  has been linked to lower bone density which could lead to osteoporosis.  Not surprisingly, a study funded by Pepsi suggested that insufficient intake of Phosphorus leads to lower bone density. But our ancestors didn't need to drink this brown liquid to survive, and the later half of the 2oth Century advertising phenomenon behind it created it as a "cool " brand to drink.  
 SO WHY DO PEOPLE CONTINUE TO DRINK RUST REMOVER?
Phosphoric acid is applied in cola drinks and others with sugar together with caffeine, guaranteeing it's addictive properties, and its continued sales. The "coke" part of the name originated from the cocaine within the recipe.
 Caffeine is the most widely consumed stimulant in the world today. Most consumers of caffeine moderate their consumption to avoid any undesirable effects, but this is a choice that children may not be informed by in early life.  There have also been documented cases of some adults dying from exposure to too much- from an apparently "small amount." 
These misgivings about this type of drink makes it easier to believe that it does not do you any good drinking it, rather than doing any harm drinking it. Like those who drank phosphorus "nerve tonics" because of advertising in the 19th Century, perhaps we are 50-75 years away from knowing the truth- which the industry behind it will always try to deny with its considerable cheque book science.
THE LORD GIVETH AND THE LORD TAKETH AWAY- CORPORATE GROOMING
We are taught from an early age to brush our teeth with toothpaste, and it is something that we do not appear to grow out of, unlike believing in Father Christmas and the tooth fairy. Toothpaste "consumption" doesn't appear to go down even during a double dip recession. In reality however, perhaps we should take a closer look at what may be the biggest consumer con in history. Does our dental bill go down by using vast quantities of this commercial product, or do our teeth just naturally start to decay as a result of consuming too much sugary acid laced rubbish like that mentioned already, that the chemical industry produced earlier?
After polishing our teeth before going to the dentist, they polish them anyway adding to the charge.
The two main active ingredients used in commercial toothpastes are sodium monofluorophosphate (SMFP) and sodium fluoride– a well known rat poison.  Albright and Wilson manufactured the former at Oldbury, latterly under an IPC authorisation AM0023. The process is outlined in the 1997 Oldbury factory audit ON PAGE 20 4.4 .  
Read the Environment Agency Audit here   
The most widely known brand of toothpaste is Colgate. Albright and Wilson had a special relationship with this company, and was one of their biggest clients.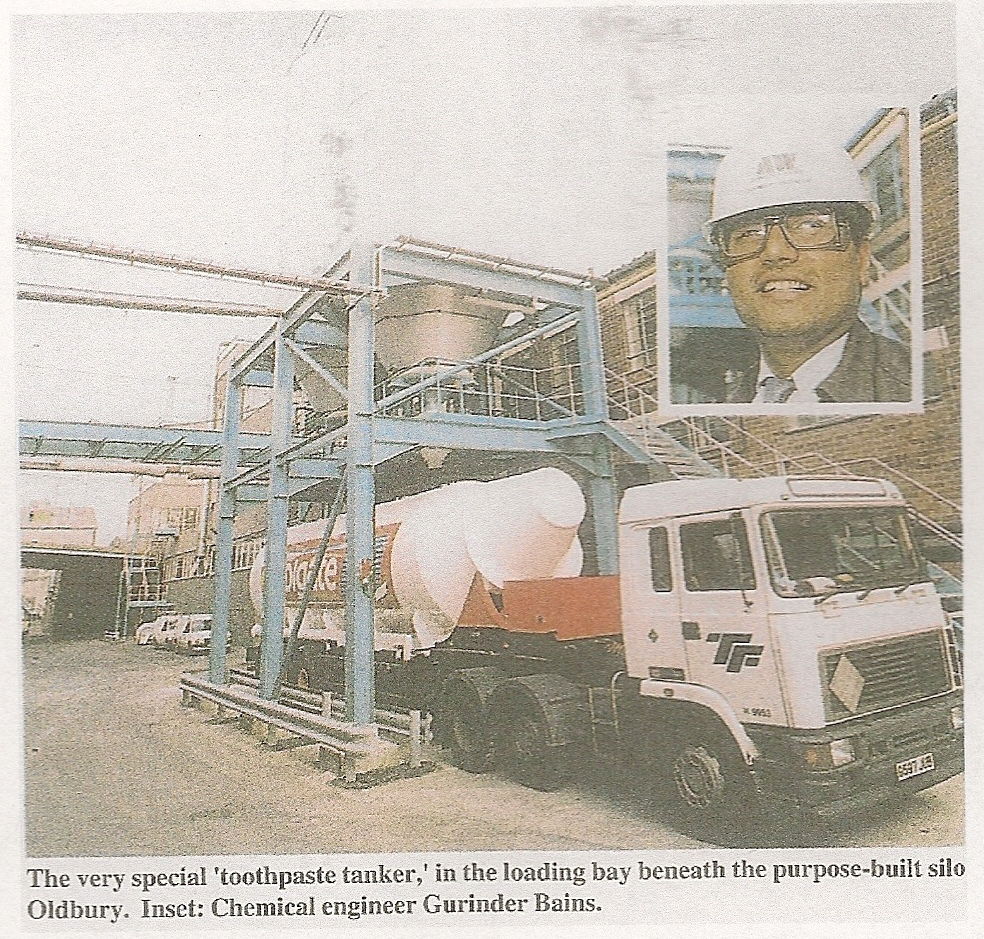 Against these claims, we have looked at various brands of Colgate toothpaste and their "active ingredients" listed on the packaging.
"Great regular flavour" contained 0.76% w/w Sodium monofluorophophate SMFP and 0.1% w/w Sodium fluoride.
"Cool stripe cavity protection" and "triple cool stripe cavity protection contained "sodium fluoride 1450ppm F ion.
"Sensation deep clean" SMFP 1.10% w/w (1450ppm F ion.)
"Maximum cavity protection great regular flavour" contained SMFP 0.76% 1000ppm and Sodium fluoride 0.01% (450ppm) (total F 1450ppm).
"Duraphat 2800ppm Fluoride" 0.619% w/w Sodium fluoride. (made in France).
Read some more background in the US HERE.
ALBRIGHT AND WILSON BOASTED THAT THEY WERE ONE OF THE WORLD'S LARGEST SUPPLIERS OF SODIUM MONOFLUOROPHOSPHATE. It was also noted in this Albright world article from the 90's that Colgate had given out a million free tubes of toothpaste in Brazil and were eager to expand into Eastern Europe, (and Americans make jokes about the British having green teeth!) We wonder if the Coca cola campaign had given out a similar free haul sometime earlier?
Other ingredients abbreviated in a typical tube include PEG-12 (a dispersant), and pigments  CI 77891 (TITANIUM DIOXIDE) which is a white pigment,  and blue  CI 74160.
It should be noted that on most of these tubes we see a warning "DO NOT SWALLOW" this product but to rinse and spit it out down the sink. We therefore see the fluoride content of these tubes in the main going straight into the water supply, with water companies themselves adding fluoride to the water supplies without OUR informed consent. The maximum allowed Fluoride dose in this mass form of State medication is 1.0 mg/l.  The official Defra line can be read HERE. There are reasons why we should be wary of fluoride.
Water fluoridation is another 2oth Century event that benefits the chemical industry in its offloading of toxic waste. This package offers some insight into the background in the US. Unfortunately in the UK we had politicians wanting to be seen as pioneers in health reform, after a few honours no doubt, and only lining the pockets of the industry that many of their constituencies encompassed.
 Listed on some tubes of Colgate  is the warning
"In case of intake of fluoride from other sources, consult a dentist or doctor."
 It was the often cited nonsense from Albright and Wilson and Rhodia that the Rattlechain lagoon contained "calcium phosphate, the stuff used in toothpaste."
Q. If this was "the stuff used in toothpaste", then why were Colgate Tankers not collecting it direct from this source at Rattlechain lagoon? Why were tankers  from the factory at Trinity Street dumping this waste at rattlechain lagoon if it were a commercially viable product?
 Nowhere on the ingredients list of Colgate's toothpaste today is mentioned "calcium phosphate."
 Dicalcium phosphate dihydrate appears to have been used as an abrasive in toothpastes. It is also used in some toothpastes as a tartar control agent. But it does have negative health effects. This material safety data sheet makes clear reference to potential skin contact.
Fluorosilic acid, found to be heavily present in the contaminated sediment at Rattlechain lagoon, has its own problems.
When wildfowl are ingesting sediment in the lake
THEY ARE SWALLOWING WHAT IS IN THAT SEDIMENT.
THEY HAVE BEEN SEEN "SPITTING IT OUT" PRIOR TO SHOWING SIGNS OF WHITE PHOSPHORUS POISONING.
THEY ARE NOT ABLE TO "CONSULT A DENTIST OR A DOCTOR" CONCERNING ADDITIONAL FLUORIDE INTAKE.
If Colgate-Palmolive had received calcium phosphate containing contamination with the amount of white phosphorus as well as other chemicals contained in the sediment at Rattlechain lagoon, they would have been bankrupt by now with possibly the worst case of corporate manslaughter in history.
THAT IS BECAUSE THE CALCIUM PHOSPHATE TOOTHPASTE LIE THAT PUBLIC RELATIONS OFFICERS FROM TRINITY STREET HAVE PUT OUT OVER THE YEARS ABOUT THE SEDIMENT AT RATTLECHAIN IS A MYTH. IF THEY WOULD LIKE TO PROVE OTHERWISE, THEN WE INVITE THEM TO TAKE THEIR CHILDREN AND GRANDCHILDREN TO THE SITE AND USE THE SEDIMENT TO BRUSH THEIR TEETH WITH IT. IT WOULD BE AN INTERESTING EXPERIMENT!
Both cola drinks and toothpaste have a taste that makes others taste vile, and makes your mouth dry needing to drink water to remove the film of taste from your mouth. So why not just drink water to start with to have better teeth?
As a final thought, try mixing some toothpaste with a cola drink and then downing it in one. It may ruin your liver, make you belch and have bad gas, but at least it might clean out your pipes and have that fresh minty smell about it.