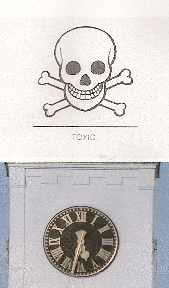 HS/040
OVERVIEW
This application was clandestinely hidden away on Sandwell Council's website and eventually revealed to be
"Modification to quantity of phosphine stored and used and proposed storage and use of Hexene, hydrogen peroxide and cyanex on site"
Solvay were seeking an increase in pressure for their use of the chemical they failed to control in 2009– the toxic highly flammable gas PHOSPHINE.
They were also seeking consent for new substances, HEXENE, HYDROGEN PEROXIDE 35%, and CYANEX 923- A mixture of the substances hexyldioctylphosphine oxide, dihexyloctylphosphine oxide, and trioctylphosphine oxide . I will outline the risks associated with all of these substances below.
The application form can be downloaded below.
HS_040-APPLICATION_FOR_HAZARDOUS_SUBSTANCES_CONSENT-960495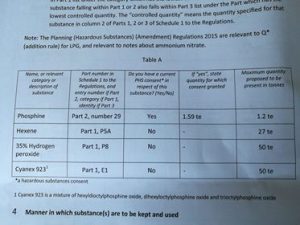 Of all of the chemicals that this company could have applied for variation of, this one really does take the piss, and no wonder they do not want public scrutiny about it!
This substance was originally permissioned by Hazardous substance consent HS/008 in 1992.
Firstly let's look at the chemical hazard. Here is what the then Health Protection Agency (now Public Health England) saw about the risks of phosphine and incident management.
Phosphine_properties_incident_management_toxicology
One notes from this
"Health effects of acute exposure
 Phosphine is acutely toxic; exposure to high levels cause immediate effects  Early symptoms of acute phosphine or phosphide exposure are non-specific and include respiratory problems, cough, headaches, dizziness, numbness, general fatigue and gastrointestinal disturbance (pain, nausea, vomiting and diarrhoea) . Effects of exposure to higher levels of phosphine, the onset of which may be delayed by several days or more, include pulmonary oedema, convulsions, damage to the kidney, liver and heart, and death …"
The following safety data sheet was provided by Solvay- incidentally using the Rhodia brand -who were responsible for the 2009 phosphine toxic uncontrolled release occurring  😆
Just to be clear, there is no difference between the two companies, just the name.
HS_040-SAFETY_DATA_SHEET_-_PHOSPHINE-960509
Rhodia/solvay identify that phosphine is "very toxic by inhalation", "causes burns", there is a " risk of serious damage to eyes", "inhalation may be fatal", and it is "very toxic to aquatic organisms".  GOT THAT?

This application was mired in semantics about what Solvay actually intended to do with this chemical- but they failed to answer if they were INCREASING the amount of phosphine or DECREASING the amount of phosphine on site- instead talking about increasing the pressure used- which can only increase the risk. Even if they are decreasing the amount, does this hide the risk with the associated increase in pressure used?
The 2009 phosphine fire at this site laid bare the risks, the hazards and the failures of Rhodia- with the same HSE director Tom Dutton in control who makes this application for the rebranded "Solvay" . Incidentally at the time of the HS/008 application in 1992, as an Albright and Wilson employee he was then listed as "risk prevention manager". 😆
Here is the HSE outline of what happened that day and how it made international news when there was an uncontrolled release of 37kg of phosphine and associated breakdown products.
As for Solvay's much heralded alarm system, they did not sound the alarm , as stated in the HSE investigation quite bloody laughably blaming this on West Midlands fire service for the following reason.
I will look a little more about this uncontrolled phosphine release/fire and the atrocious failures in the summing up of this post.
This sought permission for 27 tonnes of this highly flammable liquid substance.
The  safety data sheet  provided with the Solvay submission is 48 pages long and too large a file to download here, but here are the key points.
Just another flammable risk to local residents then.
The following safety data sheet was submitted by Solvay with this application. They sought to use 50 tonnes of this material on site.
HS_040-SAFETY_DATA_SHEET_-_HYDROGEN_PEROXIDE-960507
Here are the key facts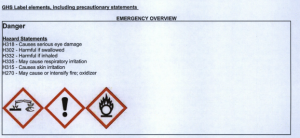 Much as the chemical industry love to portray their hazardous substances in mundane terms to equate them with seeming innocuous everyday uses, the "hair dye" is anything but safe on this site. Indeed, in today's terms it has been used of late by Isis inspired terrorists across Europe as a component in pressure cooker bombs. The risk is that it is an oxidiser and increase the risk of fire immensely. Given that this site deals with a whole host of already flammable and explosive substances does one feel that this inclusion of this particular chemical will increase or decrease the risk of explosion to the general public?
CYANEX
This is another potential semantic tool used to describe three separate substances. The quantity applied for is also 50 tonnes. This is one of Solvay's own shit mixes as evidenced by the following safety data sheet is submitted by Solvay in the application.
HS_040-SAFETY_DATA_SHEET_-_CYANEX-960506
And this one is also an embryo kiddy killer , as well as causing damage to virility gentlemen.
It is also worth pointing out some of the breakdown products of this mixture.
The three chemicals involved in the mixture are
APPLICATION OVERVIEW
Other documents are supplied with the Solvay application. Click to view.
A site location plan
HS_040-SITE_LOCATION_PLAN-960498
A substance location plan for Hydrogen peroxide and cyanex. NB THESE SUBSTANCES ARE TO BE STORED ACROSS THE WHOLE SOLVAY SITE AS EVIDENCED BY THE PLAN S2 AND S3
HS_040-SUBSTANCE_LOCATION_PLAN_S2___S3-960496
Locations for phosphine and Hexene are shown on the following plan.
HS_040-SUBSTANCE_LOCATION_PLAN-960497
There are other extracts of Solvay's COMAH report which are very interesting which appear to date from 2016.
HS_040-COMAH_SAFETY_REPORT-960503
This gives a breakdown of where employees at the factory (stated to be around 150), are typically located in each of the plants across the site. A handy plan is located at the end of this part of the report.
This plan gives a handy radius of the "blast site" and occupancy of residential properties and amenities within it. It is interesting to note that this stretches to a circumference of 1.8 km from the epicentre of the factory and includes 10 schools. .
HS_040-SAFETY_REPORT_-_EMERGENCY_RESPONSE-960512
There is little but very basic information here about a range of scenarios.
In 2009 of course it all went horribly wrong with the uncontrolled off site release of phosphine.
This is what the HSE found in their report.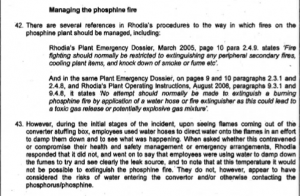 They could not even get the basic fire fighting methods correct.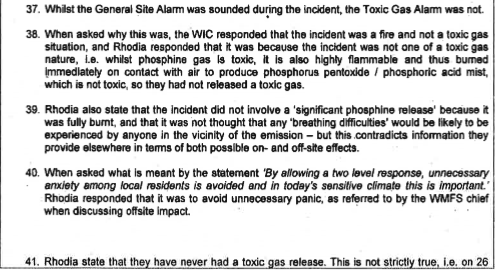 THEY FAILED TO SOUND THE TOXIC GAS ALARM TO WARN THE LOCAL RESIDENTS THAT THERE WAS A LEAK.
In addition, they
invented release data to attempt to downgrade the incident
obstructed the HSE investigation making it extend beyond a reasonable period of time
Did not make contact with vulnerable premises
Lied about past incidents on site
DOES THIS SOUND LIKE A GOOD NEIGHBOUR?
For some reason, a pipework scheme was uploaded to the council website in 2019. I hope it's useful.  😉
HS_040-PIPEWORK_DRAWING-1087516
It appears that this scheme was worked into the application, but at a much later date than the original form (December 2019), which suggests that there may have been some comments from another body as to safety- although these are not shown on the council website.
Incredibly, the application then went silent and was not considered by the council, until it appears that it was passed in 2020 under the cover of the "pandemic". It had then re-morphed into the following- a clearly different worded application to the original- so should it therefore have been a new application?
"HS/040 | Modification to pressure of Phosphine used, and proposed storage and use of Hexene, Hydrogen Peroxide and Cyanex 923 on site. The new 7 bara pressure transfer pipework consists of 133m of double walled pipework (with nitrogen padding and a leak detection system in the interstitial space) going from the compressor to the reactor. | Solvay Trinity Street Oldbury B69 4LN". 
HS_040-GRANT_HAZARD_SUBSTANCE_CONDITIONAL_CONSENT-1088224
Two conditions were attached including an explanation of how the toxic gas would supposedly be protected from leaking.