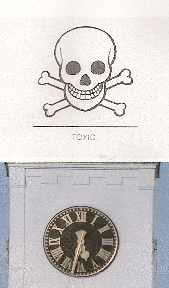 MODERN DAY HAZARDOUS SUBSTANCE CONSENTS AT TRINITY STREET
 Regulating Hazardous Substances
In order to regulate and upgrade the use of dangerous substances in industry, the UK Government enacted the Control of Major Accident Hazards Regulations 1999 and the Amendment Regulations 2005, commonly referred to as COMAH. These regulations amended the Planning (Hazardous Substances) Regulations 1992.
COMAH regulations and related guidance supposedly aims to prevent major accidents involving dangerous substances and to limit the consequences to people and the environment of any that do occur. This includes:
Identifying installations that store or use a threshold amount of hazardous substances (Lower tier and Top tier)
Providing guidelines on the prevention of accidents through the control of substances (Major Accident Prevention Plans, Safety reports)
Providing guidance on mitigating the effects of hazards, including the effect on the environment and neighbouring sites, through the development of emergency plans.
In the European Union Material Safety data sheets have been made an integral part of the system of Regulation (EC) No 1907/2006 (REACH).
The SDS follows a 16 section format which is internationally agreed and for substances especially, the SDS should be followed with an Annex which contains the exposure scenarios of this particular substance.The SDS must be supplied in an official language of the Member State(s) where the substance or mixture is placed on the market, unless the Member State(s) concerned provide(s) otherwise (Article 31(5) of REACH).
These  are :
Identification of the substance/mixture and of the company/undertaking
Hazards identification
Composition/information on ingredients
First aid measures
Firefighting measures
Accidental release measures
Handling and storage
Exposure controls/personal protection
Physical and chemical properties
Stability and Reactivity
Toxicological information
Ecological information
Disposal considerations
Transport Information
Regulatory information
Other information
Risk and safety statements, also known as R/S statements, R/S numbers, R/S phrases, and R/S sentences, is a system of hazard codes and phrases for labeling dangerous chemicals and compounds. The R/S statement of a compound consists of a risk part (R) and a safety part (S), each followed by a combination of numbers. Each number corresponds to a phrase. The phrase corresponding to the letter/number combination has the same meaning in different languages. An explanation of these Risk and safety phrases can be found HERE.
Much information can be gleaned from these sources of information concerning hazardous substances used at establishments such as that at Trinity Street. Unfortunately this information was not available to local residents over many decades of hazardous chemicals being released into the environment from this site.
Though the hazardous substances at the plant and the effluents produced have not changed that greatly, the new legislation meant that Albright and Wilson more latterly Rhodia , and now Solvay have had to declare and apply for consents to store certain "hazardous substances" at the site. The legislation assured an exclusion zone or CONSULTATION ZONE of 2km around the works had to be introduced within which there were restrictions on schools, hotels and businesses.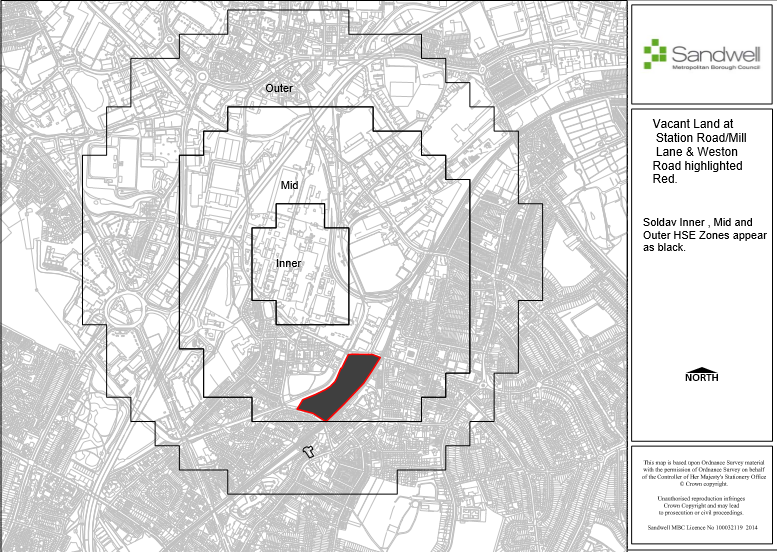 Some applications previously came under the influence of The Black Country Development Corporation, given that Trinity Street lay within its area, but are now decided by the local authority, Sandwell Council. Though the Health and Safety Executive (HSE, Environment Agency (E.A) and West Midlands Fire Service are consulted on such matters, these organisations appear to have offered little in the way of considered responses, judging by the associated replies available on Sandwell Council's Public Access website. Additional quantities of hazardous substances applied for appear only to question the basis of whether the increase would substantially increase the risk to off site receptors. It should perhaps be noted that ANY existence let alone increase of such dangerous chemicals are already putting people at risk- let alone a cocktail of all of them going up in flames.
Though the applications themselves have to be "publicly advertised", there is nothing in the way of detailed description, and Rhodia appear to do little more than the minimum to satisfy this criteria. An example of a hazardous substance consent HS/034 buried in the Express and Star classifieds can be found HERE. Note that members of the public are invited to contact the the HSE manager at Rhodia directly, rather than making any informed investigations to the planning authority for the application. Is it really in the interests of the business applicant to tell people living locally that these are "very dangerous chemicals"?
A Summary of hazardous substance consents and amended consents stored and used at the Trinity Street Plant in chronological order is explained on these pages. These are important to understanding the products made at the site, and the subsequent waste generated from these activities.  We hope that residents living locally to the Trinity Street site can get a better flavour of what lies on their own doorstep, and also appreciate that much of this cocktail ended up being mixed and blended in the effluent treatment plant with the next stop being Rattlechain lagoon.
The current list and amount able to be stored at the site is as follows.
HYDROFLUORIC ACID    0.56
 Waste distillate ex VINYL PHOSPHONIC ACID  20
PHENOL   10
ACETONITRILE    20
ETHYL MONOCHLOROACETATE (EMCA)  25
TEPA STRIPPINGS (FROM TRI-ETHYLPHOSPHONO-ACETATE (TEPA) ) 35
OCTENE   5
SODIUM FLUORIDE   100 A safety data sheet is available "on request" from them. It contains Hexavalent chromiuim.
WASTE PHOSPHORUS TRICHLORIDE WASHINGS 150
TOXIC WHITE PHOSPHORUS P4!!!!!  800
BIS-HEXAMETHYLENE TRIAMINE (B.H.M.T)  50
(FORMALDEHYDE)  100
 GAS OIL      200
METHANOL   10
RED AMORPHOUS PHOSPHORUS/ PHOSPHORIC ACID MIXTURE
200
 TOLCIDE C80 Also known as (benzothiazol-2-ylthio)methyl thiocyanate. THPC
 HS032 TOLCIDEPS7.5  1000
solution of tetrakis (hydroxymethyl) phosphonium sulphate. (THPS).   1000
HS032 TOLCIDEMBT
This biocide is based on methylene bisthiocyanate.    50
TETRAKIS (HYDROXYMETHYL) PHOSPHONIUM CHLORIDE (THPC)   15
Marketed by Rhodia as PROBAN CC, Tetrakis(hydroxymethyl)phosphonium Chloride
ProbanSti  1000
HEPTANE– 20 
DI-T-BUTYL PHOSPHATE POTASSIUM SALT IN HEPTANE– 30 
Next time you look up to read the time at the main entrance, perhaps save some time to consider what lies on the doorstep of Langley, and ponder just who allowed it to be there.
As they say in these parts, "It ay saif ah kid."
 TIME AND CHEMICALS WAIT FOR NO MAN