AW BOMBS WERE TOXIC MASS PRODUCED JUNK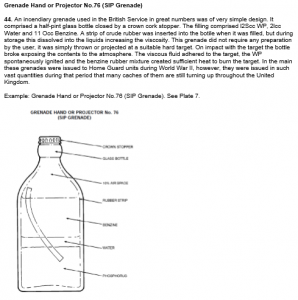 The real effectiveness of the AW "Molotov cocktail" weapons mentioned by  Threlfall and the story often repeated in some local history books by PR men from the company should be put in their historical context.
THEY WERE UTTERLY USELESS AND REJECTED BY THE REGULAR ARMY AS BEING SUCH, INSTEAD BEING FOISTERED ON THE NEWLY FORMED HOME GUARD- WHO ALSO REGARDED THEM AS USELESS.
In "The Home Guard"  by  SP Mackenzie   (Oxford Press 1995 on page 92 of chapter  6 it is revealed "Ordnance Board tests revealed that the glass would not break when thrown down on grass or even tarmac, and that it had to be dropped from a height of eight feet onto concrete before it would ignite. Once ignited, moreover, the grenade produced fumes which could choke the thrower if he was not careful."
Stuart Macrae in his book "Winston Churchill's Toyshop" (Amberley pubishing ISBN 978-1-4456-0370-4) is even more blunt about their worthlessness after a demonstration to the RAF at RAF Farnborough in 1940; even the name of the manufacturer being forgotten. From page 108
"There had been a lot of talk about the deadliness of the latest Molotov cocktail made up by some chemical firm and large stacks of these bottles were laid out ready for use. There was some concern that, if the tank drivers could not pull up quickly enough and were likely to be frizzled to death, but after looking at the bottles, they said they would be happy to take a chance. The demonstration of this phosphorus grenade was an utter and complete flop, and having had our own setbacks, we could sympathise with those who put on the show. That particular weapon was out, and nothing would bring it back."
As they were officially known in military circles, The No 76 SIP (self igniting phosphorus) grenades or Albright and Wilson bombs referred to in Chapter 13 of Threlfall's book were crudely stockpiled by  home guard units for an anti tank war which never came to this country after coming off the Albright and Wilson production line.
Though Threlfall quotes a figure of "over seven million" having been filled by Albright and Wilson's factory, an official record from the Director of small artillery from 1947 of "6,340,719 grenades were received in Ordnance depots, but as this grenade was in use as a hand grenade before the introduction of the Northover projector, we are unable to state the quantity ordered for use with the projector." 
National Archives "WO 185/23 nothover projector and it's ammunition."
As this figure does not tally with the earlier quantity referred to in the Ministry of supply contract,  perhaps Albright and Wilson kept a large cache for themselves- or maybe many of them broke before packing.