The risks of storing such toxic bottled materials persistent in the environment under water in large quantities is even more incredulous given the official instruction to do so. Appendix B sent out as part of notes to all Home Guard battalions reads
" 4 Storage and transport
"It has been recommended that whenever possible, cases should be stored under water, e.g streams, ditches, ponds. In any event a water supply must be readily available in case of accident and if cases are not stored under water, a cool space should be found for them and the grenade examined. Should any cracked glass appear, the grenade concerned destroyed forthwith. Fires can be extinguished with chemical extinguishers and/or water.
Great care must be exercised in handling these grenades whether in storage or in transit and in no circumstances should the crown cork be removed from the top of the bottle"
The word "recommended" suggests that it was Albright and Wilson's bright idea to store these toxic stockpiles under water, yet Threlfall in his 1951 book "100 YEARS OF PHOSPHORUS MAKING" glosses over the way in which these weapons were dispersed, as though the company no longer accepted any responsibility for the "safety" hazard that they now presented.
"When the plant closed in 1942, just on seven and a quarter million grenades had been filled. The storage of these devices by local authorities caused many headaches, because often they were submerged in a convenient stream for safety, and from time to time boxes of a thousand or so bottles broke loose and floated away."
The following article appeared in Albright World after the discovery of an AW bomb sign in Dorking. At this point in history, the company were still very willing to provide information as to their past endeavours.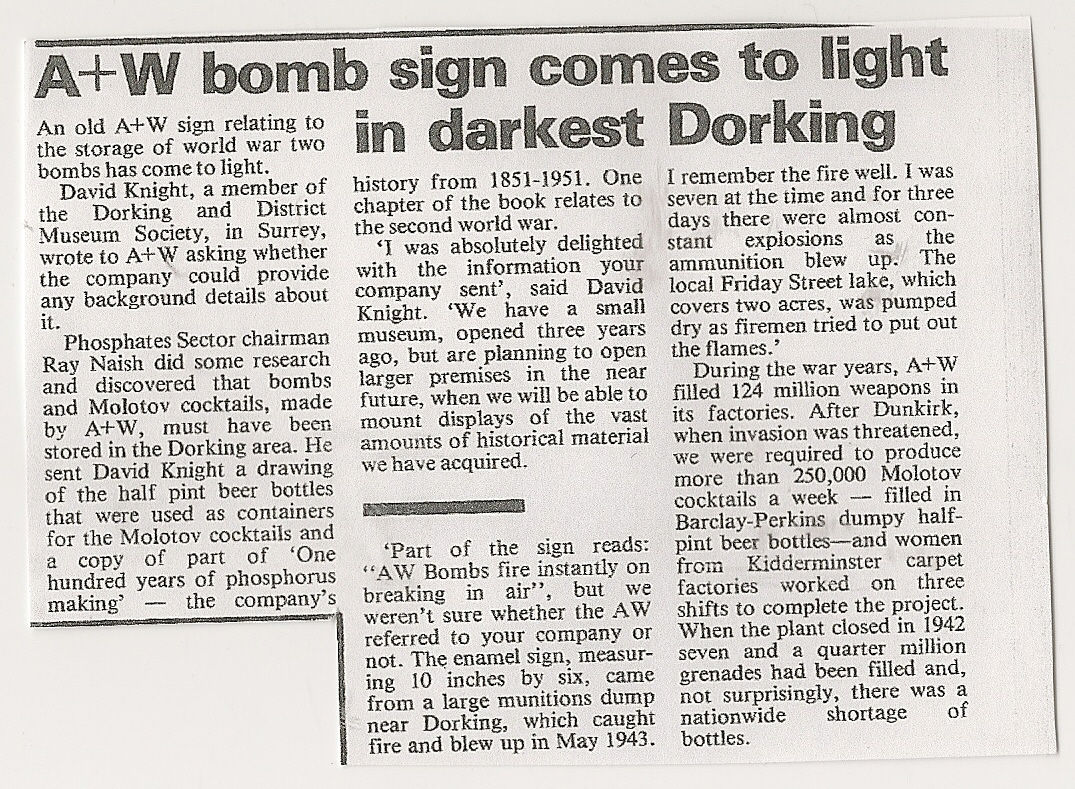 It is not believable that the Ministry of Supply and Albright and Wilson did not keep any records of their eventual disposal, given that their production, in crates of 24 were so well documented for the formers order and for individual HG command units to collect from Albright and Wilson as manufacturers. Indeed Threlfall tells us that civil servants were based at Albright and Wilson from the ministry to oversee their manufacture.
According to The Ministry of Supply publication " Chemical service in Defence of the Realm- One hundred years of chemical inspection- The story of the chemical inspectorate, WG Norris 1957, "the chemical inspectorate of the Ministry of supply employed 1,600" people during the 1939-45 conflict.
"The emergency made it necessary to use some extremely unsuitable places for storage, including disused brickworks and quarries, and this did not make matters easier."
Peter Bloore, a former works manager and former  Albright and Wilson PR man, has contributed several articles to The Black Country Bugle amongst other titles related to his former works, as well as presenting talks to local groups. But the story is always one which is half told. In an article from 30th May 2002 he writes
"Most of the crates were left hidden until the end of the war when the task of recovering them and rendering them safe was undertaken. However since the crates had been hidden away in the first place so as to escape enemy detection, should we be invaded, many of the locations were only known to a few personnel and inevitably many of the locations were forgotten. As a result over the years many of these crates have been found still buried with the fiery contents."
The elementary questions which arise from his statement are
Where were the locations known to the few personnel?
Is it really difficult to imagine that a certain Marlhole within a disused brickworks "aquired" by Albright and Wilson (whose works management  were largely in control  of Oldbury's home guard unit) for use as a "tip" was one of these locations?
who undertook the task of recovering these grenades and "rendering them safe"?
who knew where these locations were, and what happened next?
We asked several Freedom of information requests to the  MOD related to these weapons and can be viewed on the website "WHAT DO THEY KNOW.COM. This was an attempt to unravel what had happened to the millions of phosphorus based weapons made by Albright and Wilson when it became clear that they were no longer needed and "the task of recovering them was undertaken."
It is quite clear from the wealth of literature available concerning the design and falability of these wepons that any form of "recycling" of materials would have been both labour intensive and virtually impossible to carry out safely. The glass bottles would not have been fit for any purpose after containing P4 and benzene, nor would it be safe to attempt to remove the corks and rubber from the bottles to use them for any future purpose.
The chemicals within the bottles would largely be mixed, making the use of the material within each bottle also useless- except for incendiary bombs or if someone wanted a good fire.
This would leave the only useful contents of the AW production the wooden crates with metal hinges containing the grenades and the enamel warning signs within each crate. It should be questioned however, if anyone would be willing to remove each bottle from a crate of 24 to then be stored somewhere else for safety purposes?
The only conclusion that one can draw from this rational consideration is that the grenades were destroyed, (or buried), most likely in their crates without having to go to the labourious task of dealing with each grenade from bottle to bottle.
THE RATTLECHAIN LINK
We know that the "disused brickworks" at Rattlechain was within the 8th Worcester home guard unit area. We know that Albright and Wilson "acquired" this site after World War Two, but that it was being used "since 1942" when we also know that production of these weapons ceased and they were no longer issued to the Home guard.
We also know that AW bombs have been destroyed at Rattlechain lagoon, which is undisputable, given that Albright World reported it in an issue dated January/February 1984. In this incident 38 bottles were unearthed at Dudley Cricket ground, where the Showcase cinema is now located in Dudley. Peter Bloore was then a production manager at Albright and Wilson. Together with his colleagues he is pictured below examining an enamel precautions sign found with the grenades at Dudley; a mangled version of this.
The incident was refered to as being part of the "Chemsafe" scheme (quite ironic given Albright and Wilson's legacy for not being very "safe" with chemicals)- a protocol between certain local chemical companies to respond to chemical incidents such as spillages on roads to assist the emergency services. Though the article paints Albright and Wilson in glowing terms, the legacy that this company both created in the form of these useless but dangerous military artefacts and the manner in which they were destroyed at Rattlechain still lingers like a smouldering fuse.
A black and white photograph of these grenades were published in the book "Oldbury, Langley and Warley" by historian Dr Terry Daniels of the Langley Local history society. "Molotov cocktails awaiting disposal at Rattlechain's tip", which is not dated but it is clear from this picture that it was the same cache as referred to in the 1983 incident.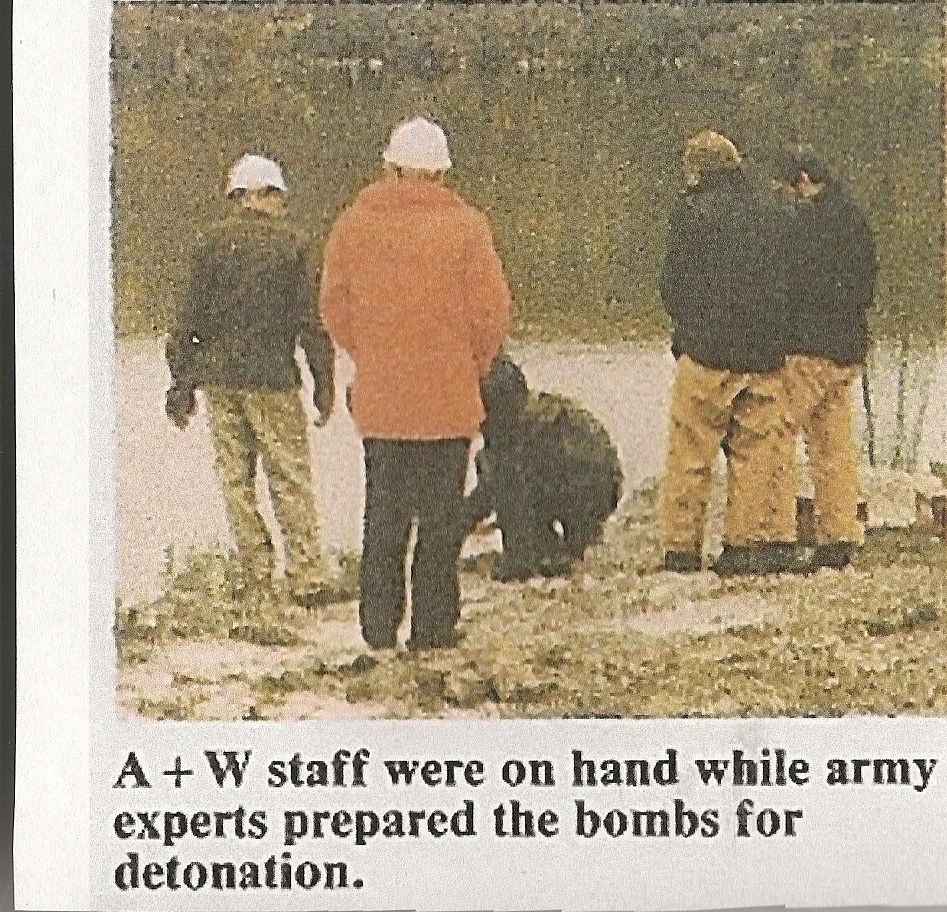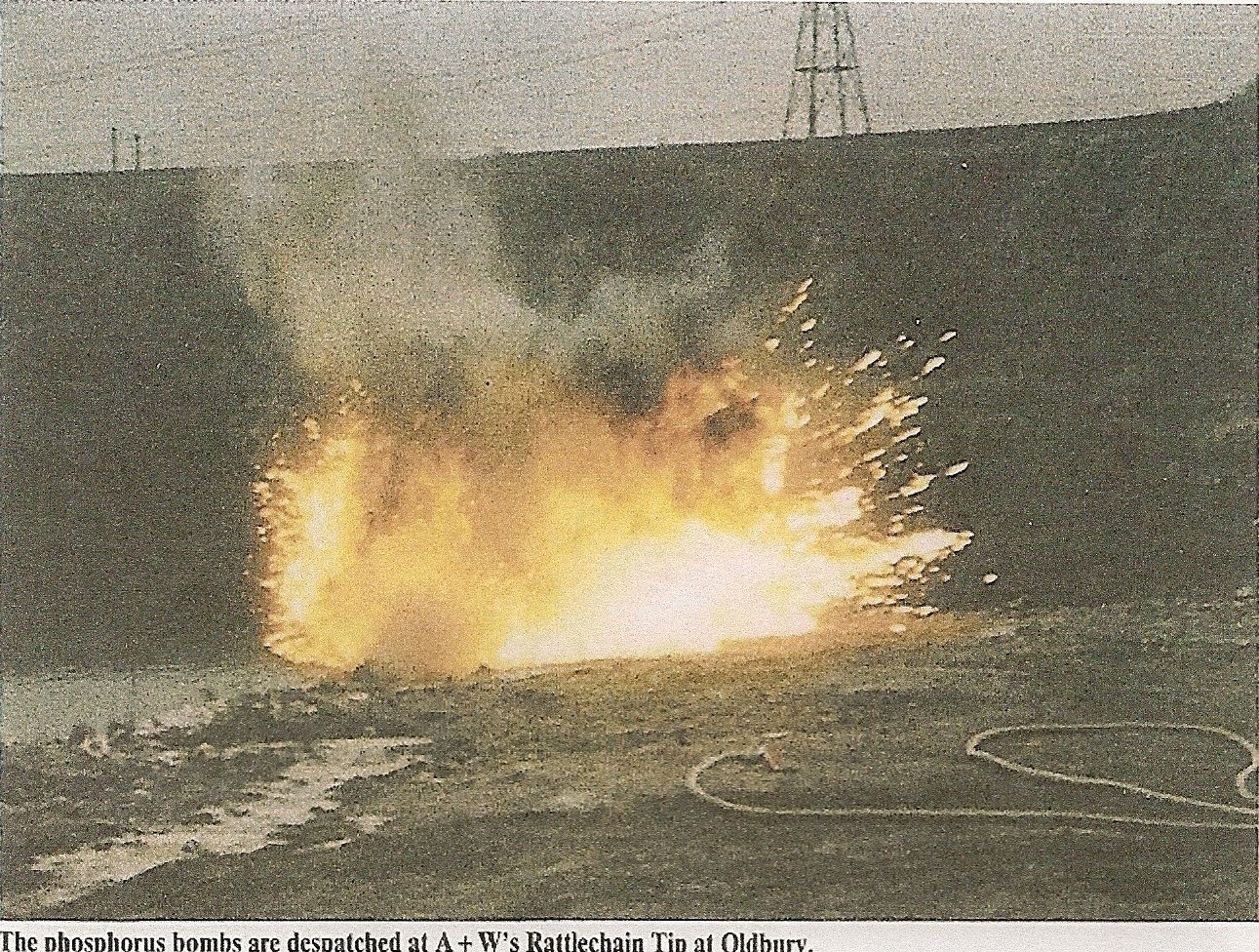 Having spoken to the Historian Terry Daniels, who is incidentally a retired industrial chemist, he was told by Albright and Wilson that they had disposed of phosphorus weapons when they were uncovered in post war developments.
It must have been fairly obvious to the army disposal team as to what these devices actually were and their origin, and given that they were taken to Rattlechain, a protocol for destruction was obviously in place with Albright and Wilson.
The claimed acquisition of the Rattlechain site in the 1940's for "disposing of waste" by the company who made phosphorus military weapons cannot be a coincidental occurrence.
If they made them at Oldbury- where did they destroy them?
It would be extremely naive to believe that this was a one off incident. How many more incidents over the years went unreported and were dealt with in a manner requiring them to be taken down the road to a disued quarry containing material not unlike that contained in the bottles?
Our FOI requests were structured to try to determine what the Ministry of Defence may have admitted to in relation to their predecessors factory agents. In truth we have learned little more from their responses.
In that
Q. But do the army know what happened to the 7 and a quarter million of them made, who collected them from the Home guard and what was done with the dismantled operating plant that made them at Albright and Wilson and where it was disposed of?
ANSWER  " I have contacted my subject matter experts who are responsible for the disposal of ordnance.  They confirm that they do not have any archived information of this sort held at the Joint Service Explosive Ordnance Disposal Operations Centre, and would be very surprised if anyone has retained that information, if it ever existed in the first place.  While we cannot begin to guess at the disposition of the 7.25 million bottles you refer to it seems plain that not all of them were properly recovered and disposed of following WW2." 
CALL THE BOMB SQUAD!
THE FOLLOWING DETAILED INFORMATION CONCERNING THE AFTERPHASE OF SIP GRENADE CARE AND DESTRUCTION IS GIVEN IN "Regulations for army ordnance services, part 7 pamphlett no 12 Grenades 1945" AND IT CAN BE SEEN THAT IN SOME ASPECTS THE EOD TEAM THAT DESTROYED THIS BATCH AT RATTLECHAIN WERE USING SOME OF THE SAME PROTOCOL IN 1983.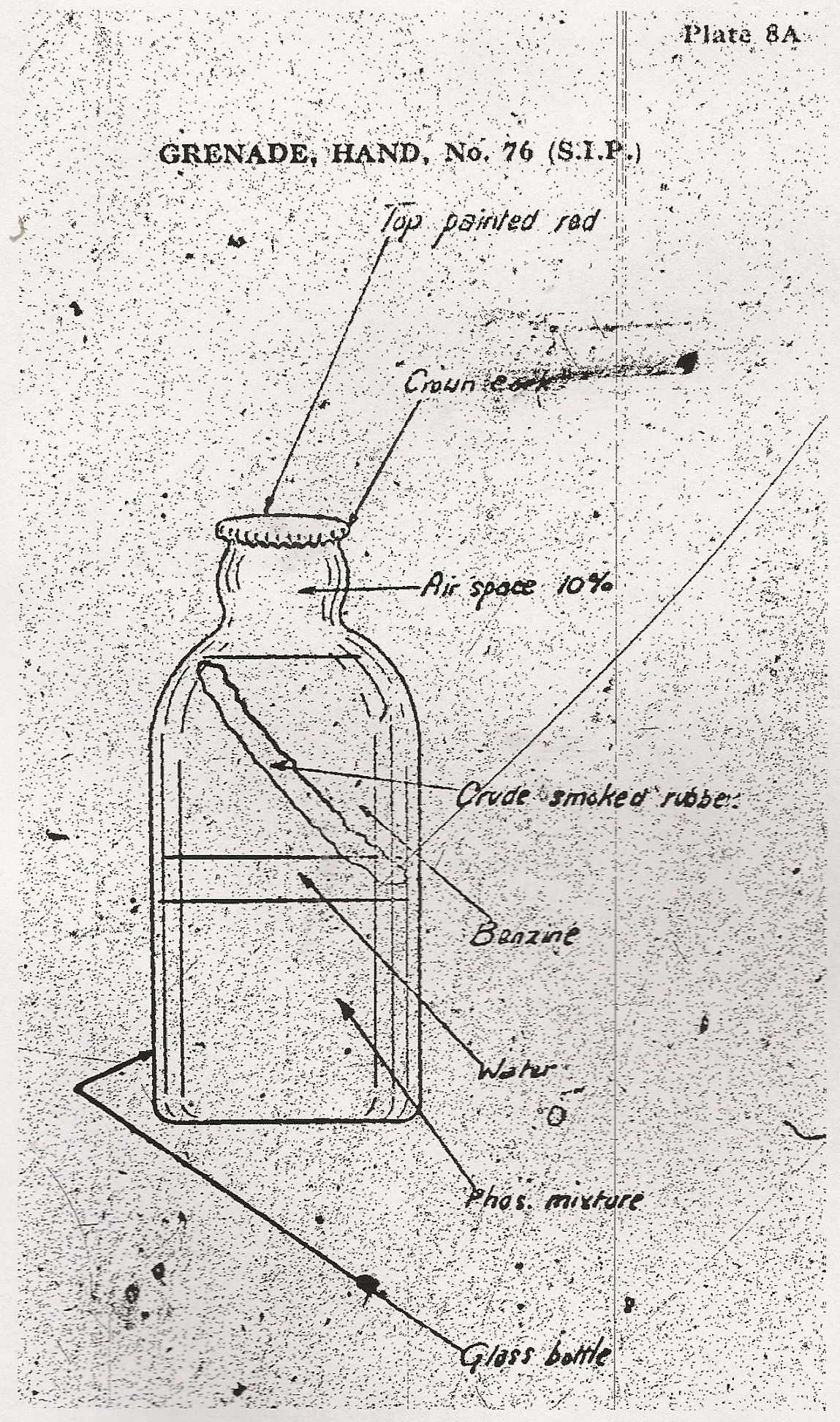 "the residues and top soil should be removed to a suitable site for treatment by burning."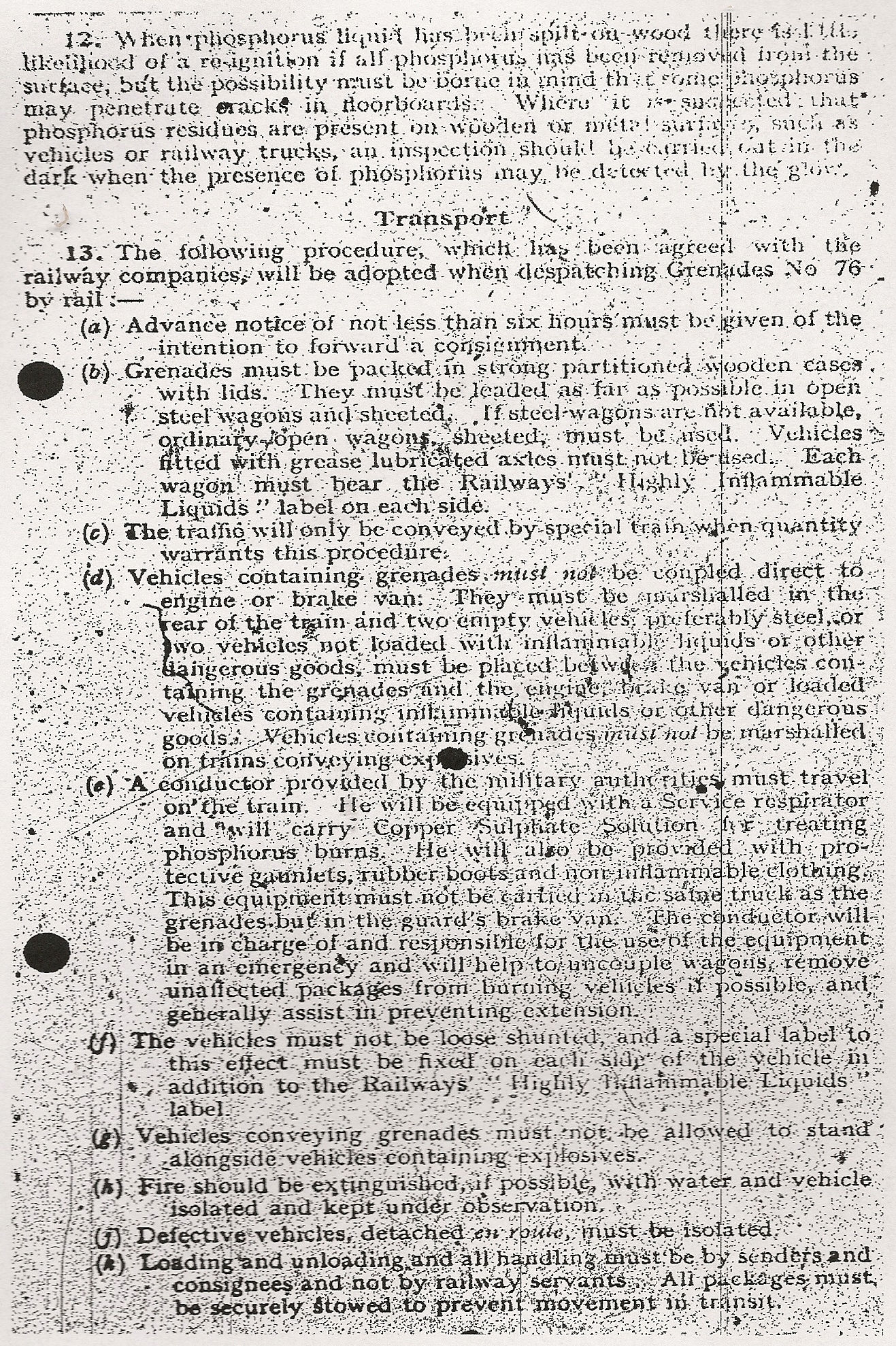 We already know that the Albright and Wilson site at Trinity Street had excellent rail links of its own private siding. We also know that Rattlechain lagoon is located alongside the railway line between Birmingham and Wolverhampton. With all the other trainloads of chemical garbage coming out of the works, the removal of large stocks of AW bombs would not have been noticed as anything out of the ordinary.
The list of defects in AW bombs are laid bare here, as to how useless and dangerous they really were. We do not know how the AW historians have had the gaul in the past to promote them as some form of wonderful achievement. THEY LOOK LIKE FOOLS HERE.
As Rhodia have consistently likes to point out, the rattlechain lagoon is supposedly constructed in an impeameable etruria marl base. Thus seepage of material from the grenades would be less likely at such a site, which is why this site would have been chosen. The theory and practice of course are two different things.
The construction of trenches would have been easy in a disued brickworks pit.
point b describes the manner in which the Dudley cricket ground grenades were dispatched at Rattlechain. Perhaps they were following this guidebook?
Upto 2000 could be dispatched at a time and "a beach" area is mentioned. We wonder whether the beach area at Rattlechain is how it got its name?
Given the nature of the task and quantities involved we very much doubt if these procedures were carried out with much professionalism. Throwing a load of bottles into a pit is not very difficult to do.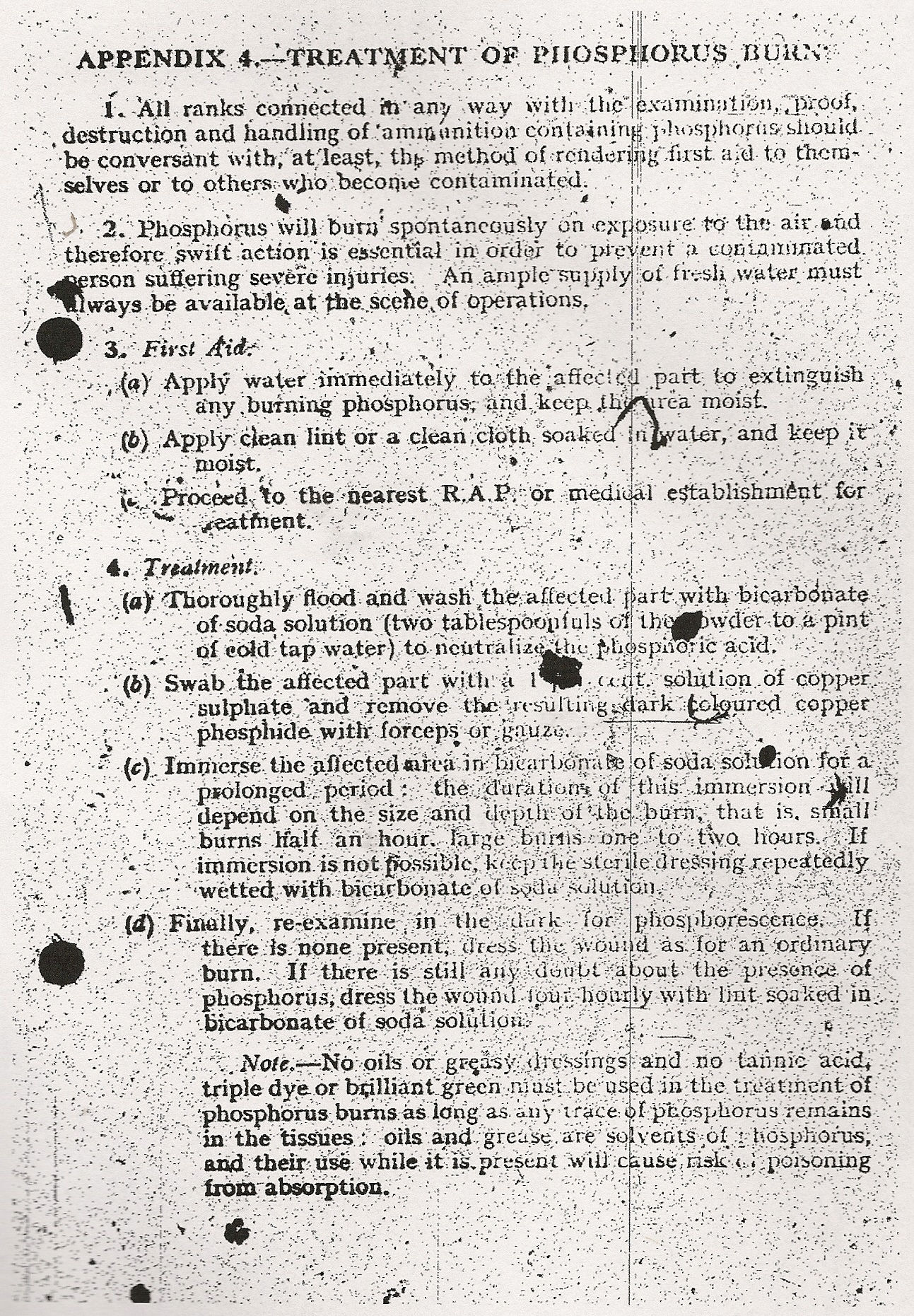 A MODERN PROBLEM.
An account of an incident whereby uncovered AW bombs caused injury to a member of the public several years later is given by Lieutenant- Colonel George Styles G.C in his book "Bombs have no pity- My war against Terrorism." The former bomb disposal officer recalls
"In 1964 I was appointed Senior Ammunition Technical Officer of Eastern Command, based at Hounslow in Middlesex. My area of responsibility covered a fifth of England, from the Wash down to Guilford in Surrey. Our job was to dispose of sub-standard ammunition and shells for the army, clear beaches and such like of World War II debris. And generally handle explosive emergencies.
'Hello, this is Tenterden Hospital in Kent. We've got a patient here with very bad burns. No treatment we give stops them burning him. Can you help us?
I asked the hospital to describe the burns. It seemed certain they'd been caused by phosphorus so I told them to make up a paste of copper sulphate and soft soap. This used to be about the only treatment for phosphorus burns. I asked the hospital what had happened. It appeared the man was down in a stream excavating some footings near a bridge. He thought he saw a dead fish and picked it up. It wasn't a dead fish but a half-pint bottle. He threw it up the bank towards his workmate, the cork came out in mid-air, the bottle exploded, and the man in the stream was covered with burning phosphorus. I remembered that these bottles of self-igniting phosphorus had been issued to Home Guard units to use against German tanks if the invasion had ever come in World War II. A check with the police revealed that there had been a defensive position once prepared around the bridge with a series of trenches. Obviously. At the end of the war, the local Home Guard had simply buried their anti-tank bombs at the bottom of the trenches and left them.
We dashed down to Tenterden and camped in the field beside the stream to carry out our clearing operation. We started digging and soon found rotting wooden crates full of bottles of self-igniting phosphorus. Over the years roots had grown through the crates cracking many of the bottles. As the hardened earth was moved away from these cracked bottles began smoking. After three days, including one night with my Malayan friend Leslie Rogers who'd retired nearby, we cleared the field and the banks of the stream. We piled up the bottles in the middle of the field and blew them into harmlessness. The farmer's field eventually recovered from the pollution."
Thus this anecdote confirms how dangerous these weapons are many years later. It also details how not to dispose of the AW bombs if discovered. By blowing them up they are not "blew into harmlessness", but as the Adams and Stewart study had shown, contaminated a wider area with a toxic secondary poison.
The following more recent HPA case study  (see pages 9-10), confirms that AW bombs are still being dug up, and that the authorities remain largely unconnected in how to deal with their toxic threat and destruction.
Just by carrying out a basic internet search, we have seen numerous sites where these AW bombs have been uncovered after lying dormant for many years. A familiar theme appears to run through their discovery.
The sites in question were being either dug up for new development or had been buried in back gardens and were discovered during digging.
All of them have required the attendance of the bomb disposal unit, and in some cases people have been hurt as a result of the bottles being cracked and exposed to fumes from the resulting release of white phosphorus to the air.
There is a usually light hearted reporting of the discovery citing Dad's Army references, though the contents of the grenade themselves tend not to be explained as to how harmful and environmentally persistent they can be.
The emergency services tend to play down the incident and the risks.

THE CONTENTS ARE STILL EXTREMLY DANGEROUS. THE P4 HAS THEREFORE NOT ERODED OVER TIME

.
| | | | |
| --- | --- | --- | --- |
| LOCATION | DATE FOUND | QUANTITY FOUND | SOURCE |
| Dudley, West Midlands | 1983 | 38 | Albright World |
| Broughrood, Powis | 24/08/2005 | Unspecified, but >50 shown in picture | BBC News Wales |
| Seend, Wiltshire | 01/10/2006 | 17 | Chemical Hazards and Poisons report |
| Birdlip, Gloucestershire | 07/07/2010 | 20 | Wilts and Gloucester Standard |
| High St,London Colney | 02/06/2008 | 24 |  St Albans review |
| Park St, London Colney | unknown 2007 | Unspecified |  St Albans review |
| Cogden beach, Dorset | 07/07/2010 | Box of 24 | |
| Bellbrough Rd, Halesowen West Midlands | 08/08/2010 | 24 | |
| Roughwood Dv, Kikby | 31/6/2009 | >20 reported | Liverpool Echo |
| Sprint print , Bamber Bridge | Oct-12 | 7 | |
| Middleton Road, Banbury | 20/04/2012 | 3 | |
| Primary School, East Lothian | 19/04/2013 | "A bag" | |
| Thurdistoft Farm Nr Castletown | 27/06/2013 | 2 and past incidents reported | |
| A quarry in Wick | Oct-11 | 144 | |
| Brownhills | 31/12/2013 | 6 | |
NIGHTHAWKING
Nighthawking is the illegal search for and removal of antiquities from the ground by criminals using metal detectors, without the permission of the landowners, or on prohibited land such as Scheduled Monuments (SMs). Nighthawking is therefore a form of theft.
Between 2007 and 2008 Oxford Archaeology, commissioned by English Heritage, conducted a major investigation into the crime of Nighthawking.
As part of the study a number of relevant sites were identified where the activity had come to light. Page 60 of this study emphasises that AW bombs are capable of being found still buried as they had been many decades ago, using easily available equipment, but with potential harmful consequences.
DIGGING UP THE EVIDENCE- AND THE TRUTH
Numerous individuals have been spotted on the North embankment at the Rattlechain lagoon site "digging for bottles", or nighthawking , this on an embankment that contained at least one mine shaft, and a steep valley.
We are aware that to date there are missing links; that which show a trail of mass destruction of SIP grenades ending up in Rattlechain lagoon/Barnett's brickworks marlhole. But would such photographic evidence have ever been compiled of the task? It has already been acknowledged by the MOD that such a damning trail of evidence probably no longer exists- and that anyone involved with this task has either died and taken their secrets to the grave, or wants it to stay buried that way- including those protecting the secrets of the company they used to work for in some form of misplaced patriotism or denial that these weapons were really just toxic useless junk.
A local resident believes that they saw a picture that appeared in an old reference book on the internet, which is now no longer there- possibly removed after our FOI requests started to ask difficult questions. This was raised at the first "rattlechain steering group meeting" minutes which formed the basis of the HPA human health risk study.
If anyone should possess such evidence,this picture or anything else connected to this disposal of AW bombs at Rattlechain or anywhere else then please give us the reference book or get in touch.
Rhodia's decision not to clean up the site by removing the waste, allows the historical dumping of military material to remain buried. Benzene was identified as being present in the lagoon water in the human health risk assessment, without any real explanation as to why it should be there, given that the waste management licence did not allow it.
Despite this until such time as we are proven wrong by direct evidence of a full site survey beneath this embankment and the lagoon itself, until such time as anyone can prove as to how 7 million glass bottles filled with white phosphorus  whose recycling value of any useful material would have been been either impossible nor cost efficient for post war Britain, we assert that the Rattlechain brickworks site and its associated clay pit which became the Rattlechain lagoon, was used as a mass storage  area for these weapons and was a munitions storage dump.
It may have been the case that removing these stockpiles would have been time consuming and dangerous. What better use of a storage area of toxic bottles for use by the company that made them as a "works tip" where also the decommissioned plant that was on a "care and maintenance basis was also disposed?  
The sewage works site adapted to take effluents from the bomb filling activities could have been utilised to dispense it into a convenient clay capped pit, as has been evidenced in the Kidderminster site set up after the Oldbury site.  It is an excellent "smokescreen" story- until people start finding the bottles- which they appear to have and The ministry of defence and their contractor company will never reveal the evidence of their mass destruction until perhaps many years have passed.
WE SAY TO RHODIA OR ANYONE ELSE WITH A FINANCIAL INTEREST IN DENYING THE TRUTH TO PROVE US WRONG WITH DIRECT EVIDENCE OR DO NOT CLAIM TO KNOW ANYTHING ABOUT "MYTHS" CONCERNING THIS SITE AND DISMISS OUR INFORMED RESEARCH AS SUCH-