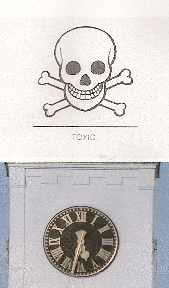 OVERVIEW
This application was validated on 4/11/99. The following table lists "deemed consents" applied for in this application. together with the existing quantities. A change in legislation meant that these substances which had been stored at the site previously now had to be applied for.
We look at the toxic cosh of each of these chemicals below. This does not predict what happens if or when these chemicals are mixed together in different quantities. This happened in most cases in the effluent treatment plant- next stop after this Rattlechain lagoon.
"Effects of long-term or repeated exposure
Repeated or prolonged contact may cause skin sensitization. Repeated or prolonged inhalation may cause asthma. Repeated or prolonged inhalation may cause nasal ulceration. This may result in perforation of the nasal septum. The substance may have effects on the kidneys. This may result in kidney impairment. This substance is carcinogenic to humans. May cause heritable genetic damage to human germ cells. Animal tests show that this substance possibly causes toxicity to human reproduction or development."
"Hydrogen fluoride gas is an acute poison that may immediately and permanently damage lungs and the corneas of the eyes. Aqueous hydrofluoric acid is a contact-poison with the potential for deep, initially painless burns and ensuing tissue death. By interfering with body calcium metabolism, the concentrated acid may also cause systemic toxicity and eventual cardiac arrest and fatality, after contact with as little as 160 cm2 (25 square inches) of skin."
"POTENTIAL HEALTH EFFECTS
EYES: Will cause corrosive effects (burns or irreversible damage) to the eyes.
 SKIN:Will cause corrosive effects (burns or irreversible damage) to the skin.
 INGESTION: Will cause corrosive effects (burns or irreversible damage) to the mouth, throat and digestive tract.
 INHALATION: Will cause corrosive effects (burns or irreversible damage) to the lungs, upper respiratory tract and nose."
Also known as carbolic acid and was used by the Nazi's in concentration camps prior to zyklon b.
"Corrosive to the  eyes, the skin, and the respiratory tract. Repeated or prolonged skin contact with phenol may cause dermatitis, or even second and third-degree burns. Inhalation of phenol vapor may cause lung edema.The substance may cause harmful effects on the central nervous system and heart, resulting in dysrhythmia, seizures, and coma. The kidneys may be affected as well. Long-term or repeated exposure of the substance may have harmful effects on the liver and kidneys."
"Conditions aggravated/Target organs: Poisoning may affect the central nervous system. Presons with a history of fainting or convulsions may be at an increased risk from exposure. Acute: may cause nose and throat irritation, flushing of face, tightness in chest, coughing, nausea, vomiting of blood or bile, dizziness, headache, drowsiness, hypotension, paralysis, rapid pulse, shock, and unconsciousness. Death in convulsion within 4 hours. Inhalation: death 1-5 minutes. Chronic: None known."
ETHYL MONOCHLOROACETATE (EMCA)
TEPA STRIPPINGS (FROM TRI-ETHYLPHOSPHONO-ACETATE (TEPA) )
Safety Data of 867-13-0
Risk Codes:

Safety Statements:
"If inhaled or swallowed, this compound can cause fluoride poisoning. Early symptoms include nausea, vomiting, diarrhea, and weakness. Later effects include central nervous system effects, cardiovascular effects and death."
ACCOMET C
A surface treatment chemical and strong acid. According to Rhodia.
ACCOMET® C is a chromium based metal pretreatment product used as a dry-in-place process for coil coating applications.
A safety data sheet is available "on request" from them. It contains Hexavalent chromiuim.
WASTE PHOSPHORUS TRICHLORIDE WASHINGS
"DANGER! CORROSIVE. MAY BE FATAL IF SWALLOWED OR INHALED. CAUSES BURNS TO ANY AREA OF CONTACT. MAY CAUSE DELAYED LUNG INJURY. WATER REACTIVE. CONTACT WITH WATER OR MOIST AIR LIBERATES CORROSIVE HYDROCHLORIC AND PHOSPHORIC ACID AND MAY CAUSE FLASH FIRES. STRONG OXIDIZER. CONTACT WITH OTHER MATERIAL MAY CAUSE FIRE."
According to the information given in the application, "Intial washings are strong in
–ARSENIC TRIOXIDE content and amount to 12-16 tonnes, further weak concentration washing ae treated by the works effluent plant."
BIS-HEXAMETHYLENE TRIAMINE  (B.H.M.T)
AND LAST BUT BY NO MEANS LEAST
TOXIC WHITE PHOSPHORUS P4!!!!!
IT IS OF COURSE OF PARTICULAR NOTE IN THIS COCKTAIL OF TOXIC AND HARMFUL CHEMICALS WHICH SHOWS THAT THOUGH THE PRODUCTION OF THIS CHEMICAL MAY HAVE CEASED AT TRINITY STREET, ITS USE AND LARGE QUANTITY HAS CERTAINLY NOT.
"P4 PHOSPHORUS"
Phosphorus is a yellow substance with a viscosity similar to water, and is delivered to site in shipments of 19-25 tonne capacity road tankers every week. Full tankers awaiting discharge are parked in the south east quadrant of the works, where up to 8 tankers can be accommodated. The tankers are off loaded in 1 of 4 bays around the P4 storage building, into 1 of 3 main storage tanks which have a total bulk storage capacity of 320 tonnes. Phosphorus is pumped from these storage tanks to one of three destinations.
Either
To a 42 tonne melter storage tank in the phosphorus trichloride plant. Here phosphorus is reacted with chlorine to manufacture phosphorus trichloride
Or to a 150 tonne washed phosphorus storage tank (this tank only held a maximum of 132 tonnes during the establishment period)
Or to a 15 tonne melter in the phosphine plant. The phosphorus is heat treated to convert it to amorphous (red) phosphorus and is then reacted with steam to produce phosphine gas.
In total there have been approximately 510 tonnes of phosphorus in fixed storage and an additional 8x 25 tonne tankers (200 tonnes) on site during the establishment period."
It can be seen from the submitted plan with the application as to how much of the site used elemental phosphorus.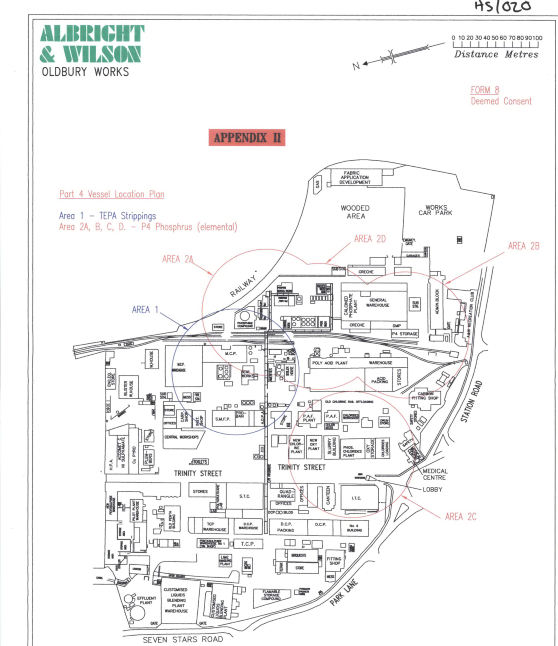 APPROXIMATE LOCATION AREAS OF SUBSTANCES WHERE MORE THAN 10% WERE STORED IN MOVEABLE CONTAINERS (BASED ON PLAN SUBMITTED WITH APPLICATION AND SHOWN BELOW)
HS020 MOVABLE STORAGE LOCATION
AREA A Sodium fluoride  AREA B Ethyl monochloroacetate
AREA C white phosphorus   AREA D AND G Trichloride washings
AREA E waste vinyl phosphonic acid  AREA F Hydrofluoric acid
AREA H Bis-hexamthylene triamine