After the first swan tested for white phosphorus confirmed its presence, sadly predictable were more dead birds. Here we chronicle in detail what took place after their discovery in Rhodia's lake of death and the subsequent tests which confirmed that they had been exposed to white phosphorus.
WHITE PHOSPHORUS CONFIRMED IN DEAD RATTLECHAIN CANADA GOOSE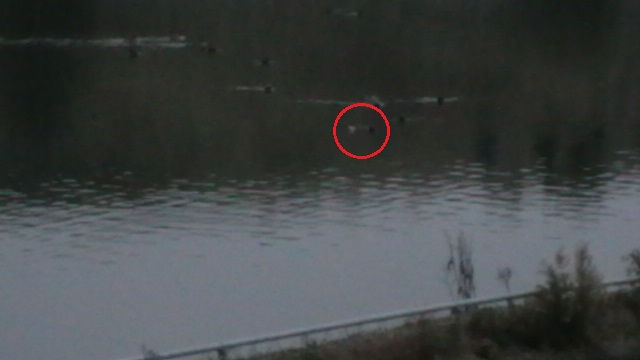 On 14th October 2009, I observed a Canada goose fitting on the pool shortly before it drowned. The carcass was later collected and a post mortem carried out by the VLA, (now AHVLA) their reference 26-B0069-03-09. No cause of death could be determined by them. On this occasion, after seeking clarification that gizzard contents would be tested for white phosphorus, this was arranged. Once again we had to wait for Rhodia to release the report from Harlan laboratories that tested for white phosphorus in specific tissues.
Read this report HERE.
The report confirms 47.5 micrograms of white phosphorus were found in the gizzard and 0.97 micrograms in the small intestine. Former MAFF/VLA Veterinary pathologist Alan Hunt made the following comments after reading the report
"White phosphorus is slowly broken down in the bird's tissues, even after death, so the levels would have been even higher if they had had the bits when they were still warm"
Marianne Walsh, of the US Army Core of Engineers , a key scientist in the Eagle River Flats studies which investigated p4 exposure in waterfowl was asked for her opinion on the matter, . Her reply was
"This goose ingested white phosphorus and was poisoned.  The "inconclusive post mortem" indicates to me that there was no discernible tissue damage, which means that the goose died acutely, just like the ducks at Eagle River Flats. " 
It is clear that the VLA took on board some of Marianne Walsh's comments, after I forwarded them and went further than they had previously in their interpretation of the cause of death, though still leaving an area of ambiguity.
The finding of white phosphorus in a Canada goose  provided some surprise for even the experts, given that the species is largely land based in its feeding activities. This limited contact with the lagoon demonstrated that any species landing on the pool could access the sediment and ingest toxic particles of white phosphorus, regardless of its normal behaviour patterns. WHITE PHOSPHORUS IN THE SEDIMENT IS OBVIOUSLY VERY EASILY ACCESSIBLE.
Leading published avian vet Jason Waine MRCVS  commented
"Birds most at risk from access to P4 in this case would be long-necked bottom feeders such as swans, diving ducks and coots (also diving, bottom feeders). I am surprised that Canada Geese have been involved as these are normally field grazers."
PROFESSOR Bill Roebuck professor of Toxicology and Adjunct Professor of Environmental Studies Department of Pharmacology and Toxicology
Dartmouth Medical School
"I TOO AM SURPRISED THAT A CANADA GOOSE WOULD BE POISONED.  WHERE EXACTLY WAS THE GOOSE AND WHAT WAS IT DOING BEFORE IT WAS POISONED?  PERHAPS THE "NOVELTY" OF ENCOUNTERING A WHITE PHOSPHORUS PARTICLE MIGHT  LEAD TO INGESTION.  THERE CERTAINLY HAS BEEN SOME CONCERN/EVIDENT THAT SHEEP, MUSK OX AND OTHER GRAZING ANIMALS INGEST WP FROM MILITARY ARTILLARY RANGES.  THE LITERATURE IS NOT EXTENSIVE. "
Marianne Walsh:
"the Canada Geese at Eagle River Flats almost exclusively feed by grazing on the mudflats.  I have never seen them in the contaminated ponds.  However, I have seen Canada Geese in ponds elsewhere.  If the geese feed in contaminated sediments at Rattlechain Lagoon, they certainly would be exposed to white phosphorus and would be poisoned."
Unfortunately Rhodia originally attempted to deceive people by interpreting the report in a different light. The draft letter sent out as an email in error with the Harlan report shows how they originally tried to spin the results to present a different yarn- note the date 13/1/10.
 This however was ditched and was rewritten after they had had sight of a more decisive conclusion from the VLA dated 22nd January regards the result findings, thus proving that industrial scientists can be very skilled liars and deceivers when it comes to manipulating statistics. "This was nearly 50 times less than found in the swan earlier this year."
"THE ANALYTICAL RESULTS CONFIRM THAT WHITE PHOSPHORUS RELEASE IS OCCURING AT THE LAGOON SITE."
WHITE PHOSPHORUS CONFIRMED IN DEAD RATTLECHAIN MALLARD AND COOT.
On 24/3/10 an email was received from Tom Dutton stating that Rhodia staff had found a dead mallard at Rattlechain the day previous. This was to be submitted to the VLA, their reference 26-B0648-03-10.  I subsequently observed a dead coot on the pool on 16/4/10. After 4 days of unexplained delay on the part of Rhodia, they collected the carcass from the water, also taking it for post mortem to the VLA, their reference 26-B0393-04-10.
As before no cause of death in either birds was identified, though the coot by this time was obviously severely autolysed, and it was for this reason, according to the VLA, as to why only gizzard contents from the coot were submitted for P4 testing unlike the mallard which was tested for several tissues as before. This conveniently for Rhodia would not allow evidence of "systemic" poisoning, which the VLA state they "cannot confirm"- simply because there were no other tissues submitted for testing- because of Rhodia's delay. Or is it the case that these tissue samples were tested for in other organs with levels above the 0.02mg/kg level of detection -damaging results for Rhodia, and were thus omitted from Harlan's report?
The email from Rhodia's Health and Safety officer to the VLA, who at many meetings sat in complete ignominy of the fact that he knew exactly what poison was in the sediment is particularly telling at this point.
"Although I don't think this is necessary, my bosses within Rhodia do!"
This is in relation to the coot tissues even  being tested at all for white phosphorus, meaning that if they hadn't we would have had the same rubbish concerning "not being possible to determine cause of death"- merely on the basis of not wanting to even test the evidence.
 Once again both birds were confirmed to have been exposed to white phosphorus as evidenced by the detection in gizzard content.
Read this report HERE
The results are shown in the table below.
The VLA did still not appear to want to make the clear distinction that these birds died of white phosphorus poisoning, and their reluctance to do so continued to cause serious concern in an investigation in which they had played a very small part, except "not being able to identify cause of death."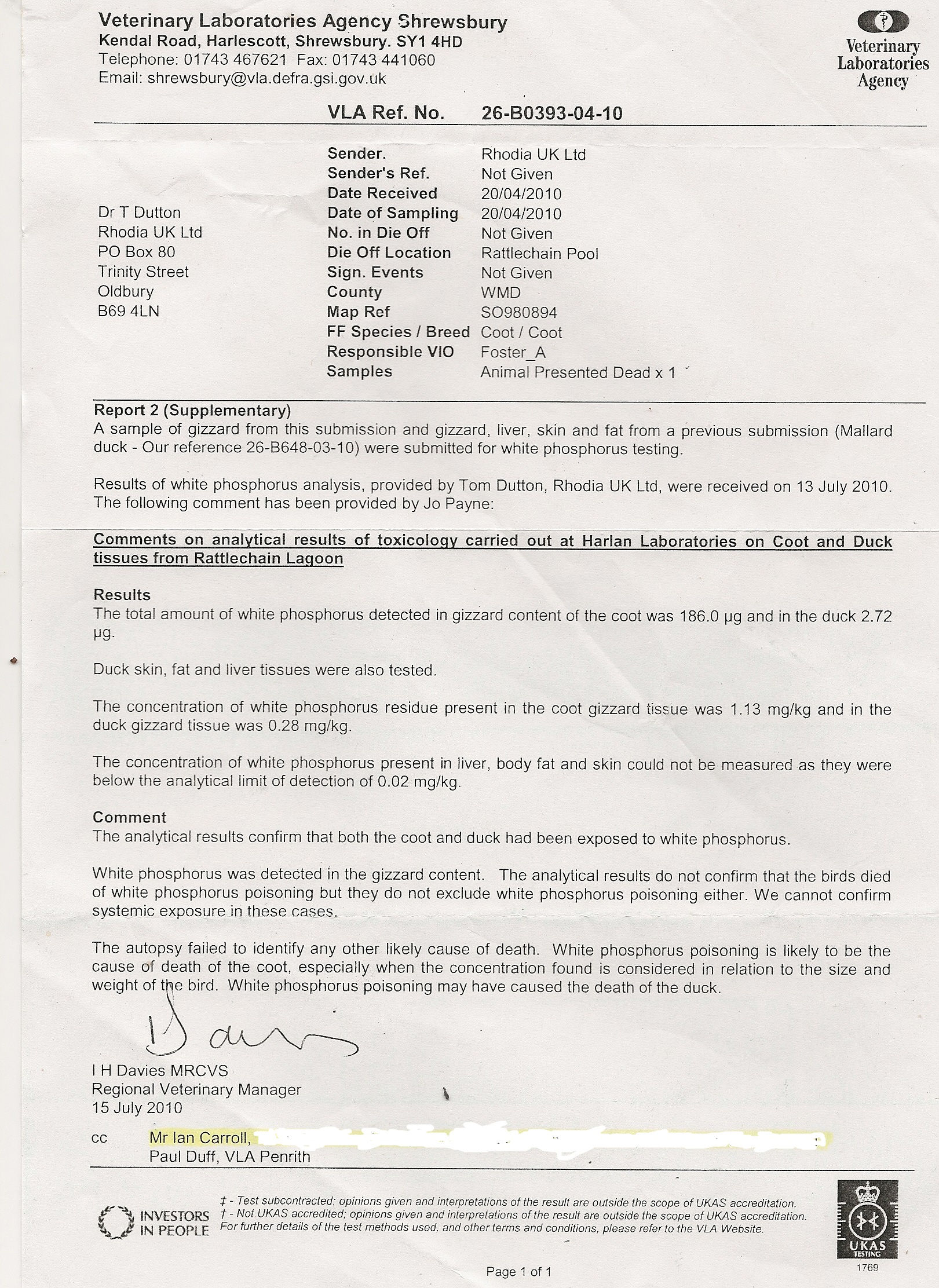 Marianne Walsh was asked for her comments on the matter. This is perhaps the most important quote of all as a statement of fact regarding this chemical and its association with wildfowl poisoning- from an expert scientist with relevant first hand experience in the field.
"The amount of P4 found in the birds is the amount that is leftover after the birds were poisoned.  There is no way to know how much was ingested.  Our position is that P4 is so acutely poisonous that if there is not another clear cause of death, the presence of P4 in the gizzard indicates exposure to P4 and is the likely cause of death.  I would say these birds died from P4 poisoning.   Marianne.
WHITE PHOSPHORUS CONFIRMED IN TWO MORE DEAD RATTLECHAIN MALLARDS
On 17/11/2010 the carcasses of two adult male mallards were submitted for post mortem examination after having been found dead on Rattlechain lagoon. VLA reference number 26-B0324-11-10. Prior to this Rhodia claimed they had found a gull on the causeway path on 12/11/2010. They also found  a dead partly eaten rat! The gull was also sent for post mortem, VLA reference number 26-B0240-11-10.
As per usual, the VLA could not identify a cause of death in any of the three birds.
There appears to have been substantial delay in the post mortems of these birds and the subsequent collection of tissues by Rhodia and them then taking them to Harlan Labortories for testing, as this email confirms- three months.
Subsequent white phosphorus testing proved once again exposure to white phosphorus, with no other cause of death being determined at levels of 0.158 micro grams and 0.986 micro gram respectfully in the two ducks. None was detected in the gull, though this "red herring" should not detract from the result of the upending birds which feed mainly on the P4 laced sediment, unlike the gulls.
Read this report below.
On this occasion the VLA stated "We can conclude that white phosphorus poisoning was probably involved in the deaths of the two ducks."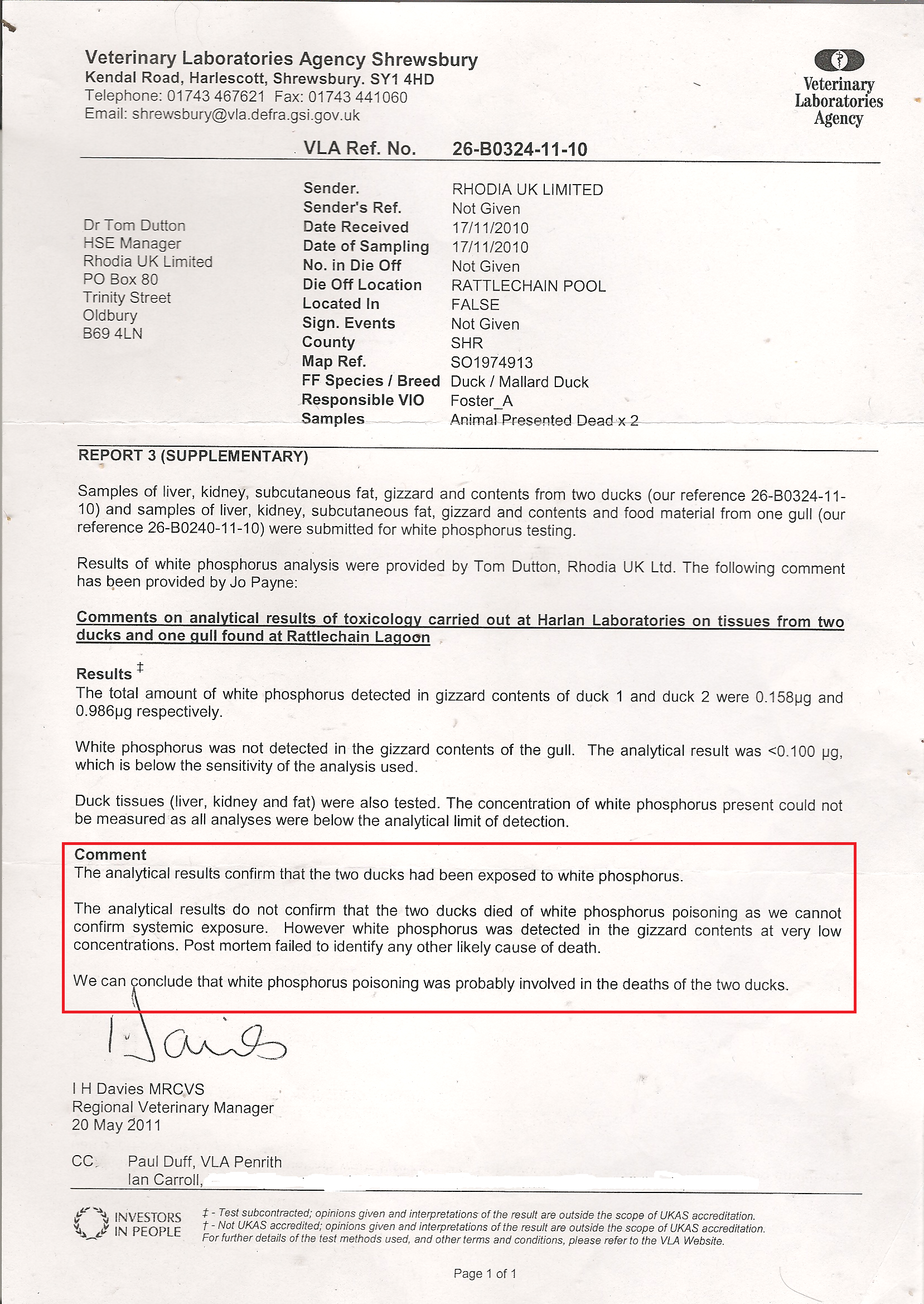 There was however continued obstinacy from the VLA to make a clear unequivocal statement without using words such as "likely", and "probably". I questioned the term "systemic exposure" with the VLA and yet when challenged to undertake such analysis I received the following letter which appeared to suggest that despite making one statement as to how to "prove" cause of death to them, they did not think it "necessary" to undertake such analysis. Such hypocritical statements from this quango only further served to enforce the belief that they did not want to make such a diagnosis, and neither would Rhodia. IF SCIENTISTS DO NOT WANT TO TEST THE EVIDENCE THEN ONE WONDERS TO WHAT EXTENT SCIENCE IS BEING MANIPULATED TO SUPRESS INCONVENIENT TRUTHS.
By now it was obviously apparent to Rhodia that birds found dead at the lagoon, were all "likely" to have been exposed to and poisoned by their white phosphorus waste stream, even if they were not prepared to admit the fact decisively as a result of the excuse of not knowing how much of it the birds had ingested.
A similar weak argument was used by the defence in the conviction of a murderer whose choice of poison was the same as Rhodia's poisoned birds.