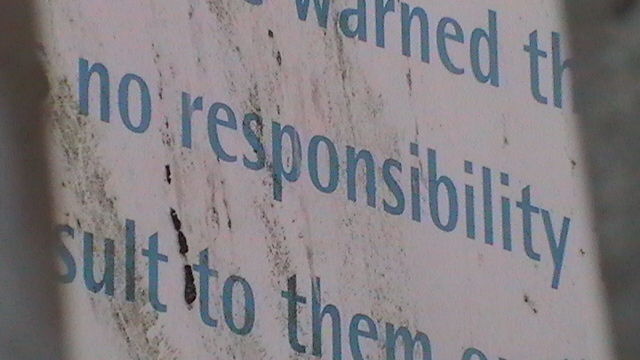 HEALTH AND SAFETY SHAMBLES– MY OWN PERSONAL EXPERIENCES
Why the curious title?- all will be revealed.
 Swanwatche's association with the pool began in 1999. Under the Health and Safety at Work Act 1974,  Albright and Wilson and Rhodia had and still have a duty to protect visitors as well as staff on their sites by Law.
My first contact with the pool and sediment took place in 1999 when the site was then owned by Albright and Wilson; the same Technically competent staff being in charge of the site when the company changed to Rhodia in March 2001. I met the health and safety manager at the site after speaking through one of the tanker drivers on site, as well as contacting Albright and Wilson via the number displayed on the main entrance gates. When invited onto the site, we walked along the causeway path and I showed him the dead, partially eaten swan that had appeared healthy the day before. Three freshly dead canada geese were within "the clean side lagoon."
THERE WAS NO MENTION OF ANY TOXIC CHEMICALS BEING PRESENT IN THE LAGOON AT THIS TIME ,"HAZARDOUS WASTE", OR IT'S ACUTE EFFECTS, AND NO INFORMATION WAS FORTHCOMING ABOUT WHAT POTENTIALLY COULD BE KILLING THE BIRDS.
I physically set foot in the pool in 2001 after noticing the first "living" swan showing the classic clinical signs of white phosphorus poisoning seen subsequently. The tanker driver allowed me onto the site and Rhodia were contacted about the incident in progress.  The bird was taken by a Rhodia employee and myself to Wychbold Swan Rescue where not long after arrival it died. An attempt was made to tubefeed the ailing swan by hand by the staff there. It died on the table with some sediment still on it.
I had not had chance to wash my hands or wet feet and trousers having had direct contact with both some of the sediment at the pool and the swan with sediment on it. Note that this would also have been contained within the employees or company vehicle. On returning to the plant in Oldbury, Tom Dutton asked if I had entered the sediment and I replied that I had. He advised me to take a shower at the site- in what I now know to be the companies former medical centre.  I asked him why if the chemicals in the pool were harmless? He replied that "there shouldn't be anything harmful in the pool" but it was just a precaution. No mention of white phosphorus or any safety data sheet was presented at this point but

he did present me with a new pair of trousers and shoes from the Rhodia stores.
THERE WAS NO MENTION OF ANY TOXIC CHEMICALS BEING PRESENT IN THE LAGOON AT THIS TIME ,"HAZARDOUS WASTE", OR IT'S ACUTE EFFECTS, AND NO INFORMATION WAS FORTHCOMING ABOUT WHAT POTENTIALLY COULD BE KILLING THE BIRDS.
 COMPARE THIS TO THE ARTICLE FROM LANKELMA lankelma_news_autumn_09 , (subcontractors to Rhodia's paid investigative lagoon study of which they have never made public the results). THE SAFETY INFORMATION THAT THEY HAD BEEN GIVEN CAN BE READ THERE.
 Subsequent visits and rescues were made to the site involving me catching birds from the water WITH RHODIA'S PERMISSION TO ENTER THE SITE.  Sometimes setting foot in the sediment where it came into contact with my skin, hands and sometimes face. On one occasion my own inflatable boat was taken to the site, again with full permission from the site owner with another being operated by Rhodia staff attempting to catch a swan.

THIS WAS IN 2003 AND BEFORE 2006 WHEN WASTE WAS STILL BEING DISCHARGED INTO THE LAGOON

.

DURING OUR TIME AT THE LAKE THAT DAY, WASTE WAS BEING DISCHARGED FROM THE CENTRAL DISCHARGE PIPE INTO THE CENTRE OF THE LAGOON. ISLANDS OF WASTE WERE VISBLE ABOVE THE WATER. OUR BOAT AND RHODIA'S ROWING BOAT OPERATED BY TWO OF THEIR EMPLOYEES SKIPPED BETWEEN THE PONTOONS OF THE WASTE DISCHARGE PIPE.
A colleague of mine entered the sediment where he sank as far as his thighs in the known contaminated " beach area". His shoe was retrieved after some difficulty locating it and the Rhodia staff ended up having to rescue him! THERE WAS NO MENTION OF ANY TOXIC CHEMICALS BEING PRESENT IN THE LAGOON AT THIS TIME ,"HAZARDOUS WASTE", OR IT'S ACUTE EFFECTS, AND NO INFORMATION WAS FORTHCOMING ABOUT WHAT POTENTIALLY COULD BE KILLING THE BIRDS.
On two occasions I entered the site to rescue drowning dying poisoned birds where I did not contact Rhodia. The first occasion was late on a Sunday afternoon when it was unlikely that anyone from the company would have attended. This incident involved two dying swans that were subsequently taken to the RSPCA'S Barnes Hill animal centre in Birmingham. The second was late evening involving  a male swan- the first to be captured on film showing white phosphorus clinical signs of poisoning. On both occasions access to the site was via broken fencing, meaning that the site was not secured in compliance with Licence SL31 (EA WML 40803) conditions 16 and 17.
Condition "16. Within a period of 6 months from the date of issue of this licence the site shall be fully bounded by fencing of a type  or types approved by the licencing  authority. All additional fencing required in order to comply with this condition shall be erected at locations agreed by the Licencing  Authority. All fencing shall be maintained to the satisfaction of the Licencing Authority."
Condition "17. The gate at the site entrance shall be locked when the site is unattended. All other reasonable precautions shall be taken to prevent unauthorised access of vehicles or members of the public or fly tipping on site."
No display of a waste management licence was and still cannot be found on the site- condition 6, another contravention of the licence.
"6. The terms of the site licence shall be made known to the users of the site and any persons who are given responsibility for the management or control of the site. A copy of the site licence shall be displayed at a prominent point within the site."
This therefore confirms that I was not in a position to read for myself about what was contained in the pool.  I received a letter from Tom Dutton requesting that I needed to contact Rhodia before entering the site "for legal reasons", though there is no explanation of what these "LEGAL REASONS " were or it was in the interests of safety because the pool contained undefined "hazardous waste"
It is clear to us now, through our own research that this site offers a high risk of injury given the highly toxic waste that it contains. WE WOULD NOT ENCOURAGE ANYONE TO ENTER THIS SITE.
There were and remain no warnings on site about what the risks of coming into contact with such materials are. This of course what lies at the whole crux of the issue of bird deaths at the site- and it is why both Albright and Wilson and Rhodia failed to make those specific risks clear at the site.
 Rhodia's  earlier verbal statement and subsequent others which I will come to later, appear to contradict there being anything "hazardous" in the pool at all. Thus in all communication received from Rhodia in relation to me entering the lagoon even with their permission:

THERE WAS NO MENTION OF ANY TOXIC CHEMICALS BEING PRESENT IN THE LAGOON AT THIS TIME ,"HAZARDOUS WASTE", OR IT'S ACUTE EFFECTS, AND NO INFORMATION WAS FORTHCOMING ABOUT WHAT POTENTIALLY COULD BE KILLING THE BIRDS.

Given the health implications of exposure to white phosphorus in the sediment, which I was exposed to, I made a complaint to the Health and Safety Executive after learning about them. By this stage together with other Government agencies invloved in this sorry saga, they met to ensure that they were singing from the same hymnsheet instead of passing the buck between one another as evidenced in several Freedom of Information Requests and letters where they all stated that their role was not related to either the deaths of the birds or the investigation of this, environmental monitoring and health and safety legislation.

IT WAS ALWAYS ANOTHER AGENCY THAT I SHOULD BE CONTACTING, YET I HAD CONTACTED ALL OF THEM TO NO AVAIL ABOUT TAKING ANY POSITIVE ACTION TO STOP BIRDS BEING POISONED.

Reference to the complaint was released in This freedom of information request albeit an inadvertant release concerning "a site investigation", which the HSE had never made.
This letter reminds Rhodia of their responsibilities but did not investigate them any further. Without clear guidance on the long term health risks of white phosphorus exposure, which no GP would be likely to be aware of or any other chemicals in the sediment from either the company or the HSE,  it is difficult to see how anyone can pursue the matter with a clear path ahead. Former Albright and Wilson employees are now experiencing fatal slow burning illnesses as a result of their exposure to chemicals and substances in the workplace. Health and Safety and the Act which underpins it totally failed them, as did the HSE.
In a letter to Tom Watson MP who took up my direct exposure to this "hazardous waste" over the years, it appears that Rhodia attempt to present me as a serial trespasser who could not have received any ill health effects. How they know this, (as I am certainly in no position to be able to determine what long term health effects I may have been exposed to), is unclear. It is clear that there were repetitive licence breach evidence over many years.   In defence of Rhodia however, they refer in their reply to the politician, the real acute health effects that the birds would have suffered, and those which clearly identify the waste in the lagoon as being "hazardous waste" to human health- including mine!
"as regards further information on the possible impact chemicals may have had on Mr Carroll's health, I can confirm the following
-A very small proportion of the waste contain yellow phosphorus- the vast majority of waste in the lagoon being inert calcium phosphate slurry
-Yellow phosphorus will catch fire on exposure to air, hence if yellow phosphorus comes in to contact with skin in air it will cause burns
-Mr Carroll did not suffer any burns immediately after contact with the lagoon and so could not have suffered any ill health effects
-Ingestion is possible but any ingestion would have an immediate, acute toxicological effect. These effects were not seen by Mr Carroll and so he could not have been affected by phosphorus in this way."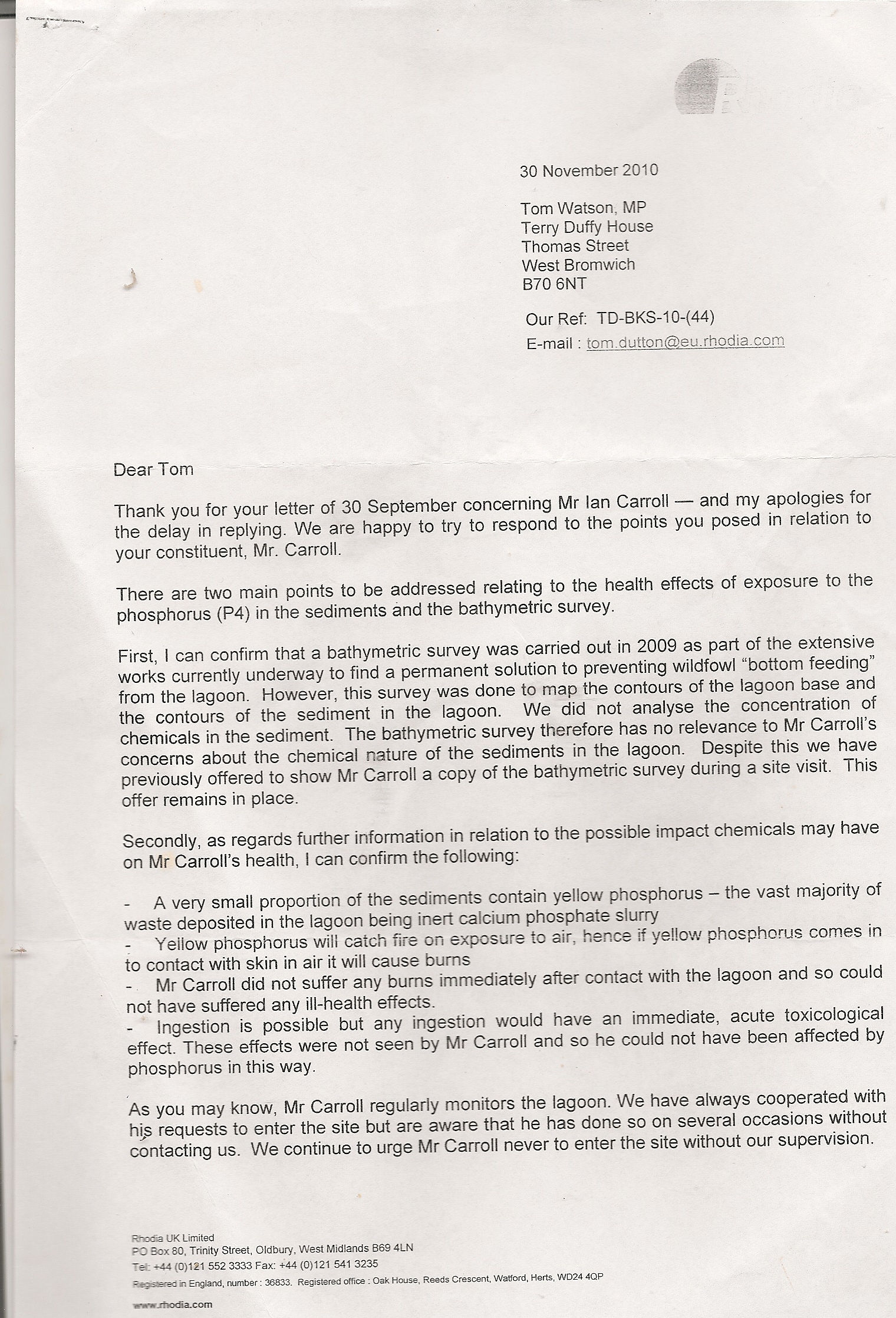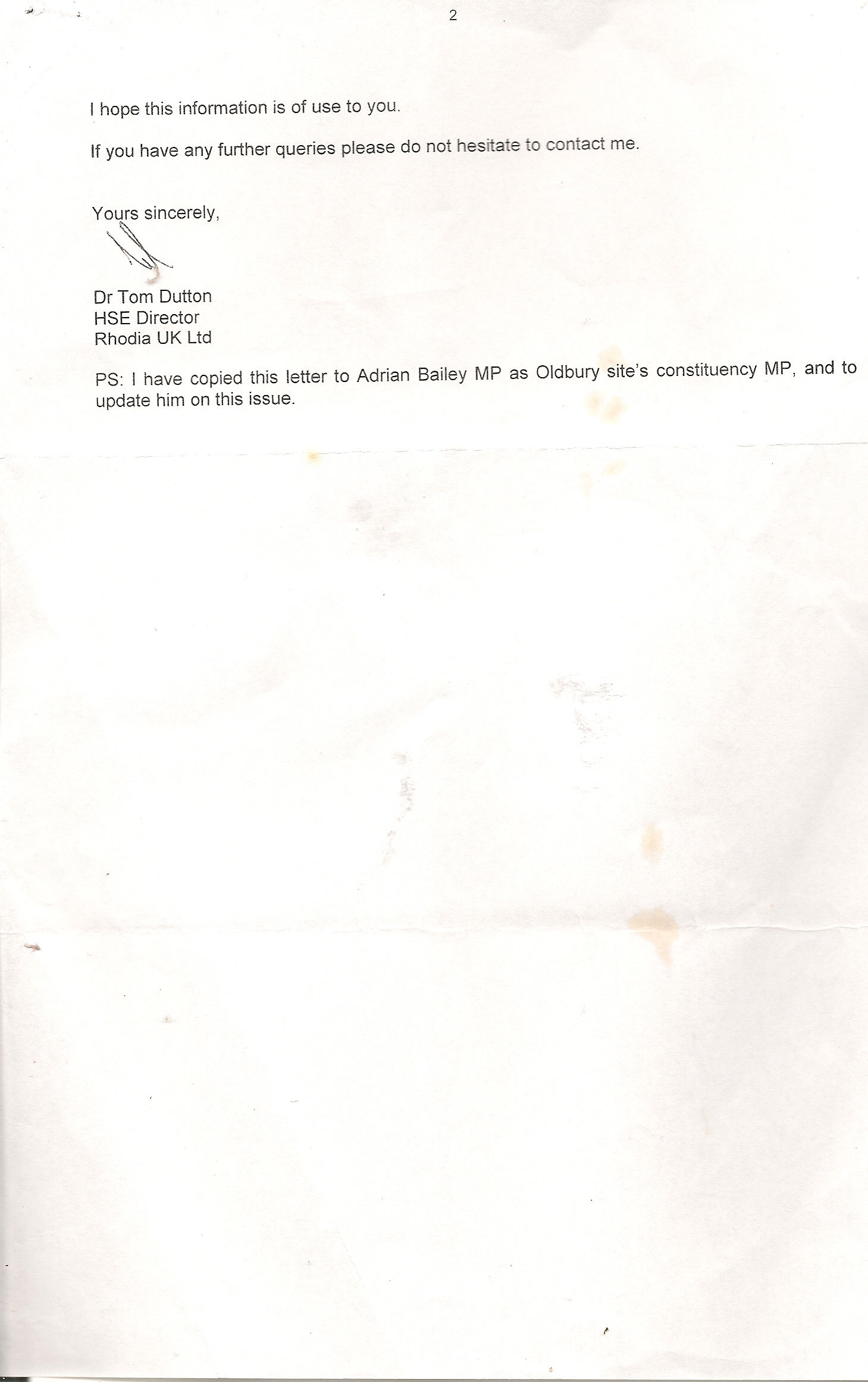 This bizarre letter was the final nail in the coffin for Rhodia's lying spin about the real contents of the "hazardous waste" that it really contained. In answer to the nonsense , which this letter tries to present, (obviously carefully legally worded and PR spinned)
"we did not analyse the concentrations of chemicals in the sediment"
This is what the Lankelma write-up stated that they were doing on the lagoon in 2009 in the study denied by Rhodia. lankelma_news_autumn_09
A very small proportion of the waste would kill you many times over if ingested, as it has done wildfowl on the lake.
The elemental phosphorus in wet sediment would have had to have dried out before catching fire- as was demonstrated by the fire which took place involving the barrels which had been set in the lagoon which contained the "vast majority" of calcium phosphate.
No burns could have been suffered "immediately after contact with the lagoon." Yes elementary Because the sediment was still wet.
THEY PURPOSEFULLY DO NOT ADDRESS ANY MENTION OF CHRONIC HEALTH EFFECTS ASSOCIATED WITH WHITE PHOSPHORUS THUS TRYING TO FOOL THE MP BY DRAWING ATTENTION TO THE ACUTE EFFECTS- BUT THEY HAVE NOW MADE A FATAL BLUNDER AND THE TRAP WAS SPRUNG-
"INGESTION IS POSSIBLE BUT ANY INGESTION WOULD HAVE AN IMMEDIATE, ACUTE TOXICOLOGICAL EFFECT." 
 YES, WE COULD NOT HAVE PUT IT BETTER OURSELVES INTO HOW THIS COMPANY HAS POISONED MANY BIRDS ON THE SITE, COMPROMISED OUR HEALTH AND SAFTEY AND THAT OF OTHERS, AND HAVE CONSISTENTLY SPOONFED US A PACK OF ODIOUS LIES, BUT AT MEETINGS , TELEPHONE CONVERSATIONS, E-MAILS AND SITE VISITS MADE,
THERE WAS NO MENTION OF ANY TOXIC CHEMICALS BEING PRESENT IN THE LAGOON AT THIS TIME,"HAZARDOUS WASTE", OR IT'S ACUTE EFFECTS, AND NO INFORMATION WAS FORTHCOMING ABOUT WHAT POTENTIALLY COULD BE KILLING THE BIRDS.
Not long after they received the letter from the HSE, I was invited to the site in order to view the first confirmed proven exposure to white phosphorus in a swan. It is fairly obvious now that this was merely a tool to try to ascertain what health effects that I had reported to the HSE.
It is interesting to note that at another meeting  when asked by a resident if White phosphorus was harmful, Tom Dutton replied "as long as you don't swallow it you'll be alright".     This meeting generated no minutes, I wonder why?
The following Material safety data sheet was given out to myself and residents that attended this meeting at Trinity Street, long after my invitation onto the Rhodia site. Too little too late is the phrase that springs to mind.
RISKS OF HANDLING  SWANS/BIRDS EXPOSED TO WHITE PHOSPHORUS AND THOSE TAKEN INTO CARE AFTER P4 INGESTION
Consideration to the following points should be noted
Rhodia never gave us information

concerning White phosphorus risk exposure at any meetings that we attended when we were being exposed to the sediment containing it.

Rhodia did not give us any information

concerning White phosphorus risk exposure when handling birds that had obviously been exposed and been poisoned by the sediment containing it.
Consider that birds with toxic sediment on them (as well as inside them) were brought into care in good faith. White phosphorus is highly toxic with the lethal adult human dose between 50-100mg. Sediment may have got under finger nails, clothing etc and can cause 3rd degree burns, eye damage and chronic necrosis of the jaw.

Rhodia did not tell us this,

despite even on one occasion taking a dying bird into Wychbold swan Rescue themselves.
According to the above material safety data sheet,

"Containers of this material may be hazardous when empty as they retain product residues (dust, solids)"
Rhodia did not tell us this, but obviously knew this.
White phosphorus produces toxic phosphorus pentoxide when exposed to air. In the 1991 Cremer and Warner report carried out at the lagoon it

was

tested for and found   
In groundwater <0.005mg/kg- 9.6% weight for weight  ,
lagoon water 12-22 mg/l,
and lagoon sediment 0.18- 91.5 mg/kg.
RHODIA HAD THIS REPORT, THEY DID NOT TELL US THIS.
In room temperature if any WP in the sediment were to dry out this could have set these clothes etc on fire.

Rhodia did not tell us this.

Consider the consequences of settling such a swan having dirty sediment on them down under a UV lamp on top of shavings.

Rhodia did not tell us this.
Consider also what may have happened if a resulting fire from such a scenario were to have occurred in the hospital pen containing upto 20-30 other birds at night.

Rhodia did not tell us this.

The rescue centre at Wychbold is located on a farm, with sheep, birds and domestic animals roaming freely within a short distance of the swan rescue facilities. Consider the consequences of volunteers treading some of this sediment around the wider site, into their house, and also washing it down the drain or sink, and also other birds biting or coming into contact with other swans with toxic sediment on them.

Rhodia did not tell us this.

Consider also potential contamination of water/food bowls etc.

Rhodia did not tell us this.

Consider how when these birds inevitably died, how they were disposed of, and that secondary poisoning is possible by ingestion of contaminated WP in the gizzards of these birds.

Rhodia did not tell us this.
BOTTOM LINE RHODIA DID NOT TELL US ANYTHING AND NEITHER CONSIDERED THE RISK TO OUR PERSONAL HEALTH NOR THAT OF THE BIRDS
WE THERFORE LEAVE IT TO THE COURT OF PUBLIC OPINION AS TO WHAT KIND OF COMPANY RHODIA ARE WHEN IT COMES TO ITS VISITORS HEALTH AND SAFETY CONSIDERATIONS.
 May I take this opportunity however to state that the Rhodia trousers served their master well for many years. They served on the occassion when I was knee deep in sediment retrieving a P4 poisoned swan on 10/3 /08 shown above and after several washes removing sediment that had been in contact with the lake down the foul sewer- they were like spanking new – it's just a shame that its wearer had been wronged like the wildfowl on the lake by being fed falsehoods. Alas they bit the dust in a recycling bag, and may as you read this, be walking around some third world sweatshop manufacturing some dangerous chemicals for entrepreneurial export. I'm sure that Arthur Albright would have approved.