BACKGROUND
This request is linked to works carried out in 2013 at the lagoon and the updated closure plan for the site- originally submitted by Rhodia in 2006.
WHAT DID WE ASK?
"I am requesting any recorded evidence of guidance issued to Rhodia UK Limited/Solvay or their contractors in relation to works undertaken this year at the Rattlechain lagoon hazardous waste disposal site in John's Lane, Tividale, West Midlands, B69 3NG.
In this request, I include correspondence, statements or questions of request made in emails or file notes from the companies named or their contractors which ask for permission to vary the conditions of the existing on site permit during the course of the project and also those relating to the "remediation" of the site. I also include in this request any guidance issued by the agency to the companies or their contractors relating to white phosphorus and other chemical related products stored at the site during the works
and related to monitoring on site during the course of the works and the afterphase of operations."
WHAT DID THEY KNOW AND WHAT DO WE LEARN?
The Environment agency responded with a number of documents related to the request. Unfortunately they did not redact certain personal information, not least their own officers mobile numbers. WE THEREFORE ASKED WDTK TO REMOVE THE INFORMATION AND CONTACTED THE AGENCY TO INFORM THEM OF THE INADVERTANT BREACH OF DATA PROTECTION  ON THEIR PART. Unfortunately the resupplied information was incomplete compared to the first version, and so we have therefore published the information supplied originally with redactions of personal information below. We have also ordered it in a more chronologically friendly way.
This letter from Tom Dutton (HSE DIRECTOR AT RHODIA), to the Environment Agency is dated from June 2011, but does not appear to have any direct connection to the rattlechain site. There is reference to "the PH3 (phosphine) gas bell"- whatever that is. This letter appears to relate to The Trinity Street site but there is no explanation as to what relevance it has to our request- other than Tom Dutton's calculations concerning phosphine. We don't particularly care for his calculations given his previous assertions concerning the amount of white phosphorus contained in poisoned swans at rattlechain.
dwhitford_P1-4 This document is a word file note document of minutes of a"Regulatory stakeholder meeting held on 20th November 2012 at Smethwick Council House."
This meeting appears to have followed on from the so called "rattlechain steering group meeting 3"  which we obtained minutes from in another request. The "stakeholders" at this November meeting appear to have been all of those present at the steering group meetings minus an invitation for any local residents. IT CAN THEREFORE BE SEEN AS A CLOSED MEETING. WE ALSO SEE THE SO CALLED "STEERING GROUP" FOR WHAT IT REALLY WAS- AN ATTEMPT TO GET LOCAL RESIDENTS TO SUPPORT AND PROMOTE THE WORKS WITHOUT MAKING IT LOOK LIKE THOSE OTHER "STAKEHOLDERS" WERE REALLY PULLING THE STRINGS.
These minutes contain details of the proposed stages of the works which were also relayed via a public exhibition held in January 2013.
We learn that Rhodia considered 2 options concerning bird death/site closure/restoration requirements.

N.B THIS IS THE FIRST TIME THAT IT HAS BEEN ADMITTED THAT THE LEGAL CONDITIONS CONCERNING THE SITE CLOSURE ARE BEHIND THESE PROPOSED WORKS- THE "BIRD DEATH" ISSUE IS JUST THE SMOKESCREEN THAT RHODIA WERE ATTEMPTING TO USE.

It is revealed that Rhodia considered removing the contaminated sediments (which is what we have been calling for all along), but dimissed the idea on the basis of COST and PRACTICALITY.
"Rhodia do not believe that built development would be possible if the sediments remain in place."
NB- WE THEREFORE LEARN HERE THAT THEY DO NOT BELIEVE THAT ANY HOUSING DEVELOPMENT CAN BE ACHIEVED ON THE SITE, EITHER NOW OR IN THE FUTURE GIVEN THAT THE SEDIMENTS WILL ALWAYS REMAIN IN PLACE.
Rhodia's preferred option therefore is to consolidate the waste with a geotextile membrane overlayed with sand.

"The company are not planning to attempt to surrender the site's waste permit in the forseeable future."

There is a more detailed methodology for the works than has been publicly released previously. This also confirms that

"the site will be monitored for 25 years using sonar to detect any bubbles forming beneath the geo-textile and sand."
NB THIS IS A CLEAR REFERENCE TO BUBBLES OF PHOSPHINE GAS.
There is reference to the useless HHRA by the former Health Protection agency which dismissed phosphine as a concern based purely on Rhodia's environmental consultants monitoring, and also did not look at any proposed works taking place. The proposal to repeat the experiment at a time after the works have taken place, i.e when after the dangerous contaminants have been moved around the site exposing people to greater risk is just yet another way of fabricating the risk posed by the site.
We learn that the EA will want an updated site closure plan when the works are completed.

"THE EA WILL INSIST ON REGULAR PHOSPHINE MONITORING AS EMISSIONS ARE POSSIBLE AS A DIRECT CONSEQUENCE OF THE DISPOSAL OF WASTE ELEMENTAL PHOSPHORUS AT THE SITE."
"Rhodia will engage with swanwatch and answer any reasonable questions they might have." 

PAH!
E-MAILS
 A series of emails between Environment agency staff concerning "improvement works" and closure of the site were released below, under the "guidance" criteria that we had asked for in the request. We have recorded these in chronological order for easier understanding and redacted personal information where appropriate.  
The first email from John Moorhouse of Rhodia and Dave Whitford of the environment agency refer to a meeting in January 2012. A "restoration plan" is referred to which was not attached with this request. We  asked for this under another FOI request which can be read HERE. NB it is a document entitled "rattlechain improvement works" draft dated July 2012.
The second email from Dave whitford to Julian Ingram of the EA refers to this "restoration report." It would appear to us that "a restoration plan" has everything to do with eventual licence surrender and nothing or incidental to isolating waste from birds, which the EA for many years would not consider responsible for causing their deaths.

THE SITE WILL REMAIN "A HAZARDOUS WASTE SITE" IF THERE IS NO LICENCE SURRENDER- NOT "A WILDLIFE POOL" IF IT IS SEALED OFF FROM THE PUBLIC!
A follow up email from Dave Whitford to Julian Ingram
A reply from Julian Ingram to Dave Whitford concerning the main points as discussed. Nicky Ingrey of the closed landfill team has been provided with the "restoration plan" for comment.

WE SEE HERE THE ADMISSION OF POTENTIAL PHOSPHINE GAS EMMISSION FROM THE ENVIRONMENT AGENCY.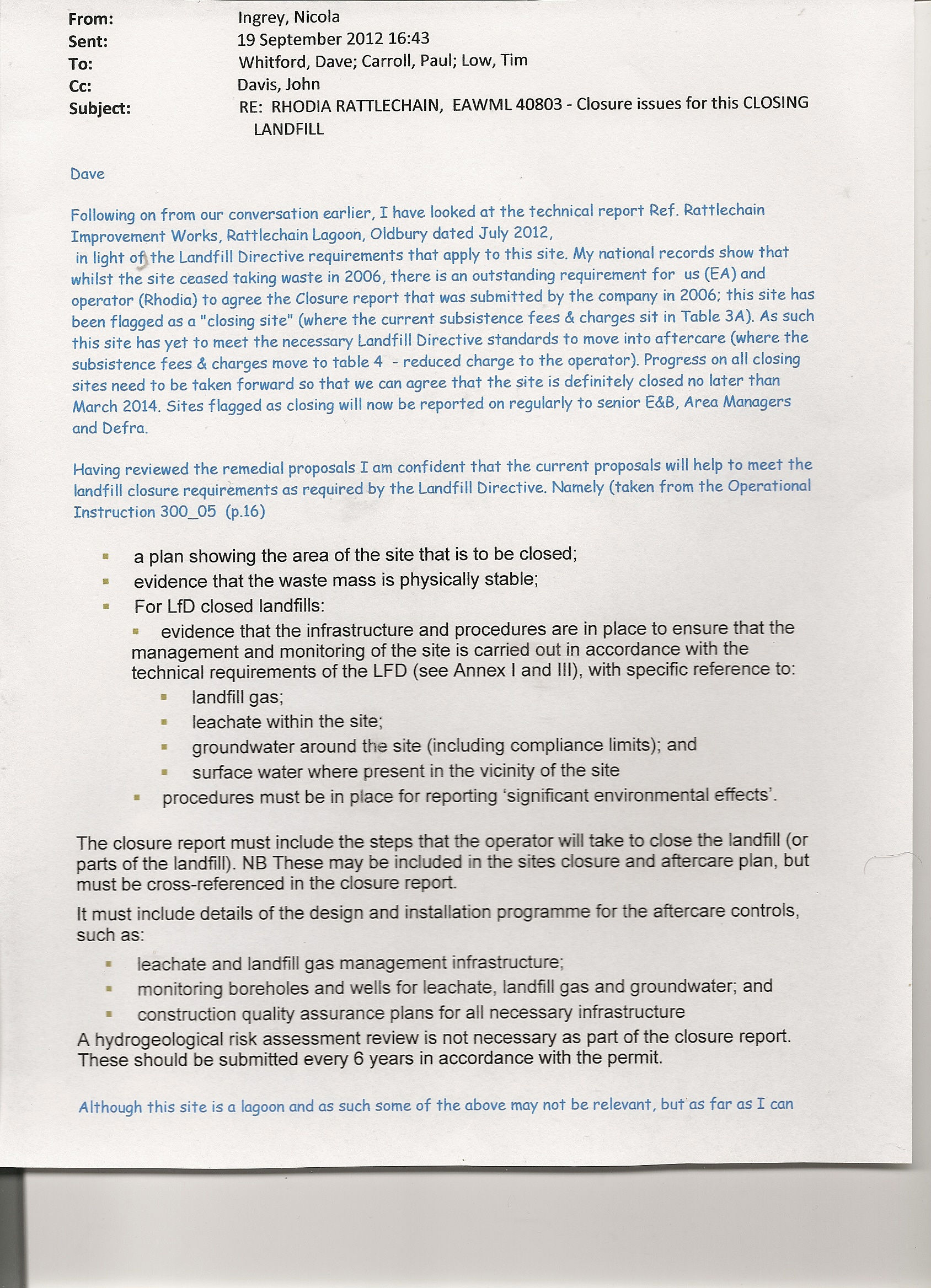 This email from Nicky Ingrey confirms the context of the so called "improvement works" mentioned above,  which in reality were all to do with a European Legal directive called "The Landfill Directive".
She gives the historic context of Rhodia's closure plan and the requirements needed in the directive to satisfy closure of the site.
 A number of assumptions are made here concerning information provided by both Rhodia and the local Environment Agency officers. To us, the deadline to meet of March 2014 appears to be a rather rushed last minute attempt to comply with the directive; this does not bode well for the future- particularly concerning the monitoring of gas at the site.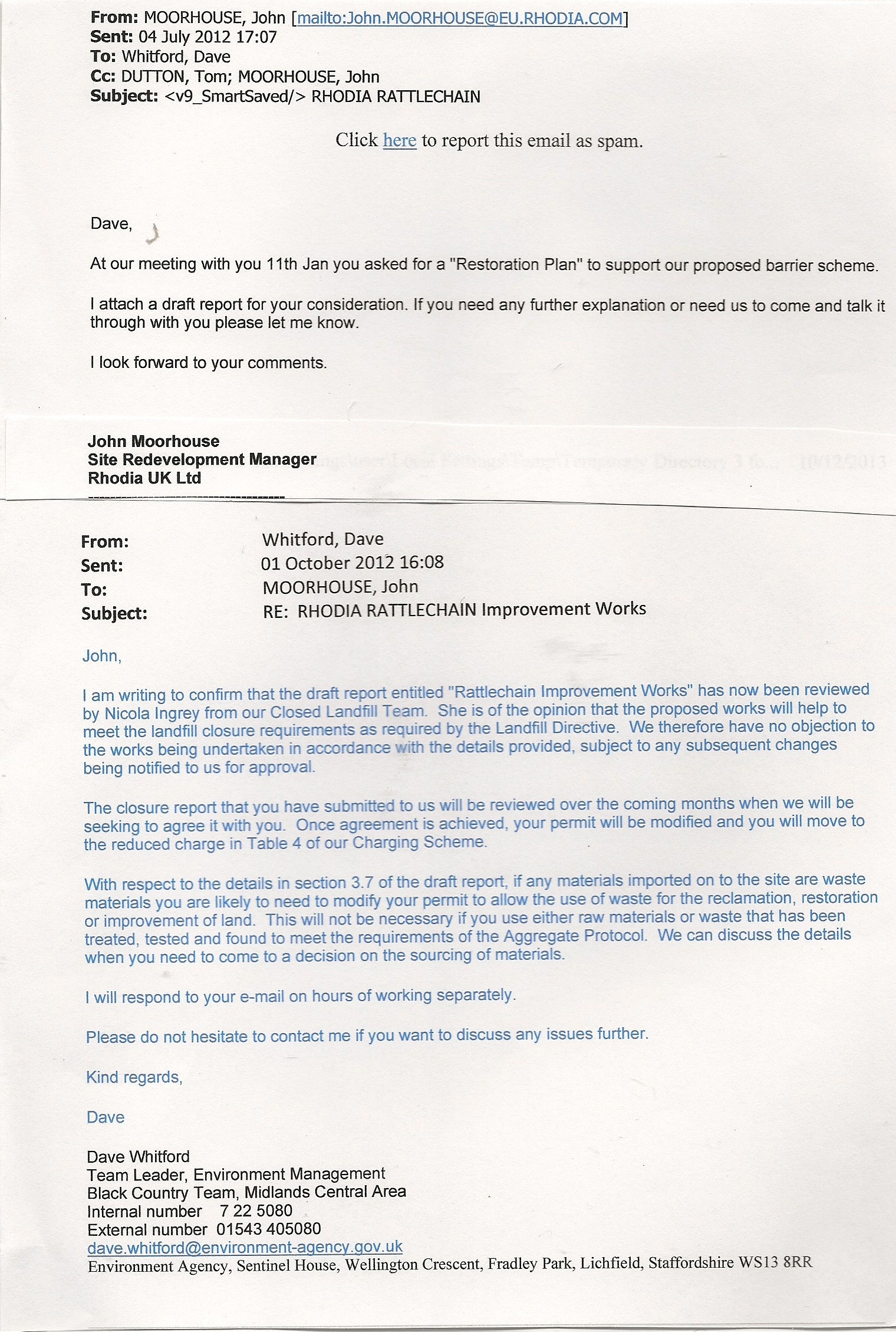 This email from Dave Whitford to John Moorhouse confirms the agency had no objections to the works to be carried out. There appears to be little talk of white phosphorus poisoning of wildfowl here, which is not what these works were trying to address in the first place. Rhodia can now enjoy paying less in tax on the site, if it is considered "closed".
dwhitford_P1 This word document contains minutes of a meeting held on May 8th 2013, between EA staff, Rhodia and their Closure plan consultants URS.  Works at the site were now well underway. The main body of minuted material refers to John Davis of the EA'S comments concerning the initial closure plan submission. NB THESE COMMENTS WERE NOT SUPPLIED IN THIS REQUEST, BUT REALLY SHOULD HAVE BEEN GIVEN THAT THEY WERE "GUIDANCE" THAT THE EA HAD GIVEN TO RHODIA AND THEIR CONSULTANTS. (WE HAVE ASKED FOR THESE UNDER A SEPERATE REQUEST WHICH CAN BE READ HERE.)
Another released set of emails between EA staff and Rhodia concern transfer of the licence to another company name.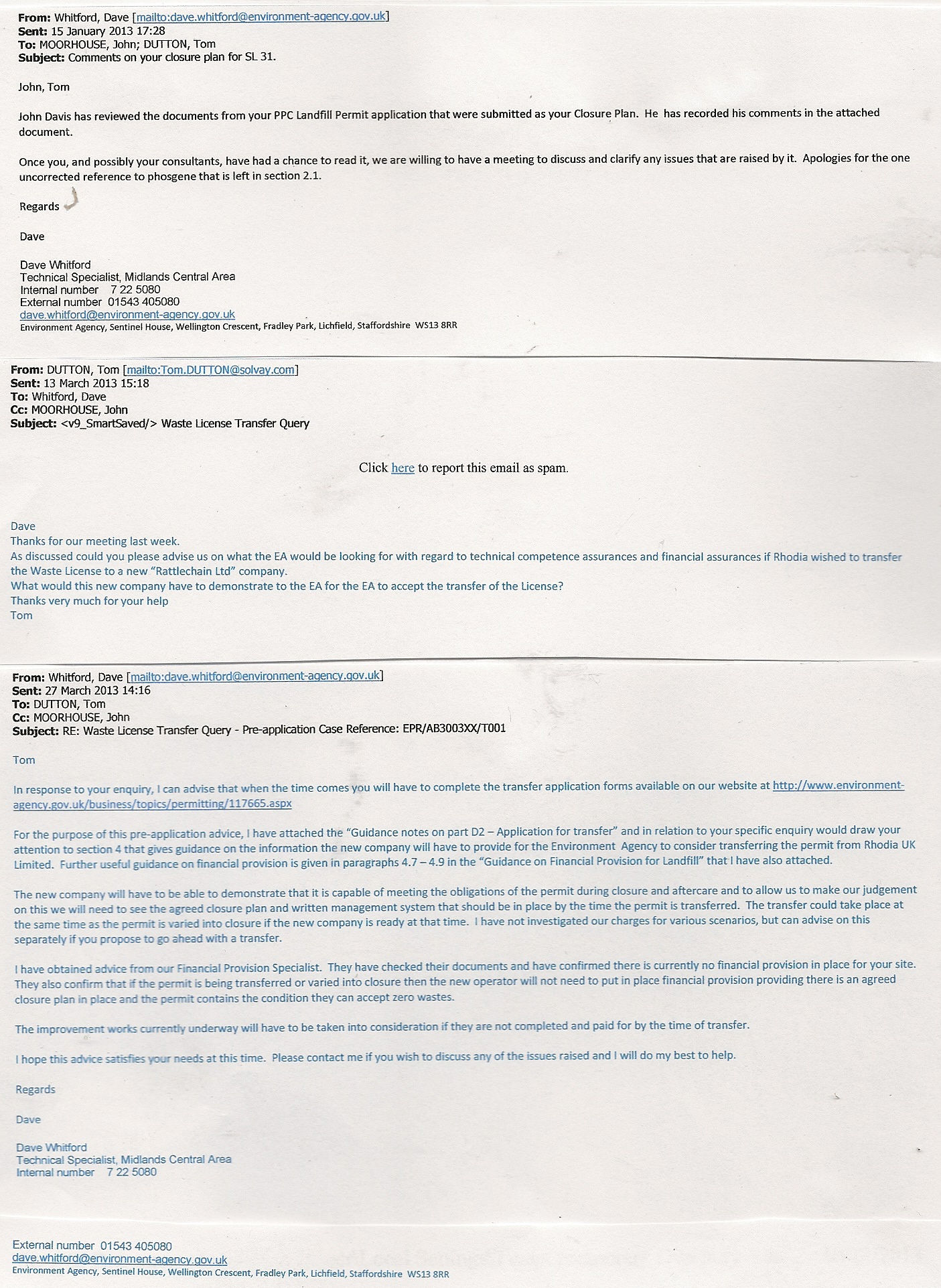 The first email refers to comments made by John Davis of the environment agency concerning Rhodia's updated closure plan. These were not provided in the request but can be read via the link above.
We learn here that Tom Dutton of Rhodia is suggesting transfering the permit at the site to what could be termed a phoenix company called "Rattlechain Ltd".
Dave Whitford supplies some information which could help to achieve this.
Guidance notes on part2 D application for transfer.
Section 4 refered to asks for previous environmental convictions that the company may have.
Guidance on financial provision for landfill.
Paragraphs 4.7-9 refered to in the email read
"Closed Landfills
4.7 FP was not required for landfills licensed under the Control of Pollution Act 1974. It was introduced in 1994 by the Environmental Protection Act 1990. Where closed landfills licensed after 1994 have FP, it must be maintained.
4.8 For all landfills that were operational in July 2001 ('existing sites') operators either applied for a permit to continue to operate under the Landfill Directive or closed their site. FP was agreed for all sites where a permit was issued. Existing sites that were not permitted under the Landfill Directive went through a process to ensure that the site would be properly managed and monitored in the aftercare phase. This included the installation of appropriate pollution prevention and control measures and aftercare monitoring. When such sites entered the aftercare phase, we accepted your 'closure plan' as a commitment that appropriate management controls were in place and would be maintained. We do not therefore intend to require FP at any closed sites that do not already have it.
4.9 Where permits for landfills that were not permitted under the Landfill Directive are transferred, we will not require FP to be established by the transferee, providing appropriate pollution prevention measures, maintenance and monitoring are in place and the transferee confirms through a closure plan (or working plan) that they will be maintained during the aftercare phase."
 Further information concerning this can be read HERE.
WE ASKED FOR THIS UNDER A FURTHER FREEDOM OF INFORMATION REQUEST, YET THE EA CLAIMED THAT THEY COULD NOT FIND IT.
The environmental permitting charges and guidance page on the EA website refered to can be read HERE. The full document refered to can be read HERE.
A number of questions are answered concerning the auspices of licence variation and surrender. It would appear to us that Tom Dutton is looking for loopholes in this clear as mud process of legal nonsense.
"The continued presence of elemental phosphorus in the sediments is another issue that would have to be considered if surrender of the permit was contemplated."
 As for the comment about taking no action concerning breach of "irrelevant conditions", we would like to point out that the EA didn't ever take any action when they were relevant- so no change there then.
 The administrative variation into closure document refered to was supplied in the request.
CLP Area_NPS variation request form Rattlechain 23-09-13 REDACTED
This file surprisingly contained details relating to myself, which was not expected. FOR THE RECORD I WAS NOT CONSULTED.
| | |
| --- | --- |
| Do we need to consult with anyone else | Possibly, see below, but maybe this should be done in Area by someone used to dealing with him.  |
"Are there any sensitivity issues with the application? 
Probably not.  In recent years there have been deaths of wildfowl, including mute swans, attributed to the ingestion of elemental phosphorus in the lagoon sediments.  Improvement works to cover the sediments with a geo-textile and sand layer have just been completed.  This is however a separate issue of interest to the person detailed below.  Stability of the north embankment has been improved to reduce the risk of landslips into the lagoon.  The Stability Calculations are in the report with EDRM document number 8016748. "
WHAT DOES THIS MEAN?
The information supplied was fairly substantial and has only filled in some of the gaps concerning the works that was carried out at the site in 2013. We hope that people can now appreciate that this work was entirely connected to Rhodia's legal obligations under The Landfill Directive, as advised by their regulator The Environment Agency. It should be remembered that both tried to deny that there was a problem with wildfowl being poisoned at the lagoon from toxic waste that was permitted to be disposed there over many years. THEY BOTH TRIED TO STICK LIPSTICK ON THIS PIG.
The "closure" of the site does not offer any closure for those who have to live next to this hazardous dump and the fences there will not be coming down anytime soon.
A number of links and attachments were missing from the emails, which did not make their interpretation particularly easy. We therefore requested some of these in a further request.
"Desired outcome:  The lagoon will become a safe and secure haven for wildlife adjacent to the Sheepwash Local Nature Reserve, only the latter having public access. "
 We would see this as wishful thinking. WE ARE ALSO REMINDED OF THE FAMOUS QUOTE FROM GEORGE ORWELL'S ANIMAL FARM WITH REGARD TO THE REGULATOR OF THIS ESTABLISHMENT AND THE REGULATED.
"The creatures outside looked from pig to man, and from man to pig, and from pig to man again; but already it was impossible to say which was which."